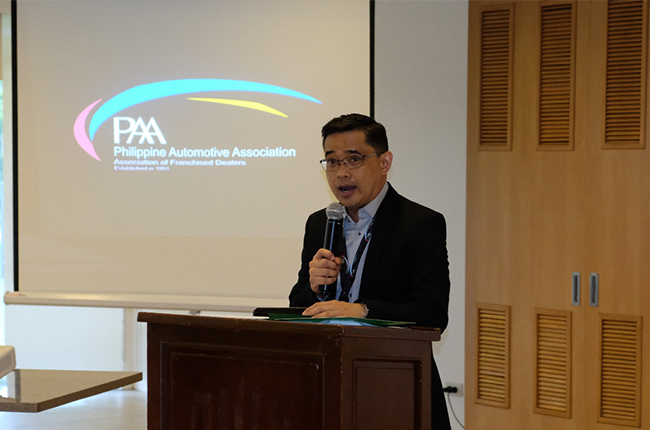 Philippine Automotive Association (PAA) invited representatives from various local banks to its general assembly. This was to discuss how banks and car dealers can improve their relationship and process to make owning a car through auto loans faster. BPI Family Savings Bank, called upon car dealers for stronger and more harmonious relations with banks. This to help Filipinos realize their dream of owning a car.
Let us work together, in the interest of our customers and our respective businesses, to make owning a car easier in these challenging times
Fronda further emphasized that a greater partnership between banks and car dealerships enables Filipinos to get the car of their dreams. He also stated that this helps promote greater financial inclusion in the country.
"It is part of how we make lives better for our countrymen, for a better Philippines. If owning a car will make Filipinos' lives easier, then we will be there," said Fronda.
In addition, he said that car dealerships and banks should develop more promos and incentives that will make car ownership easier for the right customers. He also emphasized that dealers and banks need to work closely on managing the risks of granting auto loans to customers.
"Let us work together so that we can help you move your inventory into the hands of deserving customers through our financing programs," he added.
This was in tandem with BPI allowing it's clients to apply for an auto loan online making it easier to own a car for future buyers. "We are proud to be part of BPI, which is making a bold step in this digitization journey. So expect more innovations and bold new ideas from BPI Family Savings Bank," he concluded. Although nothing concrete came out of the meeting, this is still something to watch out for if you are looking to buy a car in the near future.
Latest News
The new dealership marks one of the first new Kia locations with the brand's new corporate identity.

The official Twitter account of the LRT2 posted an announcement that pets may soon be able to board trains at LRT2.

The 2023 Xpander Cross is finally out in the Philippines, adopting the fresh face of its standard brother.
View More Articles