The latest generation of the Isuzu mu-X has recently made its global reveal sporting a new design and a host of new features. The 7-seater diesel SUV is now not only more powerful than before, but it also sports more safety and technology features as well. These new features it goes to show just how far Isuzu has evolved the mu-X to be what it is now in its latest rendition. With that said we take a look at 5 features, we thought stood out with the all-new SUV.
A more powerful 3.0-liter engine
Originally making its debut back in 2013 with just a 2.5-liter motor, the all-new Isuzu mu-X has come a long way. While it originally made 134hp and 320 Nm of torque, its newer motors are not only more eco-friendly and fuel-efficient but more powerful as well.
The 3.0-liter turbo diesel has had the most significant increase in power as it now makes 190hp and 450 nm of torque. This is a notable increase as the current engine being sold in the Philippines only makes 174hp and 380 Nm of torque. Similar to its predecessor it still carries over the 6-speed manual and 6-speed automatic transmission options.
For the lower variants of the 7-seater diesel SUV, it will still be available with Isuzu's 1.9-liter turbo diesel engine. Power figures for the motor remain the same, coming with 148hp and 350 Nm of torque while its transmission options have been carried over. With these new engines being more environmentally friendly and more fuel-efficient than ever the all-new Isuzu mu-X at least on paper looks to be more competitive than ever.
The Japanese automaker in conjunction with its partner Mazda has really stepped up the quality of the interior. Compared to the older model which came with a more utilitarian feel, the all-new Isuzu mu-X has gone with a more premium-looking interior. Leather accents are abundant in the vehicle along with soft-touch materials. The dashboard layout also has been refined going for a more square looking adding to its more premium look. It is important to note that the old mu-X has a more rounded themed dashboard as is evident in its more sloping design and circular climate controls. A 9-inch infotainment system has also been added to the vehicle along with a new set of automatic climate controls giving the SUV the ability to have two different climate zones.
9-inch infotainment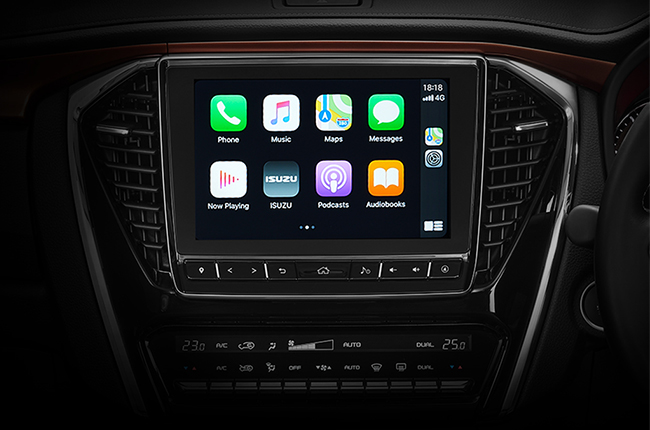 The new crowning jewel of the Isuzu mu-X's interior is the addition of a new 9-inch infotainment system. The new large touchscreen now comes with Apple CarPlay and Android Auto capabilities making it easier to integrate your smartphone with the vehicle. Now that it is an industry-standard this puts the all-new SUV on par with the rest of its competitors. Along with the new infotainment system comes a new speaker system. Sound at least for the higher variants of the SUV is now sent through an 8-speaker system, a good improvement over its older model.
220V rear AC socket
When it comes to charging amenities the all-new Isuzu mu-X is one of the few vehicles that now comes with an AC socket at the rear. This new feature now allows owners of the vehicle to charge their devices that need to utilize a wall socket plug. It in turn allows the 7-seater diesel SUV to be turned into a mobile office of sorts or as an emergency generator for keeping devices charged up. The charging options don't stop there as the mu-X also comes with USB ports spread throughout the vehicle, giving all of its occupants charging options.
Isuzu Matrix Safety Intelligence
When the Isuzu mu-X first came out it only had the basics when it came to safety. It was on par at the time with the rest of the competition back in 2013. Now, however, with the vehicle being on sale for 7 years in the market, the Japanese SUV has been thoroughly upgraded.
One of the newest additions to the all-new Isuzu mu-X is the Matrix Safety Intelligence system. This gives the vehicle access to features such as a new 3D imaging stereo camera at the front, manual speed limiter, full-speed range adaptive cruise control with stop and go functionality, lane departure warning system, blind-spot monitoring system, automatic high beam, pedal misapplication mitigation, forward collision warning, autonomous braking, rear cross-traffic alert, multi-collision brake, and a parking aid system. With these new features and with its sibling the Isuzu D-max scoring a 5-star safety rating for the Australasian NCAP, the all-new Isuzu mu-X should also do really well when it comes to the ASEAN NCAP. All we need now are its official results to prove that it is now one of the safest SUVs available in the market.
Latest News
Kia Philippines clarifies on the capabilities of current battery electric vehicles (BEVs), namely the Kia EV6.

The electrified pickup truck comes with a powerful electric motor, decent range, a great set of features, plus an interesting vehicle and battery warranty.

It's a new application that will help you keep track of your vehicle at all times and help you make sure it is safe.
View More Articles