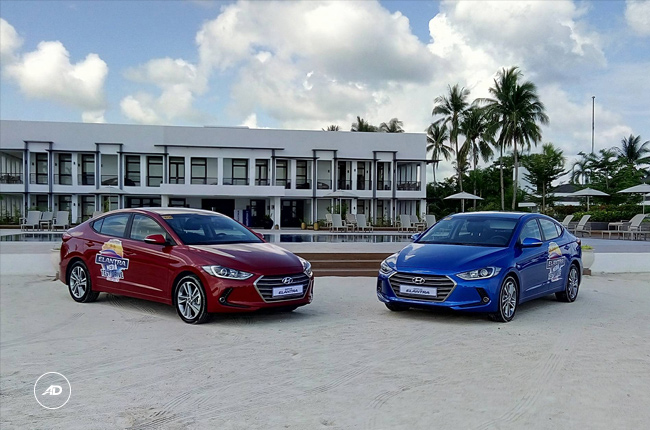 Ever since I watched Hyundai's action packed commercial featuring the all-new Elantra, I can't help but wonder how would it truly perform on the road.
Will it have enough power and torque? Will its steering help me smoothly make tight turns? Will its seats and interior features keep me comfortable and entertained for a good three to five hour drive?
My questions were finally answered when Hyundai Asian Resources Inc., (HARI) invited us to test drive the all-new 2016 Elantra from the Hyundai Cebu showroom all the way to Kandaya Resort.
Although the three-day drive was certainly not like the apocalyptic commercial that I was hoping for, the 157 km route, starting from Hyundai Cebu South Dealership, Cebu City to Kandaya Resort, Daanbantayan via Dalan Antonio y De Pio Highway (a combination of steep slopes, tight corners, open roads, and a good stretch of somewhat off-road highway because of the on-going construction) was a great choice to test out the Elantra.
But before I dwell into the performance of the Elantra, what about its style?
Upon first glance, you will notice that it stepped away from the extravagantly sculpted design of its predecessor and moved to a bit more of a contemporary look. Not a disappointment because the new Elantra's exterior has that appealing matured styling.
It now sports a big hexagonal grill paired with a round fog light to create a unique look. However, opting for a large grille meant one thing - a narrower set of headlamps. This can be a hit or miss for some consumers but personally, the redesigned front fascia gives off the elegance of simplicity.
The Elantra also boasts a functional front wheel air curtains, which, according to Hyundai improves aerodynamics by reducing wind resistance.
The character lines on its hood and sides are noticeably toned down while its back, particularly its taillights, somewhat retained its shape. The difference is it comes with trapezoidal LED clusters.
A pair of rear reflectors is also available below the rear lights but it doesn't do much during broad daylight. You will have to wait at night to truly appreciate these components.
Adding to the distinct look of the revamped Elantra is its side mirrors with turn signals, a set of 17-inch aluminum wheels, and new color choices such as the Fiery Red and as-tested, the Marina Blue.
Hyundai also refined the 2016 Elantra's interior, favoring for better control layout. The instruments, from its two primary gauges to the touch screen infotainment, are big, clear, and most importantly, easy to reach and navigate. As a matter of fact, you will find the Elantra's cockpit display angled 6.9 degrees toward the driver, a bold and clever move.
There is a plethora of connectivity hook-ups for your gadgets. You can opt for Bluetooth connectivity, AUX, or AC/USB power ports. The manual tilt telescopic and leather wrapped steering wheel is festooned with audio controls so there's virtually no need to reach the main infotainment to switch the music or answer a call.
With about an inch more on its width and length, expect the new Elantra to provide you with more shoulder room as if its previous model was lacking in this department. The trunk capacity is slightly lower than its predecessor, but its 407 liters capacity is enough room for several bags.
The revamped Elantra with a 2.0 liter four-cylinder engine (EURO 4) does an admirable performance to whatever you throw at it. It delivers a 152 horsepower and 192 Nm of torque, which is commendable even when you tackle uphill roads. Its 6-speed automatic transmission shifts smoothly and delivers a quick response.
The 2016 Elantra comes with a better Noise, Vibration, and Harness (NVH) system, which is dependable when you hit 40 to 80 km/hr. However, stepping the gas to 100 km/h or more may result to fairly noticeable disturbance.
Hyundai claims that the use of over 53% Advanced High-Strength Steel (AHSS) meant more desirable performance and handling, but is it true? Yes. The Elantra's MacPherson suspension and tubular frame does a great job insulating the driver from different types of roads. There weren't even any rattling in the body but the absorption didn't fair well especially on enthusiastic driving. The good thing is that you can rely on the Elantra's grip and steering even when you tackle on tight corners.
Now the question is, is it a good companion whether for city driving, occasional highway driving or out of road trips? Overall, the new Elantra is not a mere point A to B kind of car. It offers a commendable and well-mannered road performance while delivering comfort and space not only to its driver but also to its passengers.
So if you want a vehicle with a refined, simple yet elegant look, spacious interior, straightforward yet modern infotainment system, and adequate power, the 2016 Elantra will suit you.
For more information about the all-new Hyundai Elantra, visit the AutoDeal Car Guide.
Latest Features
The Nissan LEAF presents the perfect price, technology, and practicality for your first EV purchase and experience.

Will GAC be able to unsettle Honda's ever-present Civic RS? Let's dare to compare!

The Suzuki Ertiga Hybrid presents advanced mild-hybrid technology as well as versatility at a very tempting price point.
View More Articles