If you've been following AutoDeal reviews, you know how much we love technology in cars, particularly infotainment systems. These things that crown the dashboard automatically increase the aesthetic value of a car, more so if the infotainment system's display has a crisp and responsive interface. In fact, around 80 percent of brand new cars in the Philippines have touchscreen infotainment systems, which makes this technology a major selling point among car buyers.
However, not all infotainment systems are alike – there are some that has Apple CarPlay. As an iPhone user myself, having to drive different cars week by week made me realize the importance and convenience of Apple CarPlay. It's elating. Addicting, even, not to mention that it's safer since you aren't distracted with your phone.
But really, how does Apple CarPlay work? What are its advantages? Here's a quick guide for you, from someone who admittedly enjoys the feature whenever it's available in media test units.
Seamless Connection
Head units without Apple CarPlay normally need you to connect your smartphone via Bluetooth in order to maximize its features, with a process that's sometimes cumbersome.
With Apple CarPlay, you don't need to do that. All you need is your iPhone, a lightning cable, and have your Siri switched 'on' and you're good to go. Just plug your phone and a prompt will ask you if you want to use Apple CarPlay even when your phone is locked. It's that easy.
After that, the infotainment system will display a familiar interface that's akin to your iPhone. It will also reflect your iPhone's apps that are compatible with Apple CarPlay. Of note, Apple CarPlay is available on all iPhone 5 and later models with at least iOS 7.1.
"Hey, Siri!"
For the uninitiated, Siri is Apple's Voice Assistant that could pretty much do tasks in your iOS device through voice prompts. It's also one of Apple CarPlay's strengths since it's integrated with the feature.
Saying "Hey, Siri!" will prompt the female voice assistant. There are things that you can ask her that will definitely get an answer, like "where's the nearest restaurant?" or "where's the nearest gas station?" You can also make a call by telling Siri to "Call <the name of the person in your phonebook>."
Remember, Siri only understands certain languages like English, Spanish, Thai, Italian, among others, and this can be toggled via Siri's settings on your iPhone. Unfortunately, Filipino isn't recognized by Siri as of this writing.
Answering & Making Calls
Answering calls in cars with Apple CarPlay is pretty much the same as those with regular head units, which would be via the touchscreen or the buttons on the steering wheel. What differs is that since Apple CarPlay is essentially an extension of your iPhone, it will display the name of the caller if he/she is registered on your phonebook. Your favorite contacts, as well as your recent call activities, are also synced into Apple CarPlay.
On the other hand, making calls is a cinch with Apple CarPlay as you can use Siri to find the person in your phonebook. That's pretty nifty, safe, and undistracted when you're on the road.
Reading & Dictating Text Messages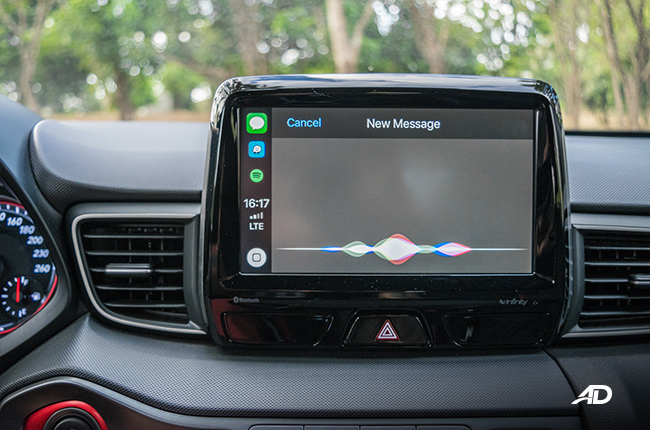 Apple CarPlay's Siri can also read text messages back to you. Opening the Messaging app will prompt her to do so and you'll be asked if you would want to reply or not. If you choose to reply, you can dictate the text message back to Siri and she will "type" the whole thing for you. She will also re-read your message before sending.
However, language is a limitation, so make sure that you're sending an English text message (or any language you set). You should also say the punctuation marks out loud, so a message such as "Okay. Where do we meet?" would need to be dictated as "Okay. Period. Where do we meet. Question Mark."
Integrated Waze, Google Maps, and Apple Maps
Prior to iOS version 12, Apple CarPlay only has Apple Maps as its navigation app. Good thing, iPhones with iOS version 12 and above add Google Maps and Waze into the interface.
With this update intact, Apple CarPlay now displays the Waze map on the infotainment system instead of your phone. This would render smartphone cradles useless, and that's a good thing.
Take note, though, that Siri doesn't work with Waze and Google Maps, so if you want to ask Siri for directions, it will use Apple Maps instead.
Apple Music, Spotify, and Other Music Apps
Another nifty feature of Apple CarPlay is the integration of Spotify and other third-party music apps, on top of the pre-installed Apple Music. This allows you to toggle and choose your music via the head unit instead of your smartphone.
However, Siri doesn't work with the third-party music apps, too, so you would need a subscription with Apple Music if you want to use voice prompts to find your favorite jams.
Latest Features
It's time for you to shift to the DIY culture.

The GAC GS3 and Chery Tiggo 5X are two subcompact crossovers looking to rise above in their segment. Who wins this battle?

Just follow these tips and tricks, and you'll learn how to manage stress during traffic.
View More Articles