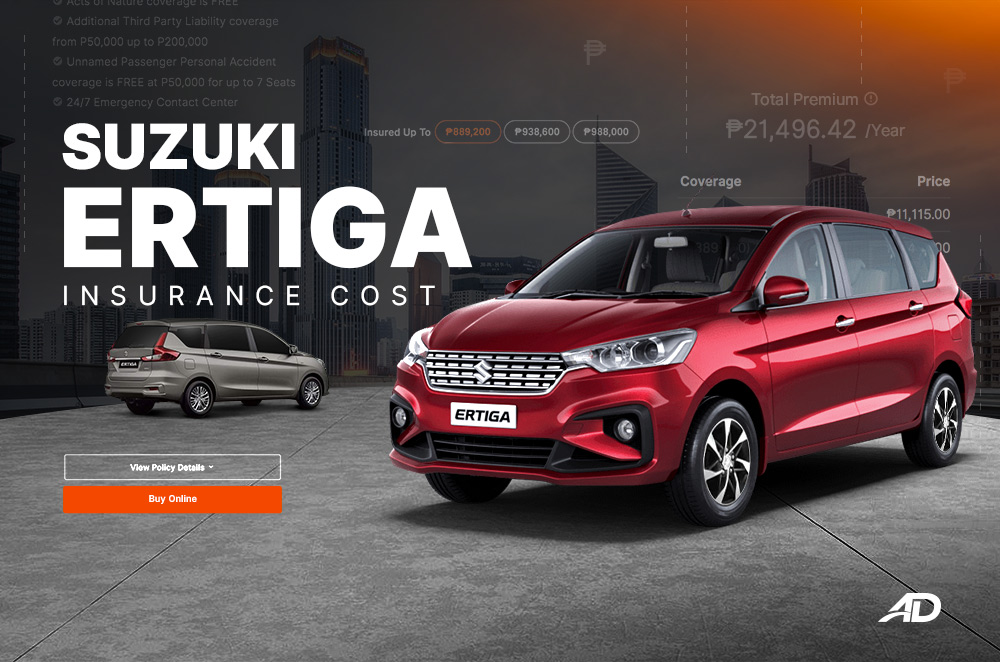 The Suzuki Ertiga is one of the more popular MPVs in the Philippines, garnering praise for its straightforward design, roomy seven-seat interior, and relative affordability. People most often use the Ertiga as a capable people-hauler, a machine that won't let them down wherever they go.
Many families trust the Ertiga for their everyday needs, and rightly so. The MPV offers them a bang for their buck that's tough to beat. However, protecting your family entails more than just getting a reliable car— it's also about having insurance that the vehicle has the best protection possible. For this reason, you may need to know how much it costs to insure the Suzuki Ertiga.
Why do you need to insure your Suzuki Ertiga?
So, the Suzuki Ertiga starts at below P800,000 for the GA 1.5 MT model. The top-spec GL 1.5 AT variant will set you back a hair over P900,000. That's one of the best deals in the MPV segment, but it's not chump change either. Many owners save for years to afford the Ertiga, and it's not a purchase they take lightly.
Significant investment in the Ertiga deserves a fair amount of protection. You can get this by purchasing insurance to give you a sense of peace whenever you take your MPV out for a spin. Of course, there's no telling when an accident might happen, so it's best to have safeguards against unfortunate incidents. It's always better to be ready than lose your hard-earned money with an uninsured vehicle.
How much does comprehensive insurance cost for the Suzuki Ertiga?
Using our Insurance Calculator tool, we can estimate how much it costs to avail of insurance for the Suzuki Ertiga. As it turns out, you'll need anywhere between P14,500 to P23,700 per year to purchase insurance for the Ertiga.
Your exact payment will vary depending on the model owned and the package you choose. Insurance for the base model will cost you around P14,500 to P18,200. Meanwhile, the top-of-the-line variant costs about P18,400 to P23,700.
The following is a breakdown of what you can expect to pay for comprehensive insurance for the Suzuki Ertiga. Remember that these figures are based on the most expensive policies with the lowest insurance coverage. We highly encourage you to use our Insurance Calculator to get a quote for a policy that fits well with your needs.
These figures are provided by some of the most renowned insurance providers in the Philippines. Companies like Mapfre, Malayan, Fortuner General, and FPG Insurance can give you flexible and affordable deals that suit your particular necessities. Each company provides different benefits and coverage types, so be sure to compare and contrast their offerings.
Purchasing an insurance plan with AutoDeal takes only about 5 minutes. You can even receive your policy as soon as the next business day. This way, you can have more time to enjoy your Suzuki Ertiga without fear or apprehension. With a comprehensive insurance plan, you can drive all you want, knowing that you're safe against whatever the road has in store for you and your MPV.
Get the best deal - Choose multiple dealerships to compare offers!
You can compare quotations simultaneously from multiple Suzuki dealerships. Select your preferred dealers from the list below.

Compare quotations from multiple dealerships in minutes.
Check vehicle and color availability.
Find info on special offers and promotions.
100% Hassle-free with no obligation to purchase.
Latest Features
Both are within the same price range but are in many ways different from each other.

The Chevrolet Tracker presents tempting design details and features that should be given much more attention.

Choosing the right vehicle is hard so we created a list of 10 vehicles that could tick all the right boxes for your current and possibly your future needs as a young professional.
View More Articles