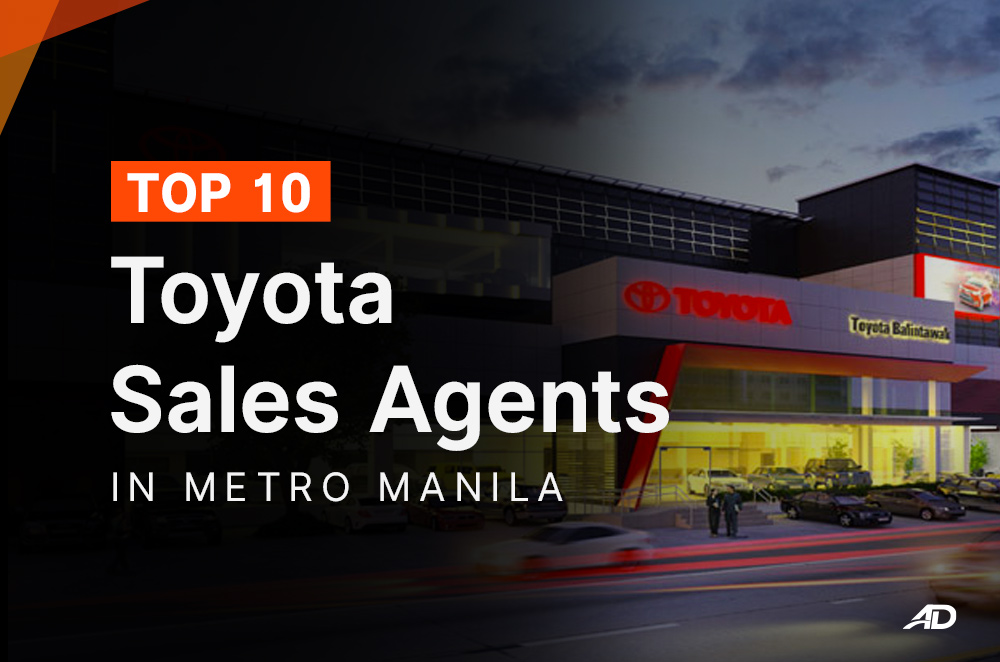 The team at AutoDeal has the resources to help make your car-buying experience a breeze. Connecting consumers to brands with a click of a button. In an effort to recognize top-performing sales agents in the field, we've decided to do a feature of 10 of the best Toyota salesmen and women who are with us in our quest to make Car Buying, Simplified.
Toyota, as the biggest brand in the country, garners the most inquiries on our site. Many Filipinos have grown to trust the brand and the people behind it. Good customer experience starts with the first person you talk to at the dealership, a sales agent. If you're in the market for a Toyota vehicle, let's get you through the door without having to get out of your house. Here are our top 10 sales agents from Toyota Philippines, and their respective dealerships. This list is based on these agents' sales performance in the last quarter of 2019.
Toyota Alabang
Gertrude Martin, located in a Toyota dealership down south of Metro Manila, answers her customer's queries with humility and good accommodation. According to her reviews, as rated by her real clients, she has a very polite approach. She was also able to assist some clients through the entire car loan process, as well as calmly and humbly answering any questions along the way. This netted her a perfect 5-star rating among the clients and she's accumulated a total of 12 sales with AutoDeal as our partner agent.
Toyota Bacoor Cavite
Karlo Panaligan has had 17 sales on AutoDeal.com.ph has amassed a 5-star rating on our website. One particular review showcases Karlo's responsiveness to his clients, and another showcases his personality as being very likable. This also shows in his replies, where he manages to get back to the inquiries he's given within less than one and a half hours, which is an efficient and remarkable pace.
Toyota Balintawak
Karla Mae Carla met her clients' expectations, enough to give her a rating of 5 stars on our website. Among the reviews, it was stated that she handled the transaction smoothly, was hassle-free, and met all expectations. For another client, she kept in touch well and impressed one particular customer so much that 5 out of 5 stars weren't enough to express their satisfaction.
Toyota Makati
Christian Joseph Borja has been able to sell 21 cars with the help of AutoDeal as a partner agent. Several of his customer reviews cited him as being an accommodating and guiding presence when handling clients. Many were satisfied with his service during and after the deal pulled through, and with over 20 cars sold, that's quite a feat.
Denrick Malate is one of the fastest-replying sales agents on this list. On average, he gets back to clients within an hour after an inquiry is sent. He's reliable, professional, and fast – from the replies down to the processing of papers. One review of him even accounted for his prompt assistance when it came to payment and unit releasing on the same day.
Toyota North Edsa
Bebelin Donque is a responsible and accomodating sales agent, according to one of her clients' testimony. When she deals with clients, it is noted that she is prompt, professional, and good at explaining in detail. Her clients write that she has good product knowledge and was able to guide them to the right choice of vehicle. Bebelin has a total of 10 reviews on the site, and all of her customers gave her a 5-out-of-5 rating, which speaks volumes about the consistency of her service.
Toyota Pasig
Gelai Lopez has several positive reviews under her belt and was able to achieve a 5-star review rating. With AutoDeal as a partner agent, she was able to sell 13 cars and is regarded by many of her clients to be a very approachable, accomodating, and diligent agent. Clients have also remarked about her speed and friendliness.
Toyota Quezon Avenue
Marlon Hayahay's clients were very receptive to his reviews. One customer, in particular, remarked how he was a perfect fit for the role he found himself in Toyota Quezon Avenue. He understands the customer's needs and offers the right product while paying attention to details. He has the capability to wow customers, and a good sense of service. His 5-star rating is indicative of his performance as a partner agent on AutoDeal.
Roi Ardee Ricafrente is a very proactive and reliable sales agent, as described by his clients. According to reviews, he is knowledgeable about the product that he sells, and is the definition of customer service, as written by one of his satisfied customers. He is patient with a willingness to serve, with a respectful attitude towards his customers.
Grace Campos puts effort into dealing with her clients. She puts a lot of emphasis on customer satisfaction and is able to assist every client's concerns. She can be trusted as stated in her reviews and was good enough to make a satisfied customer change our rating system to a 6-star one. Grace was also able to achieve a perfect 5-star rating on our website as an AutoDeal partner agent.
Latest Features
Despite its age in the segment, the Kia Forte is still a great sedan to go with as it comes with many features that tick the right boxes.

If you're on a budget and in need of a reliable workhorse for pretty much anything, the Suzuki Ertiga is the perfect choice.

Unsure about the Number Coding scheme in the Philippines? Our complete guide provides comprehensive details on everything from coding days to window hours in all locations affected by the Nu...
View More Articles