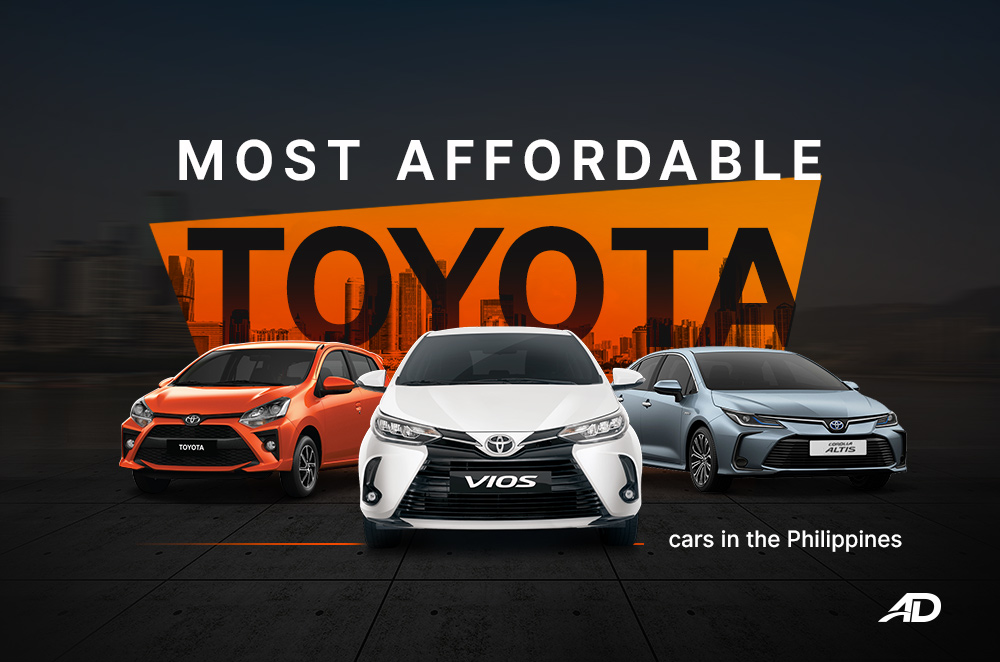 For close to 60 years, the Toyota brand has had a presence in the Philippines, offering a diverse array of products to the Filipino people. Many of us grew up with Toyotas in the garage as children, and most can still be found in running condition today, a testament to the reliability and ease of maintenance that Toyota's products have garnered over the years. While design philosophies have changed and technology has moved faster than ever before, we Filipinos still hold the Japanese manufacturer in high regard. After all, it's hard to fault an automobile manufacturer that has seen us through many decades of financial and leadership challenges.
For those looking for their first car that fits within a budget, Toyota has always had a product for everyone. Currently, they have one of the largest lineups of vehicles of any vehicle manufacturer in the country, spanning over 20 Toyota models in various trims and costs. From sporty coupes to tiny city cars, Toyota has all bases covered. In this article, we'll be narrowing down the cheapest and easiest to acquire vehicles in the Toyota family. You'll be surprised to find that there's a lot of variety here for a price point that's within easy reach.
Toyota Wigo
If you're looking for the cheapest car in Toyota's stable, you've found it. The Toyota Wigo ticks the boxes for those looking for their first car or a reliable city car to serve as basic transportation. It's easy to drive and maneuver through congested streets and is frugal at the gas pump. ABS and airbags are standard, so even at P568,000 for the most basic trim, you've got all the essentials covered, and more. If you want more features, then the Wigo goes for as much as P700,000 for the top of the line TRD-S model. It is the most premium variant of the Wigo and it still falls under a million pesos in the Philippines.
Toyota Vios
The most successful and one of the longest-running subcompact sedans on the market today, the latest generation Toyota Vios elevates the standards of this category by providing class-leading safety and a slew of new convenience features, such as hill start assist and stability control on all trims. It fits the bill for those looking for a solidly built car that will last many years to come, and with the base model starting at P671,000, there's a lot of value to be had from one of the most popular nameplates in the local automotive industry. The most expensive Vios comes with a bigger engine, and the price of that model goes all the way up to P1,056,000, add an extra P15,000 if you want it in a White Pearl color scheme. Regardless of what variant you opt for in the lineup, the Vios is a great value proposition and it is also locally manufactured so parts will come easy.
Toyota Corolla Altis
For just under P1,000,000, you can get Toyota's most recognizable and storied nameplate that caters to the Philippine market. The Corolla Altis is one of the most popular models in the country, and its base 1.6-liter trim with a manual transmission is more than enough to ferry a few people, sit in traffic and go out of town if need be. The compact sedan may not be the flashiest in its class, but it is a Toyota and that is one of its selling points. Go for a higher trim and you are greeted with more features and if you go for the top of the line model, you get a Hybrid system that returns some of the best fuel economy figures we've seen in traffic and on the highway, but that comes at a premium. It is good to know, however, that Toyota is still offering a model that is affordable and priced under 7 digits.
Toyota Avanza
Need to seat up to seven people and work within a budget? The Toyota Avanza is a small MPV that has enjoyed incredible popularity in its category, offering practicality for the Filipino family. With the Avanza, you've got flexibility with 50:50 folding seats and a huge cargo area, and safety with the inclusion of ISOFIX mounting points and standard ABS and twin airbags. The Avanza is a family hauler on weekends, and a daily commuter during the rest of the week, and it starts at P743,000, however, if you want a 7 seater, you have to opt for the 1.3 E MT variant.
Toyota Hilux
Eight generations strong, the Toyota Hilux is a solid contender for a pickup of choice. Offering a wide array of engines and trim levels to suit your budget, the Toyota Hilux can be your no-frills workhorse, ready to tackle cargo, a daily truck to take to the office on a weekday, or even a good base for an off-road 4x4 project. ABS and airbags are standard, while top trims get new touch screen interfaces and gauges. Either way, you get a solidly built truck trusted the world over. The Toyota Hilux starts at P843,000 and goes all the way up to P1,850,000 for the top of the line Conquest trim. Either way, up and down the lineup, there is a Toyota Hilux that will likely suit your needs and budget.
Toyota Yaris
The Toyota Yaris has always had a bit of a cult following in the Philippines as a handsome and fun to drive subcompact hatchback that leans towards a more youthful and dynamic vibe. The latest generation Yaris has received a major facelift and is more modern than ever with the inclusion of more aggressive exterior styling, a redesigned interior with more creature comforts, and even more cargo space. It's a handsome looking and well-equipped car that will appeal to a wide variety of buyers, and can be had for as low as P900,000.
Toyota Rush
The newest addition to the family of Toyota vehicles, the Toyota Rush is a five or seven-seater MPV that aims to rejuvenate the hotly contested MPV segment. Maximizing space and trunk capacity for passengers or cargo, the Toyota Rush is also handsomely modern in its looks. LED headlights, six airbags, ISOFIX mounting points, ABS, stability control, keyless entry with push-button start, and a reverse camera are all part of the package. It's a thoroughly modern MPV that throws all the right punches for its category. The Toyota Rush has a base model that starts at P968,000. The next variant up is just P8,000 over a million pesos. After that, the 1.5 G AT goes for just P1,100,000.
Latest Features
The South Korean Automaker currently has 10 passenger vehicles to choose from.

Here's a guide on how to survive and thrive in the hellish traffic of Metro Manila.

The crossover segment in the Philippines is filled with options and the MG HS wants to make a name for itself and set itself apart from the rest of its rivals.
View More Articles