The Geely Okavango is one of the hotter selling MPVs in its segment in the Philippines. Some even tout it as a true rival to the veteran of the segment that is the Toyota Innova as it brings in a great set of features and a competitive price tag that make it all the more attractive to interested MPV buyers. With it slowly being a popular vehicle in the country and is slowly making a name for itself, this raises the question of what makes Geely Okavango a game-changer for its segment?
We have created a quick list of possible reasons why this MPV crossover is slowly making its mark in the local market and why it could be your next vehicle if you are looking to buy a feature-packed MPV.
SUV-like styling
Current market trends are pushing SUVs and Crossovers to the forefront. That being said, Geely has gone along for the ride and has styled the Okavango to look more like an SUV than a traditional MPV. This is evident in its flared wheel arches broad front fascia and muscular rear. While styling isn't necessarily always considering a game changing aspect in the market, it sure does help to attract more people. In this case, the exterior design was done well to emulate an SUV which makes buyers feel like they are buying one but are instead getting something much more than that.
Modern interior design
The interior of the Geely Okavango is new and fresh as it adopts a multi-layer design along with rectangular-shaped air vents. It comes with a floating screen and leather accents found in the center of the dashboard. Its gearshifter is similar to that of a plane yoke which is easy to grip and operate. Its driving mode buttons feel premium to the touch and is designed to look premium as well. You will typically see this design in much higher-end European vehicles. It also helps that in higher variants, the Okavango also comes with a digital display further adding to its premium but without the expensive pricetag theme.
Mild-hybrid turbo gasoline engine
As much as a saying that the Geely Okavango has a 48-volt Mild-hybrid turbo gasoline engine is a mouthful, the tech behind it holds true and is a game-changer for its segment. This hybrid system together with the gasoline motor produces 190 hp and 300 Nm of torque. Power is sent to the front wheels via a seven-speed, dual-clutch automatic transmission.
With gas prices on the rise, the Geely Okavango becomes a game-changer in its segment thanks to its mild-hybrid setup that lets you save on gasoline while bringing you great power figures as well. This makes it even more attractive for MPV crossover buyers who want a powerful and feature-rich vehicle that can also be fuel-efficient as well. Not to mention that the Okavango also comes with a competitive price point that can give its rival the Innova a decent run for its money.
Spacious interior
Interior quality and design aside, what the Geely Okavango offers aside from these great features is space and lots of it. The seats can all be completely folded flat revealing a spacious and flat cargo area. Its so flat infact that you can even put an inflatable bed at the back. This is such a prominent feature that Geely Philippines will even actually sell you this accessory in case you want to bring the Okavango out camping or out on a picnik. This makes the vehicle even more versatile as not only can it seat seven people comfortably but it can also accommodate much larger cargo without the seats impeding on the space. You are lookin at 257 liters of space with the 3rd row up, 1,200 liters of space with the 3rd row down, and 2,050 liters with the second and third folded.
Advanced technology features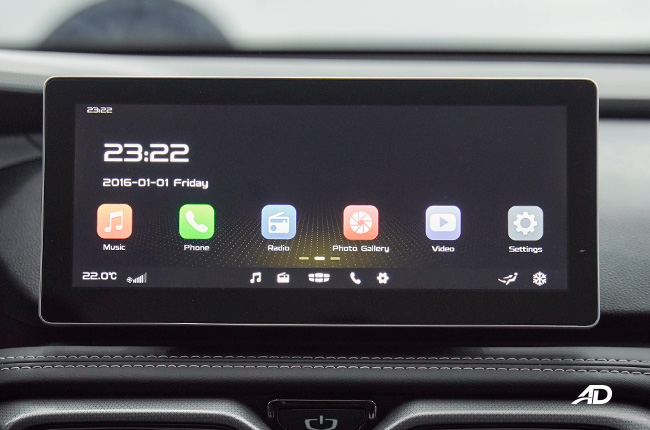 The Geely Okavango sets the standard for how much technology you can get for your money in its segment. It offers you a 360-degree camera for its higher-tier variants, a 10.25-inch infotainment system with QDLink, and a 3-zone climate control system with 3rd-row vents. Aside from this it also comes with a 12.3-inch fully digital display and a sunroof that has rain-sensing and ant-pinch tech with it. Its front seats are also power-assisted with the driver's seat coming with 6-way power adjustability and the front passenger getting 4-way power adjustability.
Overall the Geely Okavango has what it takes to make a mark in the MPV segment in the Philippines. It is already doing so with many being already sold by Geely Philippines. It presents itself as an alternative to those who don't want diesel power and would much prefer a hybrid vehicle instead. It also questions the notion of how much value for money you can get for P1.7 million as even its middle variant that is priced at P1.4 million already gives you a lot of value for your money. That being said, the Okavango is a game-changer and it will only be a matter of time as these will slowly begin to take over our local roads.
Get the best deal - Choose multiple dealerships to compare offers!
You can compare quotations simultaneously from multiple Geely dealerships. Select your preferred dealers from the list below.

Compare quotations from multiple dealerships in minutes.
Check vehicle and color availability.
Find info on special offers and promotions.
100% Hassle-free with no obligation to purchase.
Latest Features
We compare 2 SUV-like MPV seven-seaters, one from Mitsubishi and the other from Honda, The Xpander Cross, and the BR-V.

Here are the top 10 most inquired-for used car models on AutoDeal used car listings for the year 2022.

Here are 5 things that you need to get on with your journey driving in the Philippines. From documents to other items.
View More Articles