Your vehicle's warranty is important because it's the manufacturer's way of saying that they stand behind their products and if these products are not up to part with their standards they will pay for the repairs to make sure it does. This means that a car under warranty that needs replacements or repairs within the warranty period will be fixed at no cost to the customer.
While warranties vary from manufacturer to manufacturer a few key things remain the same throughout. A quick check at your vehicle's warranty booklet will reveal what kind of warranty it has along with the specific rules that your chosen manufacturer has set for it. It is also important to remember to always keep the booklet in your car at all times. A vehicle's warranty is also transferable in case it changes ownership while still being under coverage.
What exactly is not covered by the warranty?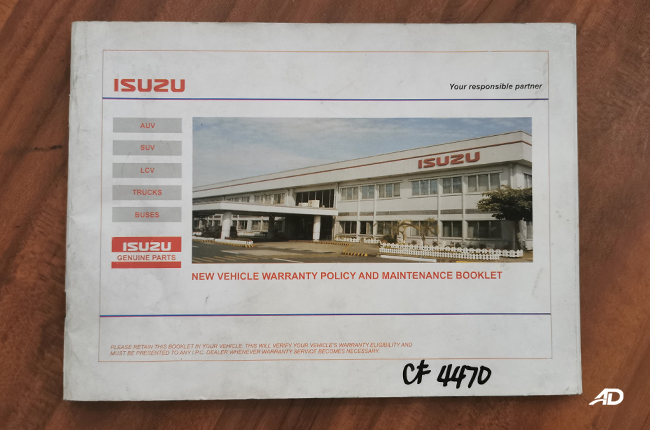 When it comes to your vehicle's factory and or bumper-to-bumper warranties there are certain parts that are not covered by it. These items usually include consumable parts such as the brakes, brake pads, clutches, bulbs, and other minor components that break down over time.
These items are usually replaced during Preventative Maintenance Servicing (PMS) and include oil changes, rotation of tires, replacement of filters, replacement of bulbs unless these are sealed units, fuses, belts, gaskets, seals, batteries (provided with a separate warranty booklet good for 12 months), bearings, rubber hoses, cushions, and other similar items. It is important to note that the manufacturer can also revoke your warranty if services were done to the vehicle outside the service center as any damage resulting from repairs or maintenance not done by the manufacturer is automatically not covered by the warranty.
The following are also not covered by your vehicle's warranty:
Petroleum products and fluids such as oil, grease, battery electrolytes, radiator coolant, air conditioner refrigerant, power steering fluid, and other items not specified by the manufacturer. Any damage resulting from or related to the products mentioned above is also not covered by the warranty.

Damage from participation in any race, rally, or competition of any form.

Use of the vehicle as a taxi or as a rental unit.

Use of the vehicle beyond the specified limitations or indecent purpose of the manufacturer.

Use of non-genuine parts or the wrong fuel, lubricants, or fluid not recommended by the manufacturer.

Modifications that were done to your vehicle that affect its function or performance with non-genuine parts or accessories without the approval of the manufacturer. However, if the dealership itself installs these modifications onto your vehicle, your warranty can still cover these new components.

Corrosion or deterioration of plated surfaces, rubber items, and plastics due to rusting or aging. It also does not cover scratches or paint chips that have occurred after the release of the unit to the customer.

Unusual noises or vibrations which do not affect the function or performance of the vehicle or compromise the safety of the user.

Any damage incurred due to improper storage or transport of your vehicle.

Having your vehicle towed and the additional costs associated with it.

Damage caused by "force majeure" such as fire accidents/collisions, theft, and vandalism.

If your car is not registered with the Land Transportation Office (LTO) it is also not covered by its warranty. This is also why dealerships are required to release the unit to you with complete documents along with the warranty booklet.

Any alteration to the vehicle's mileage also voids your warranty.
Latest Features
The Nissan LEAF presents the perfect price, technology, and practicality for your first EV purchase and experience.

Will GAC be able to unsettle Honda's ever-present Civic RS? Let's dare to compare!

The Suzuki Ertiga Hybrid presents advanced mild-hybrid technology as well as versatility at a very tempting price point.
View More Articles