So the good people in our Government released the holiday list for 2016. We've decided to make our own little list which features the cars you can buy for each holiday given the availability of money of course.
The first long holiday of 2016 starts on December 30 which is a Wednesday of the previous year to January 3, 2016. This covers Rizal day, New Year's Eve, and New Year itself. If you're planning to go home to the province during that long break, you'd surely need a lot of cargo space. The Mazda CX-5, Subaru XV, or the Suzuki Grand Vitara are good options for your long vacation. Here's a quick comparo of the 3.
On the other hand, the celebration of Chinese New Year, EDSA People Power Revolution, and Bonifacio day present an opportunity for a quick trip out of town without breaking your budget. A smaller car with ample space in the boot and great fuel economy like the all-new Suzuki Celerio or the Toyota Wigo is perfect for these occasions. Compare them side-by-side on our Car Comparison Tool.
If you prefer to something that has a little bit more speed.... okay, a lot more speed, you can choose between the Mazda MX-5 or the Toyota 86.
So be sure to plan ahead, get a car or two that would help you the most during the holidays listed below.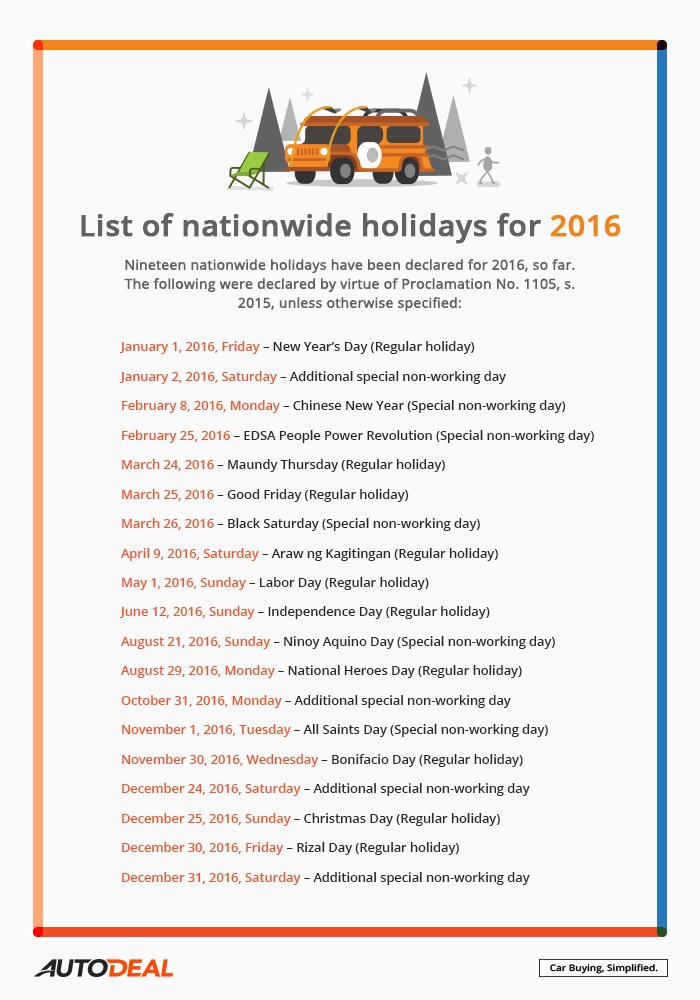 Latest News
Customers will have to wait for the new Honda HR-V due to production delays, according to Honda Philippines.

Watch this early walkaround video of the 2024 Santa Fe, now with a boxy design.

Looking to get a 7-seater vehicle? Heres a quick list to get your search started
View More Articles