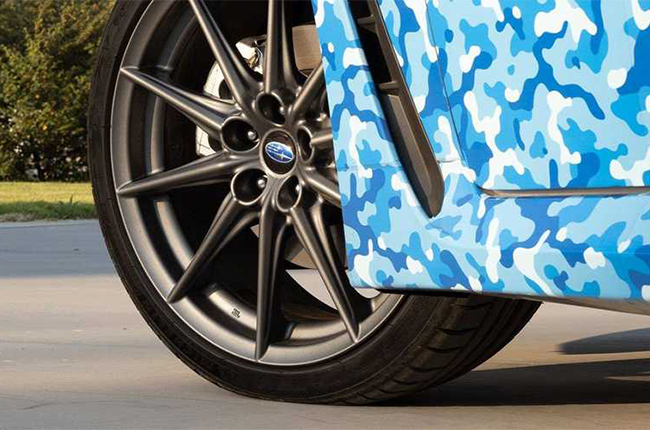 The next-generation Toyota 86 and Subaru BRZ has been causing quite a stir in the motoring world with rumors still being spread about its possible new power plant. Subaru America on the other hand, eager to showcase the new vehicle has given it a public preview. The only catch, however, is that it comes fully dressed in camouflage. While not many details can be seen about the next-generation sports car, it does give us a glimpse as to what to expect when it comes to the body of the vehicle.
Pictures of the event were posted on Instagram by subarudwayne showing the vehicle at an event at the OC Fair and Event Center in Costa Mesa California in the United States. Attendees of the event were treated to a sneak preview of the vehicle. However, the vehicle was placed under a tent with mesh on either side and in blue and white urban camouflage. While not much else is known about the vehicle based on the images alone we can infer that it has been redesigned to look sleeker.
At the rear of the vehicle, you can see large possibly 19-inch wheels along with a small ducktail spoiler at the rear. The taillights can also be seen sporting a longer and sleeker look compared to the previous model. Aside from that, it appears that there will be slats on the front quarter panel which appears to be functional. However, this has not been confirmed, and as the model is likely a pre-production unit the design may change for the final product. Aside from the preview of the vehicle, no new information regarding the possible powertrains was released.
Subaru America through the event has also stated that it will debut the next-generation BRZ in the fall of 2020, the Toyota version will likely also have a similar reveal date. Neither Toyota nor Subaru have given a specific date as to when the two companies will officially reveal the next-generation sports cars to the public.
Latest News
In 2024, the Suzuki Swift will get an update, and the concept image was leaked ahead of its official unveiling.

Hyundai Accelerate, in partnership with Pasig City, has admitted four lucky scholars to Don Bosco Makati for training.

Embracing the rugged persona of the Mitsubishi Xpander Cross, the Outdoor Edition has added enhancements for adventure.
View More Articles