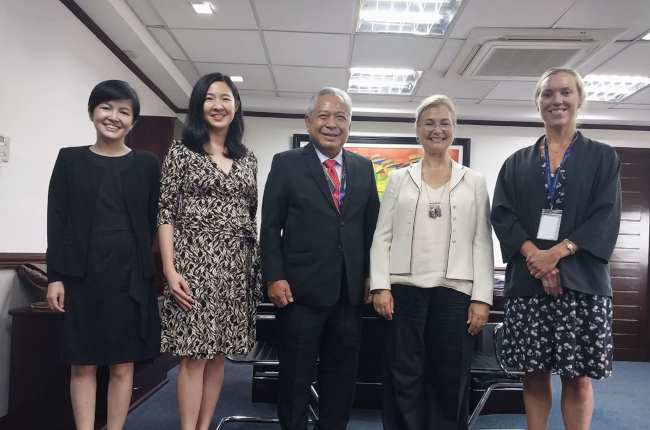 The Department of Transportation (DOTr) shared its newest development planned for the busways of EDSA. The department has accepted help from the government of Sweden to explore ways to improve the bus carousel on one of the, if not the most, congested roads in the country.
As the main thoroughfare in Metro Manila, EDSA is practically home to every motorist on their way to work, and no, that's not just because of traffic. The MMDA stated that there had been a sizeable increase in the number of cars out on the road, and traffic will worsen as things return to normal. Even the morning coding hours have returned and that's a tell-tale sign on its own. The surge of commuters due to the return of face-to-face work and classes will take a toll on our transport system if not addressed. The DOTr's move should hopefully bear fruit in the coming months, making the commute along EDSA a less taxing endeavor for daily commuters.
To help alleviate the traffic congestion on the metro's busiest road, the DOTr announced that they will be accepting help from the government of Sweden in order to improve the system and find ways to grant greater transportation efficiency to commuters who frequent the routes along the carousel.
"Improving the EDSA Busway to be able to accommodate the surge of commuters when face-to-face classes resume this month aligns well with the Secretary's mission to raise the country's transport systems to global standards."
For now, it looks like the DOTr and the Swedish government will be looking into things, perhaps setting benchmarks before actual changes will be made. Hopefully, the collaborative effort could extract more efficiency out of our busways for a better commuting experience for all on EDSA.
Latest News
In order to deal with traffic the Quezon City government has opened a zipper lane along Quezon Avenue for westbound motorists.

The project that began in March 2022 is finally complete.

Brace for some traffic after rush hour on C5 due to Flyover rehabilitation from 10:00 PM to 5:00 AM daily until December 30, 2022.
View More Articles