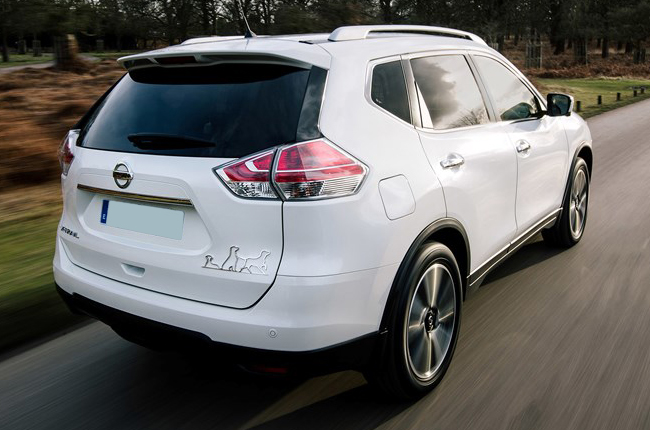 Slobber, fur, and dirt (sometimes poop) – these are some of the things that make going on a road trip with your dog an unpleasant experience. With this, Nissan unveiled the 'pawfect' vehicle for our canine friends—the X-Trail 4Dogs concept. This crossover comes with bespoke features that turn its cargo area into a dog haven.
For starters, the X-Trail 4Dogs concept has a pull-out access ramp that helps our 4-legged friend board the car easily. Once inside, canines can lay down on the luxurious and easy-to-clean leather bed.
Aside from that, the 445L dog sanctuary comes with a non-spill water bowl, smart dog treat dispenser, and an interior drying system to spoil your furry friend. On the other hand, all these features can be removed in case you don't have a dog with you to create space for your luggage.
Dogs also need to stretch their legs and enjoy the great outdoors in between or after trips. Instead of worrying how dirty your car's interior will be in its aftermath, the X-Trail concept comes with its own 360-degree pull-out shower and dog dryer to clean them.
In case owners have separation anxiety with their pets or are just plain worried of their safety, they can keep an eye out with the ingenious 2-way 'dog cam.' This displays the feed on a 7-inch dashboard display for the owner and a 10-inch LCD screen in the boot for the dog/s.
The Nissan X-Trail 4Dogs concept sure is a treat for pet owners that want a practical vehicle for their family and dogs. Watch the Nissan X-Trail 4Dogs concept in action below.
Latest News
Now that Peugeot Philippines is under new distributorship, it looks like the automotive brand wants to expand its reach in the local market.

Honda walks away as the most awarded brand in the Southeast Asian Region.

The refreshed Peugeot 5008 packs a new look and a variety of technological wizardry.
View More Articles