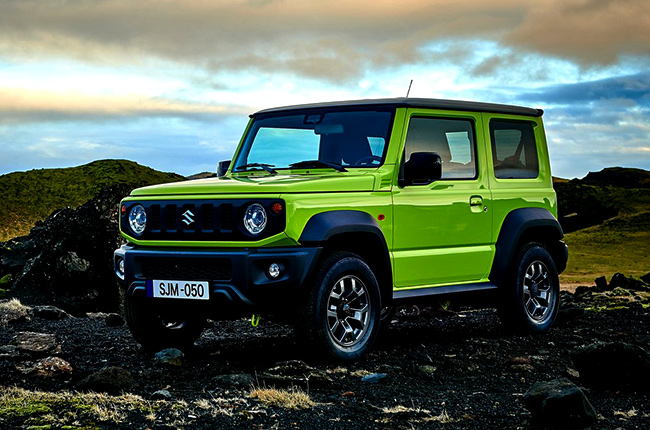 There's no stopping the Jimny's charm – nope, not even a three-star rating at the previously conducted NCAP test. That's, at least, based on a report from Autocar via Motor1.
According to the report, more and more people are being lured towards its oddly acceptable beauty; the boxy, Hammer-ish, G-Class-y exterior design.
Well, unfortunately, Suzuki did not expect its tiny little bigshot to mesmerize the entire planet. Now, the Japanese marque is short of units and it could possibly spell one disappointing drawback – delays in markets outside Japan and Europe.
We know we've already put it out there; there's a great chance Suzuki Philippines will bring the small SUV to the local market. However, we feel like we've underestimated the hype it has from the moment it leaked on the internet until now. Although there were no confirmations made by the Japanese brand, the chances of the Jimny getting here shortly is slowly becoming a little blurry.
According to Suzuki United Kingdom boss Dale Wyatt, through an interview with Autocar, there are already 4,500 reservations for the Jimny in UK. This is quadruple the amount of Suzuki's allotted 1,000 units for UK this year. Suzuki might have to magic this one out, don't you think? In able for them not to put out the burning flame people have for the SUV, the Japanese small car manufacturer needs to play catch up with the market.
The shortage, according to Suzuki, is due to the overwhelming demand in Japan alone. Can we blame them, though? The advantages of squeezing through narrow city streets plus the perks of bravely traversing off-road terrains is as ideal as it sounds. Imagine driving side-by-side a mid- or full-size SUV on a rocky, muddy terrain then leaving them behind after reaching the narrow urban roads.
Well, all still boils down whether Suzuki Philippines really plans to bring it here or not. We mean, we all love it so why not give it to us? After all, it's a perfect match for the tight and congested roads we have locally.
Source: Motor1
Latest News
Kia Philippines clarifies on the capabilities of current battery electric vehicles (BEVs), namely the Kia EV6.

The electrified pickup truck comes with a powerful electric motor, decent range, a great set of features, plus an interesting vehicle and battery warranty.

It's a new application that will help you keep track of your vehicle at all times and help you make sure it is safe.
View More Articles