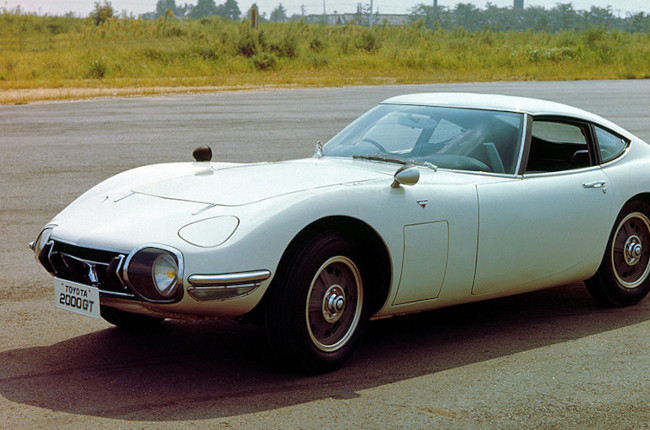 Toyota has announced that it will be including the 1967 2000GT in its Toyota Heritage Parts Program. Under Toyota Gazoo Racing (TGR) the parts manufacturing project will make discontinued parts available to the public again. Other entries into the program include the Toyota Supra A70 and A80, or the Mk. 3 and Mk. 4 models.
Now it's the legendary 2000GT's turn. In 1967, Toyota and Yamaha worked together to produce a car that was one of the most advanced for its time. Spanning a production run of 3 years, from 1967 to 1970, only 337 units of the legendary sports car was ever made. It featured advanced suspension for the time, employing a double-wishbone setup on all four corners of the vehicle. The motor was a 2.0-liter straight-6 cylinder motor with dual overhead cams (DOHC), four-wheel disc brakes, radial tires, magnesium alloy wheels, retractable headlamps, and a maximum speed of 220 km/h in line with other European sportscars at the time.
The model is indeed an icon and has been featured in pop culture such as in the James Bond film, You Only Live Twice. The 2000GT made an appearance in the Japanese scenes of the movie. Apart from that, it took part in speed trials, and despite inclement conditions with an approaching typhoon, it set three world records (10,000 miles, 15,000 km, 72 hours) and 13 international records. It also achieved wins and high placement in various races allowing it to become a world-renown sportscar for the Japanese manufacturer.
The parts list includes transmission-related items such as the gears, synchro hub and sleeve, gaskets and oil seal kit, bearing kit, snap ring kit, thrust washer, and shift fork. The other system to receive a parts list is the differential which includes the final gear kit, and ring gear set bolt.
Also, due to the uniqueness and rarity of the car and its parts, sales will be made exclusively to actual owners of the 2000GT to prevent reselling, but even then the parts will be limited to the car only.
Latest News
The Strada GLS line gets a selection of blacked-out elements and 18-inch black alloy wheels.

We got nominated, and won! Caco drove home with two awards from HFA this year.

The all-new Ford Ranger is almost upon us. Could it launch in the Philippines as soon as this September?
View More Articles