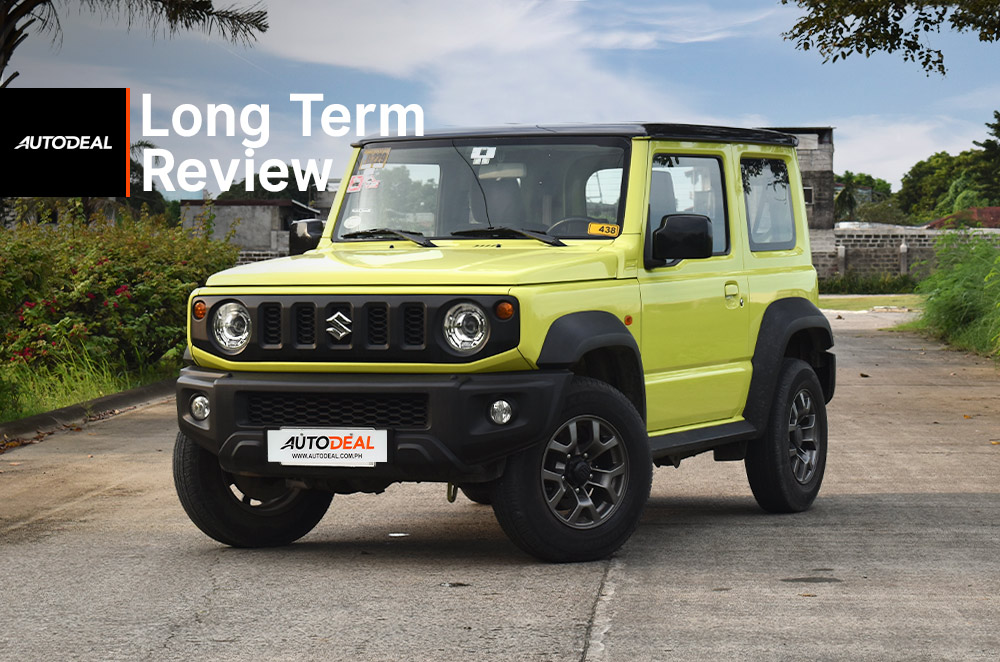 It's been several years since the current version of the Suzuki Jimny was first introduced into the Philippine market. It was a hit, to say the least for Suzuki Philippines with people still lining up to buy the small SUV even today years later from its 2019 launch. This now begs the question, has the Jimny aged like a fine wine over the past few years it has been on sale or has its appeal fizzled off?
To answer this question, we have made a long-term review of the SUV as we have logged thousands of kilometers collectively as a team, and our thoughts go beyond just a weekend drive with the car. We have borrowed the original press unit again to see how it was able to stand the test of time. As such here is what we think of the Suzuki Jimny several years after its initial release.
It still has a cute boxy appeal
The Suzuki Jimny is by no means an intimidating SUV. It's a small boxy car that most would consider "cute" thanks to its dimensions and unassuming looks. While it does carry the hallmarks of a great SUV with its great ground clearance and 4x4 system, it's the overall design of the vehicle that gives it a unique place amongst the much bigger SUV competition.
In terms of its exterior condition, the Jimny test unit was still in good shape. Mind you this model had 25,000 kilometers on the clock and had already done several rounds of lend-outs to other media outlets. Its paint was still in good condition with a few scratches here and there from normal use but remained shiny despite its age. The bumpers were all still intact with yet again minor scratches from on and off-road use.
Overall the Suzuki Jimny is what we remember it to be when it first launched. It had that boxy look that many found t be appealing and came with the right stuff for those looking for an off-road-ready small SUV. The yellow-green paint still matches well with the black body cladding of the vehicle even several years later.
The utilitarian interior has stood the test of time
The interior of the Suzuki is as utilitarian as ever, there isn't much space in terms of storage and the dashboard is still dominated by plastic. These hard plastics have stood the test of time well and have remained sturdy despite their use and abuse over the past few years. No creaking noises were coming from the dashboard and everything remained solid. Space is still a bit cramped inside the vehicle especially if you want to fit four people inside.
The air conditioning is still strong and the air conditioning controls are still easy to use without any hassle. The wonderful thing about the Jimny is that you can easily get things to work without any problems even without a manual. One thing we do have to note is that shifting into its 4x4 modes still requires some effort as the shifter is still a bit clunky.
Overall what we initially said about the interior of the Suzuki Jimny remains true a few years later. Its NVH still requires some work as while you are driving on the highway you will begin to hear wind and road noise begin to enter the cabin as early as 60km/h. Cubbyholes are still limited but the infotainment system's performance has improved as we didn't encounter any glitches with it this time around.
The K15B has remained strong throughout the years
Powering the Suzuki Jimny is the K15B naturally aspirated engine. It develops 101 hp and 130 Nm of torque. While it may not seem like much on paper, you have to keep in mind that Jimny is small and light. This means that it can make do with the amount of power produced by the 1.5-liter. The Jimny isn't quick but it can get to cruising speeds on the highway in an ample amount of time and stay there without any problems. You still have to give yourself a bit of distance if you want to overtake vehicles on provincial roads as it takes time for the 1.5 to accelerate the vehicle.
As for its fuel consumption, we were able to get 7.6km/L in the city and about 16km/L while on the highway. These numbers are lower than what we initially got with the vehicle, however, we have to note that the test unit was in bad shape in terms of tires and alignment. The wheel was not straight and the tires at all four corners were either bald or balding already. This may have led to lower fuel economy numbers. That being said, they are still respectable numbers considering the less-than-ideal aerodynamic shape of the Jimny and its situation with the tires.
Technology hasn't changed
In our previous review of the Suzuki Jimny, we noted that it had a glitchy infotainment system. With our most recent encounter with the vehicle, we had no such problems. This could have been because Suzuki updated the software of the infotainment system or because of the phones that we were using at the time. Regardless we still love that it has Apple CarPlay and Android Auto capabilities. We also love that it has a reverse camera which comes in handy when going off-road.
Overall it's still a competitive set of features that have stood the test of time. These are features that many buyers will look for with their next vehicle despite the competition leveling up with 360-degree cameras and other safety features
It still holds great value for money
This now brings us to our long-term review verdict of the Suzuki Jimny. Overall it still carries the appeal that it had when it first launched thanks to its "cute" and boxy design. Its small wheelbase and 4x4 make it a good choice for those looking to get a nimble off-roader that has the capability to go almost anywhere. While this particular test unit has seen better days it's proof that it can withstand the rigors of daily use and much more.
The Suzuki Jimny is one tough cookie as people are still buying the SUV even several years after its launch. It may have gone up a bit in terms of its pricing as the Jimny is now near the P1.3 million mark for its top-of-the-line model but the appeal is still strong. It has carved a niche for itself within the SUV segment thanks to its competitive pricing and 4x4 system. However, its lack of space and storage limits the vehicle in terms of its practicality. It's still a fun car to drive and to own as a toy.
---
---
Get the best deal - Choose multiple dealerships to compare offers!
You can compare quotations simultaneously from multiple Suzuki dealerships. Select your preferred dealers from the list below.

Compare quotations from multiple dealerships in minutes.
Check vehicle and color availability.
Find info on special offers and promotions.
100% Hassle-free with no obligation to purchase.
Latest Review
It's the brand's entry into the subcompact segment that boasts unique styling, a unique set of features, and a frugal 1.2-liter engine that isn't small in power.

3.8

/

5

The Civic has evolved to be a comfortable yet sporty grand tourer vehicle that is both comfortable and quick.

4.3

/

5

The Peugeot 5008 offers you a great set of amenities and features befitting of its price tag but lacks a bit in certain areas where you would expect there to be a bit more.

4.3

/

5
View More Articles