Going up against a giant like Mitsubishi and their L300 is no easy task, but Kia is brave enough to do it anyway with the K2500. Such a segment is undoubtedly in it for the long run and the top of mind will be reliability, reliability, and reliability. Given how people use Light Commercial Vehicles (LCVs), just where does the Kia K2500 fit in with the rest of the robust roster of vehicles we have in the Philippines?
To us, at least, the K2500 is no mere LCV, and it's not as barebones as the rest of its competition. Let's explain in this review of the Kia K2500 Karga Dual Aircon.
2021 Kia K2500 Karga Review
Performance
Engine Output (HP), Acceleration, Transmission, Handling 4.5/5
Design
Exterior & Interior Design, Quality, Fit and Finish, Ergonomics 3.5/5
Ride Comfort
Cabin Comfort, Suspension, NVH Insulation 3.5/5
Safety and Technology
Convenience Technologies, Active and Passive Safety Features 3.5/5
Value for Money
Amount of the vehicle you get for the price, Fuel Efficiency 3.5/5
What You Will Like
Powerful for its class with 128 hp and 255 Nm of torque
Car-like interior
Easy to drive
What You Won't Like
No radio
No front thermostat
How We Do Our Reviews
Exterior
Okay, an LCV is an LCV, but that didn't stop Kia from adding its own additions to the model. The front has a Tiger-Nose Grille of all things, but it's not really a grille per se, rather it's should be called the 'Tiger-Nose garnish.' It's a piece that doesn't do much for airflow and aerodynamics, but it gives the K2500 a rather unique look for its class.
Flanking that will be a pair of halogen headlamps, and that's about it. Though, we will give it some points for being a more stylized set of lights. The door handles are nice and easy to pull, unlike the flush-type that we're usually accustomed to seeing, these handles allow you to get a nice grip on the door when you're pulling it open.
The rear body is made by the Centro Corporation, and it's as versatile as an FB body can be. Kia advertises that the model can carry up to 19 passengers, and its seats can fold up to accommodate wider items. From the outside, the car is built well. There are no creaks in the bodywork, and it's rather expected given its class. The rear body does have a few hangups like the door handle feeling a little cheap in comparison to the front of the car, but that can be forgiven since it is made by a different company altogether.
Interior
Now, here's the most interesting part of the K2500. It's not like a typical LCV, where all you'll find are gray plastics and squares—far from it. It has one of the most car-like interiors in the segment with cuts and curves that you don't normally expect in such a vehicle. The biggest selling point of the K2500 is that it has a very livable interior. Take note that we're using the word "livable," and not serviceable. The L300's interior is serviceable. Mitsubishi made its LCV as ergonomic as it can be, but it lacks that added flair that the Kia provides in droves.
Then the good points sort of end there. At least on the unit that we got for the review, there was no infotainment system, which meant that we had to pack a Bluetooth speaker with us on longer trips otherwise we'd get bored. We even resorted to our phone's speaker system in case the speaker's battery died on us.
That being said, you also get faux leather seats in the package. We're going to nitpick a bit with the floormats, as the unit came with a tacky foam set and not a carpeted set, but anything's better than rubbing the base carpeting. The gear knob also had a tendency to get loose while being shifted rather aggressively because it wasn't tightened down properly.
The rear passenger space is still usable, albeit with very basic ammenities like some faux leather benches that can fold up to accomodate almost any cargo that will fit. Though, there is nothing much to complain or rave about except for the fact that the airconditioning system is pretty strong.
Technology
While there isn't too much to talk about in this section given it is an LCV, we can go on about what the car actually comes with from the practical standpoint. It has air conditioning, but with only temperature options: cold and not cold. There is nothing in between since there is no thermostat, at least for the front. Behind the cab, the rear section of the K2500 Karga gets a third-party air conditioning system with a thermostat and fan speed switch. Because of the driver's lack of control, we'll define this as a true manual-type AC system where you have to hit a toggle to cut off the cold air coming through in case you get too chilly inside.
However, Kia was nice enough to fit in a set of manual leveling headlights, which is an added bonus for haulers looking to make their deliveries at night. Again, why didn't they just put a thermostat? On top of that, there is no head unit, but there is an AUX-in jack and a USB port, which makes us wonder whether there was an actual sound system inside the car in the first place, though we only noticed this towards the end of our time with the car. Perhaps it is an accommodation for when an actual radio was to be installed.
Lastly, it's got powered windows. A luxury that even some cars don't have nowadays.
Safety
It's not that uncommon to see a car such as this come without safety features. It is a commercial vehicle after all. Though it does come with a complete set of seatbelts for the two occupants in the front, so at least it's got that going for it.
That being said, from a consumer standpoint, it doesn't look too good, but from a commercial standpoint, the car shouldn't be driven in a dangerous manner in the first place.
Driving and Handling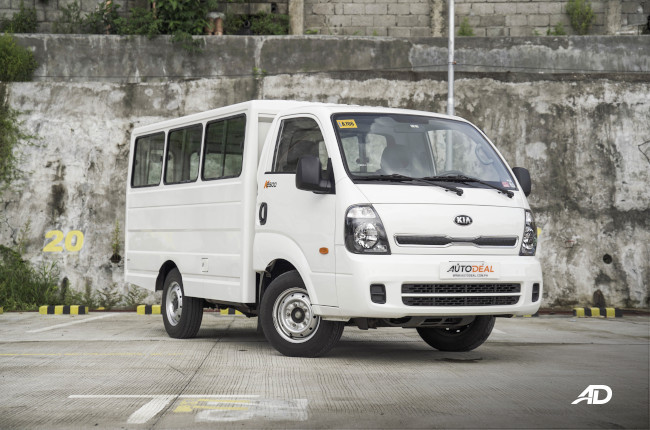 As expected, the LCV features a very bumpy ride, more strong than comfortable. The torsion beam in the front and multi-leaf spring in the rear make it so that the vehicle can haul quite a bit of weight. It also features a body-on-frame chassis which should further enhance its utility.
That being said, it's quite a performer. Among the brands like Mitsubishi and Isuzu, it's the most powerful of the bunch with 128 hp and 255 Nm of torque coming from a 2.5-liter turbodiesel engine driving the rear wheels. It's pretty peppy for what it is, and the engine doesn't struggle to keep it idling even while crawling in 2nd gear. It does struggle to get up to higher speeds, however, but don't let that be the be-all-end-all trait that makes you purchase this vehicle. It simply is not meant to be wrung out like a sportscar or a normal car for that matter.
Speaking of 2nd gear, the 5-speed manual gearbox is a pretty serviceable unit. The gears slot into place with a very notchy and responsive feel while the clutch is rather light and easy to use even in traffic. Paired with the generous amounts of low-end torque, the K2500 makes quick work of getting up to speed, though it is important to mention that we tested the car loaded up with our normal day-to-day luggage as well as some food items to be transported.
Finally, one thing that did impress us was the fact that the car has a rather tight turning radius for its size coming in with a 5.6-meter turning circle. It is a flat nose truck, and it's rear-wheel driven, so it's really a given knowing what the K2500 is.
Fuel economy
As for fuel consumption, the Kia K2500 Karga loaded up with 1 to 2 occupants, some camera gear, a few laptops, and a few palates of bread managed up to 10 km/L. We didn't get to test the LCV on the highway given community quarantine restrictions, but our estimates project that it will go about 15 km/L.
Price and Verdict
So who is the K2500 Karga for? The way we see it, it's a slightly more livable unit compared to the rest of the competition. It's got what we consider to be arguably the best interior of its category, plus it's got the most power among its rivals. Though, we will knock it back a bit because the others are simply more established in the market. For business owners, having a reliable pool of parts and connections to maintain these vehicles should be top of mind all the time. However, Kia does service these units, and they cover the vehicle with a 3-year warranty anyway, so at least you'd be assured that they know what they're doing.
However, given its snazzier additions, it does price over the other competitors and this variant, in particular, goes for P1,110,000. While it is above the seven-figure range, the extra budget you shell out will help if you want power and torque, plus an interior quality.
Other rivals in its segment include the Mitsubishi L300 and the Isuzu Traviz. The K2500 goes toe-to-toe with these two on a regular basis, but don't let the brands wholly influence your decision. If you are willing to pay extra, Kia even provides a 4x4 drivetrain for the K2500, a feature that the other two don't have. That being said, the Kia has its own niche. A better LCV, and a more capable LCV with more drivetrain options.
Exterior Photo Gallery
Interior Photo Gallery
---
Specifications
Performance
128 hp @ 3,800 rpm
---
Summary

| | |
| --- | --- |
| Name | Kia K2500 Single Cab 4x2 Karga Dual Aircon |
| Body Type | Commercial Vehicle |
| Price | ₱1,110,000 |
| Transmission Type | Manual |

Engine

| | |
| --- | --- |
| Engine Size | 2.5 L |
| Displacement | 2,497 cc |
| Number of Cylinders | 4 |
| Number of Valves | n/a |
| Transmission Category | 6-Speed Manual |

Performance

| | |
| --- | --- |
| Drivetrain | Rear-Wheel Drive |
| Max Output (HP) | 128 hp @ 3,800 rpm |
| Max Torque (nm) | 255 Nm @ 1,500 rpm |
| Acceleration Rate | n/a |
| Top Speed | n/a |

Economy & Environment

| | |
| --- | --- |
| Fuel Type | Diesel |
| CO2 Emission | n/a |
| Fuel Capacity | 60 L |
| Fuel Consumption | n/a |
| Range | n/a |

Dimensions

| | |
| --- | --- |
| Length | 4,825 mm |
| Width | 1,740 mm |
| Height | 2,105 mm |
| Wheelbase | 2,415 mm |
| Turning Circle | n/a |
| Ground Clearance | 200 mm |
| Wading Depth | n/a |
| Trunk Capacity | n/a |
| Max Cargo | n/a |
| Number of Doors | 4 |
| Number of Seats | 19 |

Safety & Security

| | |
| --- | --- |
| Driver's Airbag | |
| Front Passenger's Airbag | |
| Side Airbags | |
| Curtain Airbags | |
| Knee Airbag | |
| Auto Brake System | |
| Electronic Brake Distribution | |
| Anti-lock Brake System (ABS) | |
| Immobilizer | |
| Security Alarm | |
| Stability Control | |
| Electronic Door Locks | |
| Speed Sensing Door Locks | |
| ISOFIX | |
| Lane Departure Warning System | |
| Blind-Spot Detection System | |

Features

| | |
| --- | --- |
| Cruise Control | |
| Front Parking Sensors | |
| Rear Parking Sensors | |
| Leather Upholstery | |
| Push Start Button | |
| Wheel Size | 15 in |
| Wheels Metal Type | Steel |
| Airconditioning System | Front: Manual with thermostat, Rear: Manual |
| Entertainment System | with 2 speakers |
| Connectivity | n/a |
| Navigation Ready | |
| Warranty | 3 Years (110,000 km) |
| Keyless Entry | |
| Roof Rack | |
| Sunroof | |
| Electric Adjustable Seats | |
| Power Steering | |
| Power Windows | |
| Power Outlet | |
| Steering Wheel Audio Control | |

Technology

| | |
| --- | --- |
| Active Park Assist | |
| Hill Start Assist | |
| AWD Modes | n/a |
| Tire Pressure Monitoring | |
| Heads-up Display | |
| Power Liftgate | |
| Start-stop System | |
---
Get the best deal - Choose multiple dealerships to compare offers!
You can compare quotations simultaneously from multiple Kia dealerships. Select your preferred dealers from the list below.

Compare quotations from multiple dealerships in minutes.
Check vehicle and color availability.
Find info on special offers and promotions.
100% Hassle-free with no obligation to purchase.
Latest Review
With Peugeot now under new leadership in the Philippines does its new lineup of models have what it takes to take on the established nameplates?

4.0

/

5

It presents itself as a great compact crossover choice for those who don't want to be overwhelmed by a great amount of tech.

3.9

/

5

Does the Changan CS95 have what it takes to challenge the more established players in its premium segment?

3.7

/

5
View More Articles