The Ford EcoSport, love it or hate it, there are a number of things that the subcompact crossover has achieved in the Philippines. It was one of the first in its class to make headway into the country, and it came at a very affordable price tag. It's very manageable to drive with its short wheelbase and high ground clearance while remaining feature-rich and relatively affordable even to this day.
With that being said, the EcoSport deserves a look, since it's the youngest nameplate in Ford's current lineup. Let's dive into 5 facts about this subcompact crossover from the Blue Oval.
Developed in Brazil
The Ford Brazil Development center spearheaded the EcoSport's development under the project name, AMAZON. The first-generation vehicle sold well during its production run from 2003 to 2012, totaling 700,000 units.
The first EcoSport was utilized Ford's B3 platform, which was shared with another subcompact car that Ford sells, which is...
Fiesta on stilts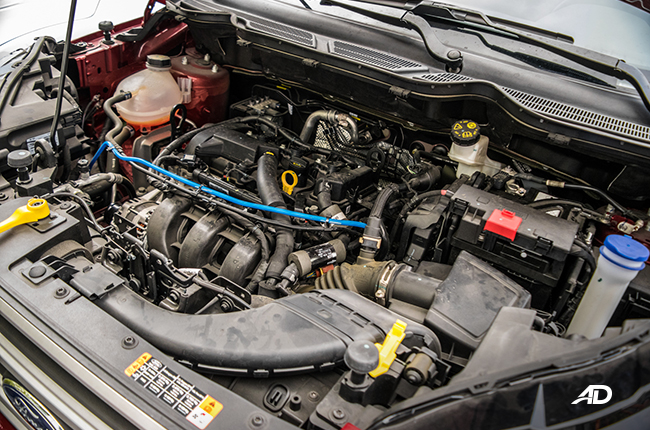 The Ford Fiesta was used as the EcoSport's basis. It was a logical choice to go off of thanks to its good handling already sunk-in development costs. The Ford team in Brazil had a good base which they lifted up and clad in differently shaped sheet metal.
If you notice, the engine in the Ford EcoSport is set deeper into the engine bay. The mounting points for the crossover are still more or less the same as its subcompact brother.
Tradition
Initially, Ford offered the EcoSport with a relatively new dual-clutch automatic transmission. After some setbacks, the Blue Oval decided to go back to the traditional and conventional torque-converter setup. The new EcoSport still has 6 gears, but now features a tried and tested gearbox.
2.0L AWD?
In the United States, the EcoSport has more variants and drivetrains to choose from. There is also a big displacement engine on offer apart from the EcoBoost, which is a naturally-aspirated 2.0-liter Ti-VCT unit that produces 166 hp and 149 Nm of torque. This powerplant can be mated to an AWD system as well, which makes the EcoSport more capable in low-grip situations.
No spare wheel?
For those of us who are used to seeing the EcoSport, you would know that the spare wheel at the back of the car is one of the defining features of the model. In the United States, however, where tire punctures are apparently – well – less apparent, you get a fix-a-flat kit instead of an outboard spare wheel, which makes the crossover look a bit odd, at least to Philippine consumers.
Just One More Step To Get Your Quote
Find out more info, request a brochure, or request a quote by sending an inquiry below
Latest Features
Here is a quick list of things you should look at to know when it's time to replace your tires.

The Nissan Terra stands as a contender among titans, and it has quite a bit going for it, here are 5.

Otherwise known as around view, surround view, 360-view, this feature shows what you can't see with side mirrors alone.