In December 2021, we were invited to a special media drive featuring the Ford Territory. Of course, we couldn't say no. The Territory is an interesting vehicle that has proven to be popular in the local market. In fact, Ford has sold over 8,000 units of the Territory since its launch in August 2020. So, we wanted to participate and see how the Territory holds up after some time in the country.
The event involved a trip high up in Rizal, where we think the Territory was effectively out of its comfort zone. That said, we started the journey south of Manila and had to take C-6 Road to reach our rendezvous at Thunderbird Resorts and Casino in Binangonan, Rizal. To no one's surprise, there was heavy traffic in Bicutan, Taguig, and particularly Taytay. Despite the slight delay, we felt comfortable inside the Territory as it has some nifty features that could make you forget about even the worst gridlocks.
The Territory was calm in stop-and-go traffic, and the presence of the auto-hold function on the electronic parking brake felt reassuring. The Automatic Emergency Braking (AEB) feature even engaged one moment, perhaps saving us from a world of trouble.
After some time, we finally escaped the hustle and bustle of the metro. In place of traffic, we faced a rather steep ascent up Angono then Binangonan. The Territory's massive panoramic sunroof let us enjoy the mountainside ambiance to the fullest, which was perfect as we peeked at the sunset on the horizon.
Manila turned into a speck of light and noise as we moved close to the hotel at Thunderbird. We were running a bit late, and the handy Active Park Assist feature saved us some time and effort. The Territory can parallel park with a touch of a button, and it also helps with perpendicular parking quite well. Once parked and set up, we were greeted by the Ford team, and Ford Philippines Managing Director Michael Breen even welcomed us with a moving recorded video.
The meeting among media members felt poignant, as for many, it was their first media drive or in-person car event since the pandemic began. After some moments of catching up and a rundown of the following day's itinerary, everyone went to bed early, eager for what the next day would bring.
We awoke two hours before the crack of dawn. Coffee was the first order of business, then breakfast, but we quickly had to get going if we were to catch the sunrise. There were about a dozen vehicles in all, including the nine Territory units that eventually made it up to Viewscape Nature's Park in Tanay.
The climb was not as easy as it seemed. It wasn't exactly Kennon Road in Baguio, but the dizzying twists and turns were different enough from our daily drives to cause some discomfort. That said, the Territory performed admirably through it all. The compact crossover's full LED lighting never let us down throughout the journey. Its bright headlights shined through like daylight in the early morning darkness and gave us enough visibility to drive with relative ease.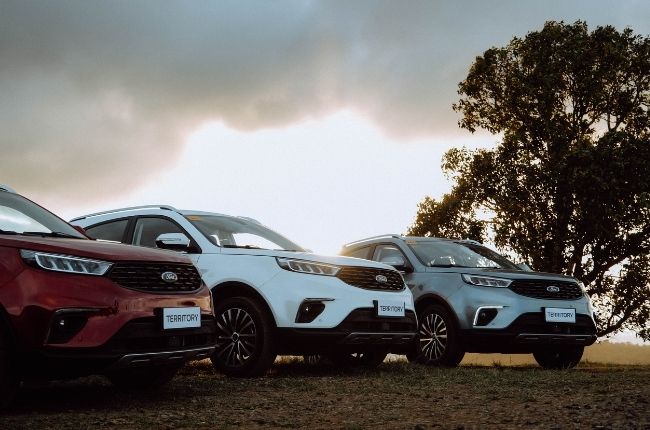 The Territory also planted itself quite well through the tight corners, with some noticeable but not distracting body roll. Although the Territory is a bit on the heavier side for a crossover, its fully-independent front and rear suspension inspire confidence in most driving situations. The 1.5-liter EcoBoost engine never seemed rattled, while the continuously variable transmission (CVT) provided a smooth shifting experience throughout the drive.
With morning traffic showing up on the way to Tanay, we entertained ourselves with the media drive's official music playlist. The Territory's touchscreen infotainment system is comprehensive, to the point where you can lose yourself in it on the road with all its bells and whistles. There is a safeguard where you'll lose access to most settings when you reach a certain speed, but that can be annoying when the front passenger is trying to get a hold of the controls. A passenger override would be a nice feature, and we don't see why it can't come in the form of an over-the-air (OTA) software update.
Going back to the drive, it took us about an hour and a half to reach Tanay from Binangonan. The last stretch to the mountain "peak" was rocky and challenged the Territory's off-road prowess. No one will ever mistake the Territory for a 4x4 machine, but it surprisingly held its own in that short trail.
By the time we arrived at Viewscape, it was only minutes until sunrise. We quickly parked the vehicles in picture-perfect formation as we waited for the first touch of light. When the moment hit, it felt surreal. The sun looked majestic against the mountain range while the nine Territory units shone in the foreground.
We're paraphrasing here, but Ford told us the event was about looking forward to tomorrow and gaining hope for the future. What better way to do that than atop a mountain at dawn in chilly weather? We've lost so much over the past couple of years, but as the saying goes, hope springs eternal.
If we've learned anything about this media drive, it's that anyone can take the Territory and go on their own journey of hope and self-reflection. What's most charming about this crossover is that it can be many things to many different people. It could be the first car for a young professional, a starter car for a new family, a weekend vehicle for spontaneous road trips, and whatever else.
Heading back was largely the same experience as going up. The Territory's smooth, if not muted handling carried us down the mountain safe and sound. With everyone fatigued from all-day driving, the Adaptive Cruise Control feature on the Territory provided some much-needed relief on the Metro Manila Skyway. The controls appear on the 10-inch digital instrument cluster, which still looks as gorgeous as anything you'll find in a crossover of this price range.
Overall, the Territory proved to be very capable of going up and down Rizal's twisty mountain roads. Save for extreme off-roading, we imagine the crossover also does well in many other kinds of road trips. So, whether it's in or out of the city, it appears the Territory can prove its mettle time and time again.
Now we can say this with confidence—over a year since its launch, the Ford Territory still presents one of the best deals in its class and at its price point. The combination of good looks, advanced tech, and active safety features are tough to beat for any compact crossover this side of town. Ford will continue to sell many units of this vehicle, and we can expect to see even more of them on our roads in the future.
Get the best deal - Choose multiple dealerships to compare offers!
You can compare quotations simultaneously from multiple Ford dealerships. Select your preferred dealers from the list below.

Compare quotations from multiple dealerships in minutes.
Check vehicle and color availability.
Find info on special offers and promotions.
100% Hassle-free with no obligation to purchase.
Latest Features
If you want to make sure that you have bumper-to-bumper protection from accidents and expensive repairs for your Volkswagen T-Cross then this is much you will need to set aside.

Both the Veloz and Xpander are formidable seven-seaters in their segment and price point. Which one is better?

It has evolved to be something that can be both a workhorse and a lifestyle vehicle.
View More Articles