When it comes to 7-seater diesel SUVs a few vehicles come to mind with the Toyota Fortuner and Ford Everest coming out on top as one of the top picks. These vehicles offer space and high-tech features that have raised the bar for the competition. This is especially true for the Fortuner as it has recently gotten a major update that has given the SUV more features that put it on par with its Blue Oval-badged rival.
Exterior
On the outside, two distinct design paths can be seen when comparing the two models. The Ford Everest has a more rounded and rugged design, while the Toyota Fortuner in its LTD grade comes with a sharper, sleeker, and more athletic appearance. Despite their own design choices, both vehicles are still two capable off-roaders as both SUVs come with a ground clearance of 225mm.
Another similarity between the two at least for their higher variants is their choice of opting to go with LED lighting elements. These can be seen in their headlights, taillights, and daytime running lights for all variants. It is important to note, however, that the Everest comes with LED projectors, while the Fortuner comes with Bi-Beam LEDs.
Where the two start to differ slightly is in their wheel options. The Ford Everest from the get-go can be had with 18 to 20-inch alloy wheels, while the Toyota Fortuner, on the other hand, can be had with 17 to 18-inch alloy wheels. This gives the American-branded SUV a slight edge over its Japanese counterpart when it comes to wheel sizing.
An important note to remember is that if you are a fan of customizing your vehicle, Toyota Philippines does offer the Fortuner with a TRD kit. If you want to make your vehicle look unique and stand out from the rest this could be a point of contention when considering other vehicle options.
Winner: Fortuner
Interior and tech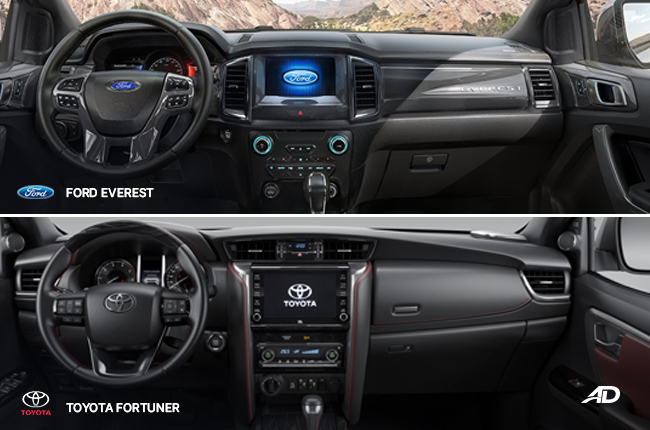 On the inside, the cabin of either 7-seater SUV hasn't changed much, apart from a few new interior accents and accessories. The dashboard layout of both vehicles remains the same, however, the infotainment systems have changed. Seating material is also similar on both vehicles as leather is the go-to choice for all variants of the Everest. For the Fortuner, however, leather seating material is only reserved for its higher variants, while the G to V grades only comes available with a cloth seating material.
As far as infotainment systems are concerned both vehicles are on relatively the same footing. The Toyota Fortuner can be had with either a 7 or 8-inch infotainment system depending on the variant, while the Ford Everest can be had with 8-inch infotainment across its lineup. Both vehicles come with Apple CarPlay and Android functionality for all of their respective variants. Where they begin to differ is when it comes to the sound system. The Ford comes with a 10-speaker sound system with a subwoofer and power amplifier, while the Toyota comes with a 6 to 9-speaker sound system depending on the variant.
A notable feature of the Everest Titanium that is absent in the Fortuner is the addition of a 220v wall socket to the vehicle. This gives the Ford SUV an advantage especially for those looking to make it into a mobile office or as an emergency source of power for their devices.
Winner: Everest
Power
Under the hood is where the two 7-seater SUVs become distinctly different. The Ford Everest comes out with a slight advantage over its Japanese counterpart as it makes more power and comes with more engine options. The Blue Oval SUV in its highest variant with its 2.0-liter BiTurbo diesel motor produces 210hp and 500 Nm of torque making it one of the more powerful in its class. Going down a variant and its 2.0-liter single turbo engine variants make 178hp and 420 Nm of torque. Moving further down to its entry-level trend variant, it makes 158hp and 385 Nm of torque from its 2.2-liter turbo diesel motor. Transmission options for the 2.0-liter motors come in the form of a 10-speed automatic, while the 2.2-liter engine comes with either a 6-speed manual or a 6-speed automatic transmission. This gives the interested buyer a good range of motors to choose from depending on their budget.
Moving over to the Toyota Fortuner, and it comes available with two engine options. The Japanese 7-seater SUV comes powered by either a 2.8-liter or a 2.4-liter turbo diesel engine. The 2.8-liter has been upgraded to now produce 201hp and 500 Nm of torque, while the 2.4-liter powerplant still makes 150hp and 400 Nm of torque. Transmission options are still the same for the new Fortuner as it still utilizes a 6-speed automatic transmission or a 6-speed manual for its entry-level variants.
An interesting note is that the entry-level Fortuner comes with 15 Nm more torque than its Everest counterpart. However, the Blue Oval's SUV comes with 10 more horsepower than its Japanese counterpart. Something you might want to look into if you are interested in purchasing any of these two 7-seater diesel fed SUVs.
Winner: Everest
Safety
As far as safety is concerned both vehicles are about the same as both 7-seater SUVs were able to score a 5-star rating for adult occupancy on the ASEAN NCAP crash tests. However, where the two differ is when it comes to child occupant safety. The Ford was only able to get 4 out of 5 stars for this category, while its Japanese counterpart was able to get a score of 5 out of 5. When it comes to airbags the Ford Everest comes with seven as standard for all variants.
The Toyota Fortuner, in terms of safety, on the other hand, varies depending on the variant. For its lower trim levels, the Japanese SUV gets 4 airbags as standard, with them being positioned in front of the driver, front passenger, and at the driver's knees. The higher variant grades, on the other hand, get 7 as standard. This puts both vehicles on about equal footing without considering the additions of Toyota Safety Sense and Ford's own driver-assist features.
When it comes to driver-assist features, both SUVs are about the same. Both come with a pre-collision assist system, autonomous braking, adaptive cruise control, lane keep assist, and automatic high beam. The Fortuner does have an advantage when it comes to its reverse camera as its higher models also come with a 360-degree function. While the Everest does have a rear-view camera it does not come with a panoramic view function, however, it makes up for the lack of this feature with a semi-auto active park assist function that is present in its Titanium 4x4 variant.
Winner: Fortuner
Pricing
As far as pricing is concerned both vehicles are pretty similar, however, a few distinct characteristics have stood out when it comes to their standard retail prices. The Toyota Fortuner with a price range of P1,633,000 to P2,414,000 gives the vehicle a lower barrier to entry when compared to its Blue Oval rival, however, its LTD variant presents itself as a more expensive option compared to the top-of-the-line Everest.
On the other end of the spectrum, the Ford Everest comes with a higher barrier to entry as it comes with a price range of P1,7380,000 - P2,299,000. While its entry-level model is more expensive when compared to the Fortuner, its higher-end variant is more affordable by P115,000. This makes the Ford Everest Titanium 4x4 the more affordable option when comparing the two range-topping variants. If you want to know more about the price list of the Toyota Fortuner or about the price list of the Ford Everest, you can head to our website for more information.
Winner: Fortuner
Verdict
When it comes to these two 7-seaters SUV, both are evenly matched trading blow for blow in certain areas, however, we still have to award a winner. The win ultimately goes to the Toyota Fortuner, as it is the safer vehicle as it comes with a 5-star ASEAN NCAP rating compared to the 4-star rating that it's Blue Oval competitor has. It also comes with a lower barrier to entry for those who want to get a 7-seater turbo diesel SUV from the popular Japanese brand, while its top of the line variant is considerably more expensive than that of the Ford Everest, the features that it carries does justify its price. While not as powerful as the Everest in terms of horsepower, the Fortuner does go even with it in terms of torque and for a 7-seater SUV that's also a capable off-roader that's the more important figure to match.
Get the best deal - Choose multiple dealerships to compare offers!
You can compare quotations simultaneously from multiple Toyota dealerships. Select your preferred dealers from the list below.

Compare quotations from multiple dealerships in minutes.
Check vehicle and color availability.
Find info on special offers and promotions.
100% Hassle-free with no obligation to purchase.
Latest Features
Here are the ins and outs of the LTO's car modification law. We simplify and explain what can and can't be done.

Volkswagen Philippines took us on a quick media drive to Tagaytay to experience the T-Cross as both a lifestyle vehicle and a road trip vehicle.

The following vehicles will surely get you through floods without a sweat.
View More Articles