The Honda City and Toyota Vios, two veteran players in the subcompact sedan segment which have been standing for over years of presence in the Philippine automotive market. Aside from having trusted Japanese reliability, the two vehicles also come with the right amount of practical appointments and tech features, the question is, which one is better?
Notably, both sedans are available with a sport-oriented trim, respectively, the Honda City RS and the Toyota Vios GR-S, therefore, serving as the top-of-the-line model of its variant range. With that said, we shall compare these sport trims and see who stacks up among all of the categories, let's proceed, shall we?
Exterior
On the outside, these subcompact sedans boast sporty looks. Both cars get a fair share of black exterior details, the Vios GR-S actually gets more of the contrasting highlights while the black accents on the City RS are only applied on the grille, side mirrors, and on the lip spoiler. It is also worth noting that the Toyota gets side skirts and other reinforcements that make the car even sportier.
An all-LED lighting system is standard on the two models. As for the shoes, the Vios GR-S gets 16-inch alloys wrapped in a set of 195/50 rubbers while the Honda City RS comes with 16-inch rims that are then paired with 185/55 tires. Going towards the rear, you'll notice that the taillights of the City RS have been installed with more LEDs when compared to the Vios GR-S which only has a single strip of LED.
Overall, the Vios looks sportier while the City RS is sleeker and it should age gracefully over time. Beauty is subjective and it does depend on the eye of the beholder, with that said, we've decided to choose the Honda City RS as the winner of this round given its clean yet more attractive exterior.
WINNER: Honda City RS
Interior and technology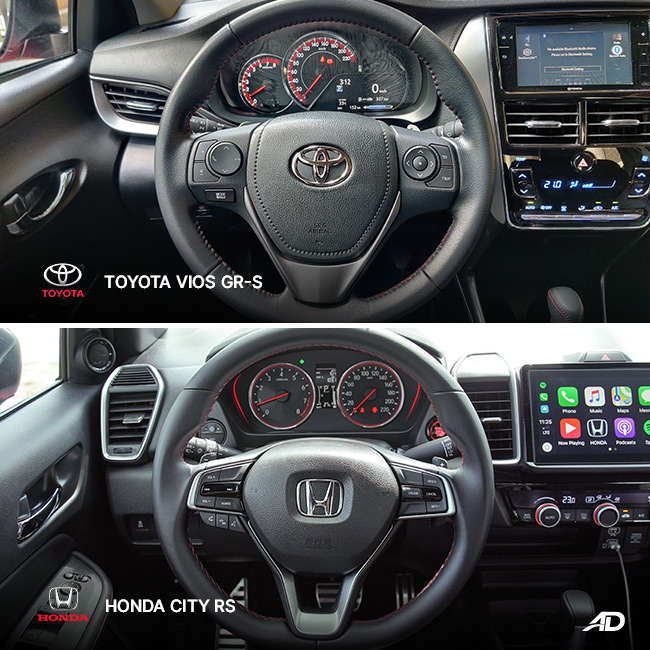 On the inside, both cars get a generous amount of space and features, though it is worth noting that the City RS gets more passenger room. Even its trunk capacity is bigger, with the City having a total of 519 L of space while the Vios has 326 L of space. On the other hand, comparing the dashboard layout of both vehicles, the City RS' appears to be more intuitive when compared to the Vios GR-S, the Honda even comes with rotary air-con knobs that's easier to operate whereas the Toyota gets physical buttons. Leather and suede seats are standard on the City RS while the Vios GR-S gets full-leather seats that have better bolstering.
While the City RS's interior remains clean and well-appointed, the Vios GR-S, on the other hand, comes with several Gazoo Racing pieces such as its push-start button, its gauge cluster, and on its seats. Both cars come standard with steering wheel-mounted audio controls, push-start button along with smart-keyless entry, while only the City RS benefits from a dual-zone automatic climate control while the Vios GR-S gets a single-zone automatic system. Another City RS exclusive is the rear air vents which give passengers better access to air conditioning.
Like most modern cars, the City RS and Toyota Vios GR-S come standard with touchscreen infotainment systems. A smaller 6.75-inch display is installed on the Vios GR-S while the City RS comes with a larger 8-inch display, the two screens come ready with Apple CarPlay and Android Auto. Notably, it also gets more speakers, 8 to be exact, while Vios GR-S comes with a 6-speaker setup.
Both cars are well-equipped, however, the City did better in terms of space and practicality, plus, its overall dashboard layout appears to be more intuitive. With that, we declare the Honda City RS as the winner of this round.
WINNER: Honda City RS
Safety
Standard safety and security on both the City RS and the Vios GR-S include stability control, Anti-lock Braking System (ABS), Electronic Brakeforce Distribution (EBD), speed-sensing door locks, and immobilizer As for airbags, the two benefit from dual-front, side, and curtain, while only the Vios GR-S comes added with knee airbags. Both also come with a reversing camera while only the Toyota gets parking sensors.
While both cars are safe, the Vios GR-S stepped up its game all thanks to the addition of a knee airbag and parking sensors. With that, Toyota has become the winner of this category.
WINNER: Toyota Vios GR-S
Power
The two subcompact sedans are run by a 1.5-liter gasoline engine. What's striking about the Vios GR-S though is that it has more "gears" in its gearbox, with the motor being paired with a Continuously Variable Transmission (CVT) with up to 10 simulated gears. The City RS's engine, on the other hand, is paired with a CVT as well and it has paddle shifters and up to 7 simulated gears. Respectively, the Vios GR-S puts out 105 hp and 140 Nm, no significant jump from its other stablemates, while the City RS puts out a healthier 119 hp and 145 Nm of torque.
Both cars managed to perform well on the road, the Toyota even has a set of Bridgestone Turanzas, which results in a quieter ride in the Metro. The sporty attitude of the Vios GR-S does not reflect that much from its performance, it still feels like your average Vios though it gets more simulated gears, therefore making the CVT more eager to stay in its powerband. The City RS, on the other hand, feels peppier, plus with throttle response seems to be more immediate, in general, it's just more fun to drive.
While both cars did do well during our testing period, we'd still pick the City RS over the Vios GR-S given its better driving dynamics. However, we'd still give Toyota credit for giving the Vios GR-S a range of upgrades in order to slightly elevate it from its standard variants.
WINNER: Honda City RS
Verdict and price
After a thorough evaluation between these two Japanese contenders, the comparison has then ended with the Honda City RS standing in first place given its simpler yet desirable exterior, great value proposition, and fun driving dynamics. The Toyota Vios GR-S might have sat at second place but that doesn't make it a bad car, in fact, it still drives nicely especially around town where NVH is really its greatest strength. Not to mention, you get more features when you compare it with its previous generation and that's quite a step up. Many people will surely buy a Vios, why you ask? Simple, because it's a Toyota, and that brand stands strong in terms of reliability.
Opting for the Toyota Vios GR-S will require you to shell out P1,020,000 while the Honda City RS costs a little extra, with it retailing at P1,058,000. At the end of the day, you can't go wrong with either of these two. Likewise, it's still up to your personal choice, if you prefer the more affordable option that offers a sportier look, plus an upgraded transmission is more than enough for you, then you're probably better off with the Vios GR-S. On the other hand, if you're more concerned with space and driving dynamics, then you're better off choosing the City RS, which does cost a little bit more but does its job better in several ways.
Latest Features
The Alsvin is new to the Philippines but it could be an enticing option for first-time car buyers.

A battle between two new MPVs that each bring their unique features to the table.

Is there something to look back at when it comes to steering, or is new truly better?
View More Articles