It is a known fact that before you are allowed to drive a motorized vehicle, you need to first secure a driver's license. Getting your driver's license in the Philippines can be done through a simple process that, if followed closely, will spare you from the hassles of having to return to the Land Transportation Office (LTO) again and again.
In the Philippines, there are three different types of driver's licenses. There's the Student Permit, which allows you to practice driving, be it through enrolling in a driving school or private lessons with a licensed driver. After accomplishing at least one month of being a student driver, you may apply for a Non-Professional Driver's License. And, for people who'd be driving public utility vehicles (PUV) and trucks, you need to get a Professional Driver's License.
However, before you get yourself a non-pro or professional license, you need to pass LTO's driving exam. This exam has two parts: a written examination and an actual driving test. For others, this can be a cumbersome process, so here's a quick guideline on how to start your journey to becoming a legit driver.
First, apply for a Student Permit
Before you apply for a Student Permit, there are a few things you need to check. Student permit applicants must be at least 17 years old and are both physically and mentally fit to drive a motor vehicle. Next, applicants must be literate in either Filipino or English. If all of these applies to you, then you may proceed to secure a few requirements and these are:
Filled out driver's license application form
Taxpayer's Identification Number (TIN) for employed applicants
Original copy of Birth Certificate
A completed student permit application form
Do note, however, that if a birth certificate is unavailable, you may present a joint affidavit of two non-related persons who know you personally and can attest to your identity. This should be accompanied by a non-availability record from PSA or the local civil registry office. Another option is to present any legal document to prove your age and identity like SSS, passport, or any government-issued ID.
As such you need to prepare a bit of money to get a student permit. Here are the breakdown of fees:
Student permit
Application fee: P100
Computer fee: P67.63
Student Permit fee: P150
Birth certificate: P330 (fee may vary)
Medical Certificate: P450 (fee may vary)
Driving course/driving school: P4,500 or Free
Estimated total: up to P5,447.63
Upon securing everything that's stated above, you may then proceed to any main or satellite LTO branch near you. The steps and process will be posted as tarpaulins located around the facility.
Now, let's say you already got yourself a Student Permit. The next thing you must do is determine whether you'd like to acquire your lessons in an acknowledged driving school or if you prefer to have it private with a relative or a friend who has a non-pro/professional driver's license.
Acquire private driving education
Steering, braking, and shifting (for manual) are some of the most essential things you need to get used to. However, traffic laws, road signs, driving etiquette, among others, are just as important. With this in mind, you have to make sure you know all these first before you learn how to drive a vehicle.
When you begin driving a car, get familiar with the basics in a less-populated area like your village. This way, you can peacefully get used to the nitty-gritty of driving without worrying too much of pedestrians and fast cars. You may then transfer to public roads if you think you're already familiar on how to operate the vehicle. Do note that driving alone with just a student permit is not allowed; you need to always have someone with a driver's license with you in the car.
There are perks in choosing private driving lessons by a licensed driver. One is that you'll obviously spend significantly less than enrolling to a driving school. In addition, you also get to drive according to your schedule, no time limit nor day schedule. The only downside of it is you need to have a car or at least someone who has one, at the same time, someone who would shoulder the fuel expenses.
Enroll to a driving school
*Photo courtesy of Smart Driving School.
If you opt to enroll for a driving school, there are a good number of registered ones that you can find in your town, or via the internet. Requirements may vary, depending on your preferred driving school, as other packages don't require a student permit to be presented. The packages range from a manual car-focused course to a masteral course. Each course offers different prices, lesson plans, and time durations. Sometimes, they even offer freebies like fuel value cards.
The advantages you'll get from enrolling to driving schools include an in-depth and exclusive education about proper road use, being able to drive a car even if you don't own one yet, and a chance to get license application assistance as part of the package. The downside of this is that it does not come cheap and there's a time limit per session.
After completing at least one month of being a student driver, you may now apply for a non-professional driver's license, given that you're already confident about your driving. The next thing you will face is LTO's written examination, which is 40 items for non-professional exams and 60 for professional exams. The exam is in multiple-choice format. The non-professional driver exam passing score is 30 out of 40, while the professional exam is 45 out of 60.
Getting ready for the written exam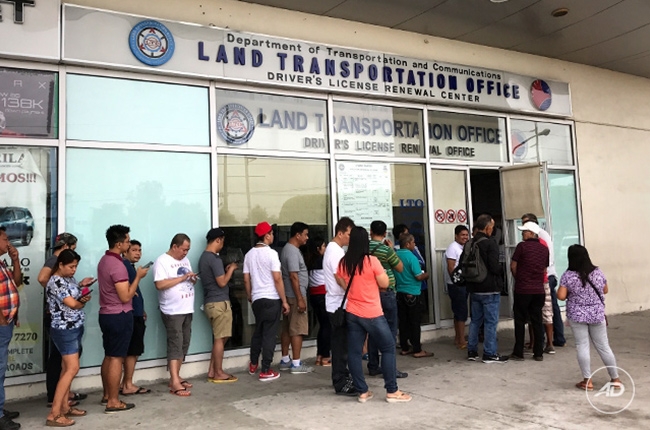 Next, the exams. For your convenience, website Pinoy Driver has prepared an online reviewer for you, which you could take over and over again, for free.
On the website, you may try a quick multiple choice-type of a questionnaire with 10 to 80 random questions to find out your current driving knowledge. The exam reviewer covers all that might come out in the actual LTO written exam, which is composed of:
Signs and markings – road signs, lane markings, and other road markings.
Parking – rules and restrictions relating to vehicle parking in the Philippines.
Emergencies – what to do during driving emergencies such as mechanical failures and accidents.
Road position – where you should position your vehicle while driving.
Violations and penalties – what happens if you commit a driving offense.
General knowledge – basic driving knowledge every motorist should know.
Handling and driving – the know-hows of driving the optimal way.
The results of the actual LTO exams are usually handed over an hour after your batch finishes. You will be required to go back, which in my case was lunch time. You will then be asked to transfer to the actual driving course for the hands-on driving exam.
Preparing for the actual driving test
*Photo courtesy of Smart Driving School.
The actual driving test is composed of simulations of real-life public driving scenarios. You will be accompanied by an LTO personnel as you drive around this range.
Take note that parking your vehicle in reverse is also included in the course so you better get that skill beforehand. Don't be someone who gets tensed parking in reverse, it's better if you come to the LTO knowing how to properly back up your car in the parking lot.
A key to passing the actual driving test is none other than making sure you're ready before you even come to LTO. Although there are tons of posters of 'no fixers allowed' inside the facility, please don't take advantage of hiring one. Let's take our part in putting order to Philippine thoroughfares rather than counting yourselves in as one of the dangerous drivers on the road.
Latest Features
The Nissan LEAF presents the perfect price, technology, and practicality for your first EV purchase and experience.

Will GAC be able to unsettle Honda's ever-present Civic RS? Let's dare to compare!

The Suzuki Ertiga Hybrid presents advanced mild-hybrid technology as well as versatility at a very tempting price point.
View More Articles