The Land Transportation Office (LTO) has a document uploaded on its site. In this file, is an infographic about road traffic signs and pavement markings. There are quite a few signs that you can find in the Philippines, and while understanding them may seem like a no-brainer, it doesn't hurt to take a refresher course.
There are quite a few categories to cover. Thankfully the LTO has chosen to arrange them by their function. There are a total of eight categories to take a look and have a refresher course on, let's go over some of them. For a clearer look at the signs in the photos, click on the images.
Regulatory signs
These kinds of signs direct and help manage the flow of traffic. It includes the commonly known signs that should be known by all motorists. Under this category there are six subgroups of signs: priority, direction prohibitive/restrictive, speed limits, parking and stopping, and miscellaneous signs.
These signs inform road users of traffic laws and regulations on the road they are currently driving on. Basics like the stop sign, parking signs, and speed limit signs, are easily understood. Signs that are less common are the load and dimension restriction signs. They indicate what class of vehicles may enter a certain road or bridge at any given time. They can also serve as reminders in the case of the fasten seatbelt sign, and no blowing of horns sign. The category also includes signages that warn drivers to be wary of others that may be crossing the roads such as bicyclists persons with disability, children, or an ordinary pedestrian.
Warning signs
In this category, we can see that the common shape on display is an upward triangle outlined in red. These warn drivers of incoming road layout or hazards that lie ahead. Road width, traffic lights, intersections, as well as a myriad of obstacles can be indicated so road users may be more mindful of their surroundings before traversing through the area.
There are also signs that warn of pedestrians, trains, and low vertical clearances – those signs you see when entering a parking building.
Guide/Informative signs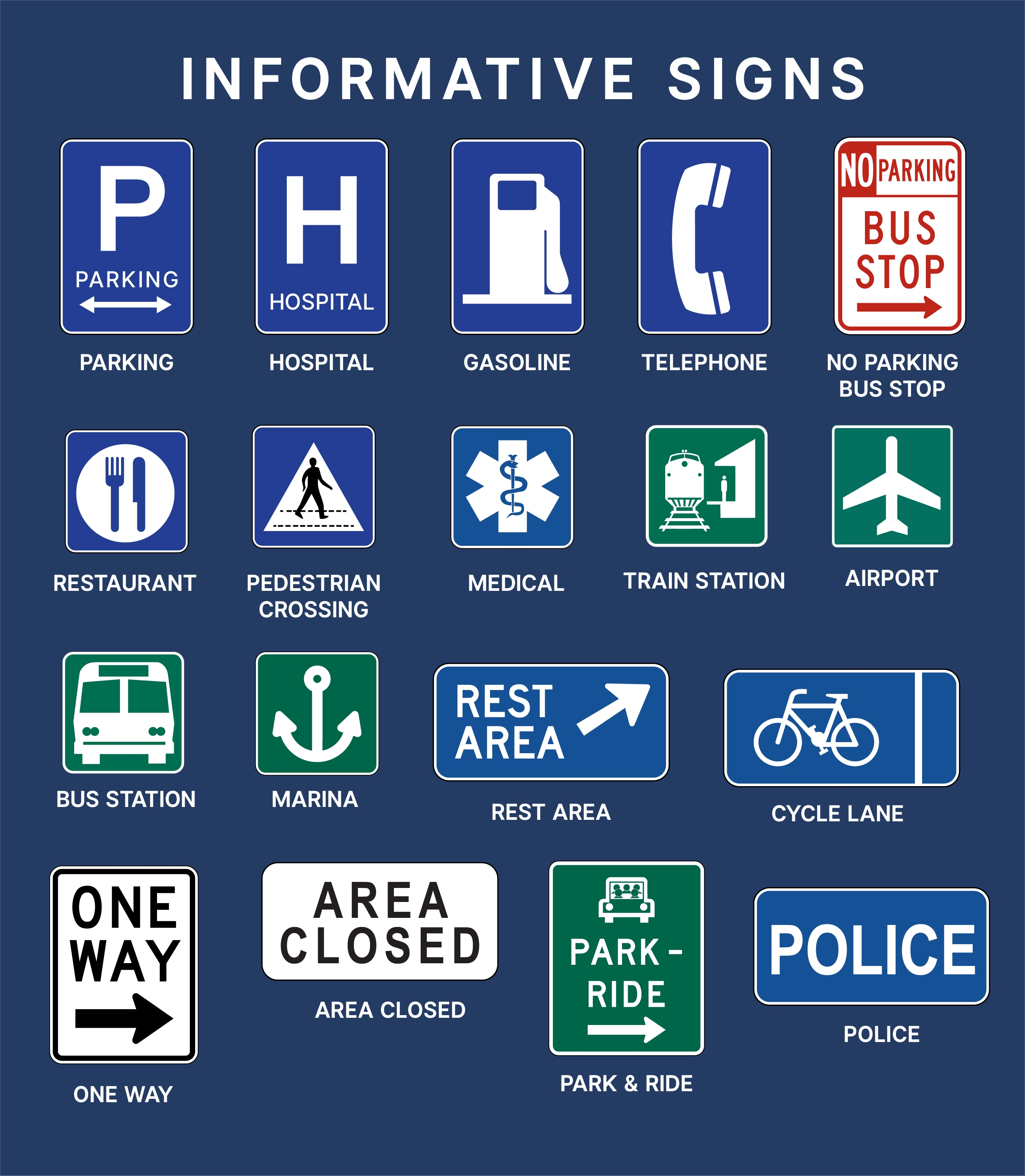 Just like the display on Waze, these signs point or indicate what destination lies ahead or lies after a particular turn or exit. In a nutshell these can indicate where you are currently, and where you might go. They can also point you to important points of interest, ranging from gas stations to tourist attractions.
Other types of signs and markers include milestones that can be found around roads in the Philippines. These distance markers indicate how far Luneta park is from where they lie.
Signs on expressways
Expressway signs are commonly colored in green. Like guide and informative signs, they indicate the location that lies ahead in a certain direction or exit.
Blue signs can point to certain services that can be found in an area such as gas stations as well as locations with food.
These signs can also be in colored in a neutral white to indicate directional instructions, or they can be colored in red to instruct motorists to slow down or go the other direction.
Traffic Instruction signs
Instruction signs help direct the flow of traffic in a given area. Signs of this category also are used to slow down the flow of traffic by giving drivers a heads up. These posts may restrict or allow certain movements to be taken by motorists in Metro Manila. Movement instruction signs carry an instruction or command that is to be followed by motorists.
Hazard Markers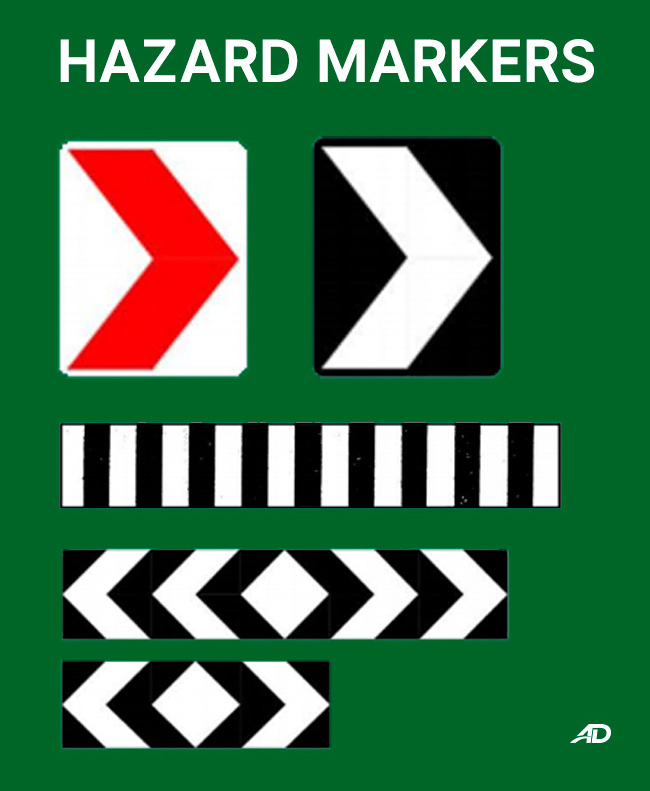 These are pretty self explanatory, they point you in the direction that the road is going. Typically seen on provincial roads where there are only two lanes, these chevrons point in the direction of the curve. When placed on the side of the road they indicate where the approaching driver must turn. They can also indicate two way roads, and whether there is an area with an obstruction up ahead.
Road work signs
Self explanatory in its imagery, you might see the road works first before the actual sign, or perhaps you may notice that traffic is pilling up ahead. Regardless, road work signs warn people to slow down or to merge in the other direction because there is construction ongoing.
Latest Features
Battery banks that can jump-start your car. Here are the top five best we've seen available online.

We list down the most fuel-efficient sedans for city drives in the Philippines, ranging from small to mid-size models.

When it comes to all-electric crossovers, BYD knows their stuff. They know what it takes to make electric great.
View More Articles