BMW vehicles are expensive, and thus it makes sense to actually fork over the extra cash in order to go that extra mile when looking to protect your unit. Comprehensive insurance will do that for you, and you can get an instant quote using our Car Insurance Calculator.
The AutoDeal Car Insurance Calculator will give you the power to choose without having to get multiple quotes from multiple agents. All you have to do is pin in your vehicle year model and variant information from the list, and you can get a quote as soon as you hit "submit."
Editor's Note: For the sake of simplicity, the models and variants to be quoted will be based on the newest top-of-the-line trims offered by the brand in the Philippines. Lower trims and older models may come out more affordable to insure when getting a quote using the AutoDeal Insurance Calculator.
About the AutoDeal Car Insurance Calculator
To help see the goal of being an end-to-end service provider of everything automotive in the Philippines, the AutoDeal Insurance Calculator takes our website's philosophy of being able to compare almost every car in the country in the palm of your hand. With the calculator, not only can you get instant estimates for your insurance policy, but you can also go with the provider you like with a few taps.
Using our online Insurance Calculator, here's a quick rundown of the rates you can expect if you wish to insure a BMW vehicle in the Philippines. As a premium vehicle brand in the country, however, take note that the insurance rates will be on the pricier side of things.
BMW 118i
As part of the BMW 1 Series, this model is nimble and easy to drive. On top of having premium trimmings, you will need a premium car insurance policy in order to protect it. Expect to spend between about P60,000 to P64,000 per year on its policy.
BMW 218i Gran Coupe Sport
The 218i Gran Coupe is an MPV that has a more dynamic BMW design and practicalities that you don't normally get with a traditional hatchback or sedan. It's still one of the more affordable models in the lineup, but insuring it will cost you between P50,000 to P60,000 per year for a comprehensive policy.
BMW 3 Series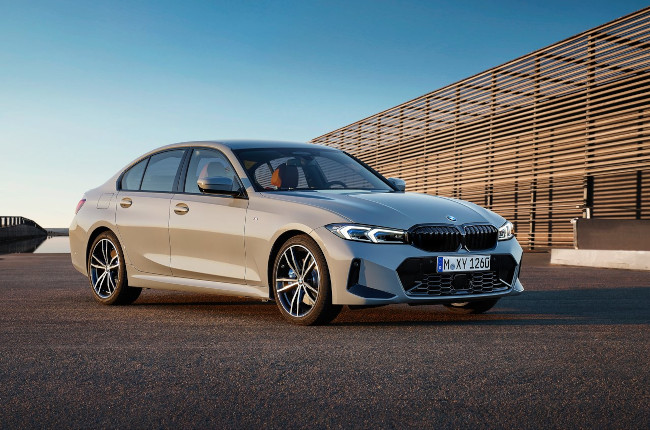 The BMW 3 Series is a well-loved model that spawns numerous variants and consistently good performance. The model's the German marque's most popular and it's the quintessential BMW to get for most people. Insuring a 3 Series will depend on what variant you get, the BMW 318i will cost you between about P52,000 to P73,000 per year while something like the M340i will go for anywhere between P88,000 to P124,000 per year.
BMW 4 Series
The 4 Series is the middle ground between the 3 and the 5 Series, and has been a bit of a playground of sorts for the German manufacturer. Just like the 2 series, you may find that there are some more interesting designs and innovations from BMW. Insuring at 420i variant will cost you anywhere between P76,000 to P106,000 per year or more should you need to insure a snazzier model.
BMW 5 Series
BMW's 5 Series is the brand's executive-class sedan that remains one of the brand's best-sellers because of its status and its prestige. As such, be prepared to pay quite a sum for your yearly insurance rate as it will cost you about P98,000 per year.
BMW 7 Series
If you want over-the-top luxury, the BMW 7 Series has got you covered. Nearly no stone was left unturned for this model and insuring this model will come at a price. If you have the 730i variant, the cost will amount to about P97,000 per year.
BMW iX
BMW's first fully-electric vehicle in the Philippine market is a stunning piece of engineering and design. With this, you're pretty much future-proofed for the electric revolution, but protecting the BMW iX with an insurance policy is another matter. A comprehensive insurance policy for this unit will cost you about P101,000 per year.
BMW M135i
Now we get into more exciting territory. The BMW M135i features one of the more powerful small-capacity engines in the BMW stable, and the M135i is a hatchback that'll thrill and be a rather practical daily driver. Insuring this hot hatch will cost you anywhere between P74,000 to P106,000 per year.
BMW M2
The M2 was once a best-seller for the brand due to its price and its promise of performance. To insure this model, prepare about P95,000 per year to keep it protected just in case.
BMW X1
The subcompact crossover in the BMW lineup features just enough tech and features but with a ton of features and practicality for your daily drive. To insure the BMW X1, prepare about P52,000 to P64,000 per year.
BMW X3
BMW X5
The premier mid-size crossover from BMW, the X5 offers space, an exciting drive, and top-tier tech and specs. Be prepared to spend about P96,000 per year to insure this midsize crossover.
BMW X6
The X6 kicks things up a notch with style, tech, and space being one of the model's key selling points apart from a unique shape that is unlike the rest of the BMW lineup. To insure the X6, prepare about P101,000 per year.
BMW Z4
Latest Features
Battery banks that can jump-start your car. Here are the top five best we've seen available online.

We list down the most fuel-efficient sedans for city drives in the Philippines, ranging from small to mid-size models.

When it comes to all-electric crossovers, BYD knows their stuff. They know what it takes to make electric great.
View More Articles