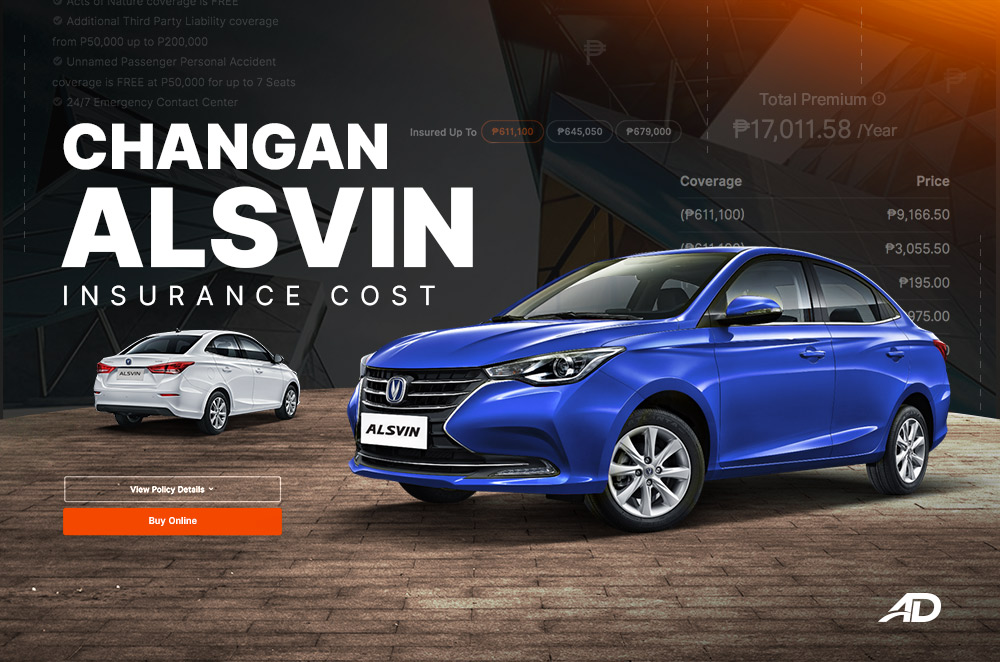 The Changan Alsvin is a modern and affordable subcompact sedan that works well as a first car. With its combination of sleek looks, capable engine, and attractive features, the Alsvin is a vehicle worth protecting.
You never know when an accident strikes. That's why comprehensive auto insurance is a must if you own a Changan Alsvin. Let us help you figure out how much it would cost to get insurance for your car.
Why do you need to insure your Changan Alsvin?
The Changan Alsvin starts at just north of P600,000. While it's one of the more affordable models in its segment, the Alsvin still deserves the same level of protection as you would give to a much more expensive vehicle.
It doesn't matter how much your car costs, as accidents happen to all kinds of drivers inside all kinds of vehicles. Purchasing comprehensive auto insurance for your Alsvin can give you more peace of mind while ensuring you can drive your car day in and day out without any worries.
How much does comprehensive insurance for the Changan Alsvin cost?
For a lesser-known brand like Changan, you might find it challenging to look for the best car insurance rates and quotes. With the AutoDeal Insurance Calculator, you'll find it simple to find and compare quotes from some of the top insurance providers in the Philippines. Use our free tool to receive competitive insurance rates from our partners. In a few minutes, you can find out how much you can expect to pay for insurance, depending on several factors, of course.
So, upon checking our Insurance Calculator, we found out that car insurance for the Changan Alsvin can cost anywhere between P14,400 to about P17,000.
Below is a breakdown of what comprehensive insurance can cost for the Alsvin. Do note that these figures are based on the most expensive policies coupled with the lowest available insurance coverage. To pick and choose a policy that fits your needs, we encourage you to try out our Insurance Calculator.
These prices are indicative only and may not represent the final insurance sales value of available insurance policies. These numbers include a full year of coverage. Renewal is on an annual basis, subject to negotiation with your chosen provider. The AutoDeal platform is home to several of the country's most reputable insurance firms, including Mapfre, Malayan, Fortuner General, and FPG Insurance.
With AutoDeal Insurance, comparing quotes from top-notch providers is simple. It takes all of five minutes, and you can pay via credit card, GCash, or PayPal. Receiving your e-policy then takes as soon as the next business day.
Make the smart choice and avail of a comprehensive car insurance policy for your Changan Alsvin. It would give your car an extra layer of protection against the elements, and you would be free to use the vehicle as it's meant to be used. With as little as P14,400 per year, you can have a reliable insurance policy for your Changan Alsvin. Try out our Insurance Calculator now and see the numbers with your own eyes.
Get the best deal - Choose multiple dealerships to compare offers!
You can compare quotations simultaneously from multiple Changan dealerships. Select your preferred dealers from the list below.

Compare quotations from multiple dealerships in minutes.
Check vehicle and color availability.
Find info on special offers and promotions.
100% Hassle-free with no obligation to purchase.
Latest Features
We compare 2 SUV-like MPV seven-seaters, one from Mitsubishi and the other from Honda, The Xpander Cross, and the BR-V.

Here are the top 10 most inquired-for used car models on AutoDeal used car listings for the year 2022.

Here are 5 things that you need to get on with your journey driving in the Philippines. From documents to other items.
View More Articles