As we all might know, more and more car models are entering the market. Each one brings something new to the table and is there to answer a specific niche. As these models become popular, they replace older nameplates that are no longer being updated due to a change in trends or simply by the manufacturer moving on to something bigger and better. With that said, however, these old nameplates have built a cult following during their time on sale and some enthusiasts even wish for them to make a comeback soon with a new more modern design. With that in mind, we created a quick list of vehicles we think should make a comeback to the market. It is important to note that this list is in no particular order.
Mitsubishi Lancer and its Evolution counterpart
First up is the Mitsubishi Lancer, it was the Japanese automaker's popular sedan that once duked it out with the likes of the Honda Civic and Toyota Corolla. It was known for being the regular version of the Lancer evolution which at the time was a well-known rally car. The Lancer nameplate has a long and storied history in the Philippines as we saw all of its nine generations go on sale in the country. That being said it was phased out towards 2017 as Mitsubishi shifted gears towards crossovers.
While it's sad to see the model go, we hope that it can make a comeback soon while still sticking to its sedan and rally-related roots. Who knows Mitsubishi might bring it back as a hybrid vehicle or even as an electric vehicle, even a performance and rally version could also return, after all the Subaru WRX STi is getting lonely with no other sedans to compete against it. If Mitsubishi does plan to revive the Lancer name, it will surely be a hit yet again once it returns to the Philippine market it will also make for an interesting competition between it and its old rivals.
Honda Jazz
The arrival of the Honda City hatchback spelled the replacement of the Honda Jazz in the local automotive market. While the nameplate lives on in other parts of the world with an all-new body and design, its time in the ASEAN region has ended. With that in mind, we would like to see the Japanese version of the Jazz make a comeback to the local market as it already has built a popular following in the country. While the City hatchback is a great vehicle, there is something about the Jazz that strikes people differently, on top of that the old Honda hatchback was also a potent track machine in disguise thanks to how the engineers of the Japanese automaker tuned the suspension of the vehicle. With name recognition in mind, it would be great to see the Jazz make a comeback soon in one form or another.
Isuzu Crosswind
A popular Asian Utility Vehicle (AUV) for its time thanks to its multiple seating configurations and overall toughness and reliability was the Isuzu Crosswind. It made a name for itself thanks to its utility and the fact that it could seat between 7 to 9 people in relative comfort, making it a popular choice for Filipino families. The Crosswind was also easy to maintain and could take a beating thanks to its near bulletproof turbo diesel engine. While the AUV did have a couple of flaws as it was short on power it proved to still be a popular choice until it was eventually phased out. While some consider the entry-level Isuzu mu-X to be its unofficial successor, the SUV is a completely different vehicle on its own.
If Isuzu were to bring the Crosswind nameplate back it will surely be a hit thanks to its long and storied history in the country. It after all saw many facelifts and upgrades for its time essentially being the same vehicle from when it was introduced in the early 2000s. That said, if it were to make a comeback the new model should build on what has already been established and probably add more power into the mix.
Mitsubishi Adventure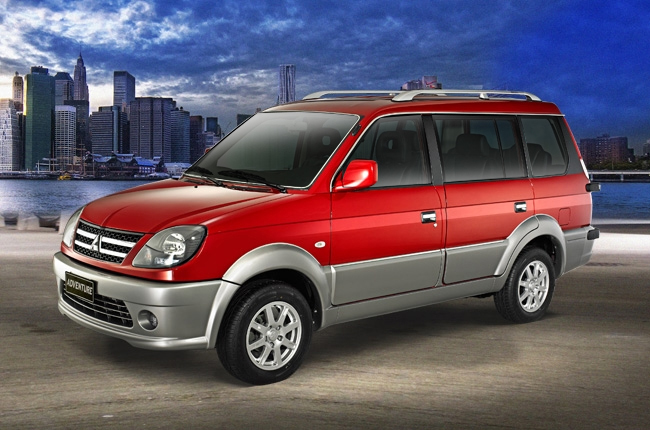 Another Asian Utility Vehicle (AUV) nameplate that should come back is the Mitsubishi Adventure. Like its Crosswind rival, it too was a popular choice of vehicle for Filipino families thanks to the amount of utility it offered. Like its other AUV counterparts, it too came with flexible seating and with a rugged and reliable chassis. While it didn't make too much power under the hood it was enough for its time. What made it special was that, unlike its Isuzu rival it had the option of a gasoline and diesel engine available which made it more attractive to those who didn't want an oil burner under the hood.
While the Mitsubishi Adventure is no longer on sale, its unofficial successor the Mitsubishi Xpander has taken on the mantel and is proving to be a hit. Still, we want to see the Adventure make a return to the Philippine market, either as a small SUV or as a rugged MPV.
Ford Fiesta and Ford Focus
While Ford Motor Company has announced that it will no longer be making new sedan or hatchback models, a future return of the Fiesta and Focus could prove to be a good move as these vehicles have proven to be one of the best in their respective categories. The Fiesta brought with it its turbocharged model that proved to be a hot hatchback, while the Focus was one of the most tech-packed vehicles in its segment. With no official successors being announced, we hope that these two nameplates will make a comeback soon in one form or another.
Mitsubishi Pajero
While the Mitsubishi Pajero has been phased out in favor of the Mitsubishi Montero Sport, this SUV still has its charms. It was a staple for the Japanese automaker back in the early 1990s with the nameplate slowly gaining popularity for its rugged capabilities and reliable motor and chassis. With that said, we hope that the Pajecor makes a return as a much more luxurious version of the Montero Sport similar to how Toyota has the Fortuner and the Land Cruiser at the same time. If it were to make a comeback it would be well recognized for the name alone. conversely, Mitsubishi could also make a small SUV to carry on its legacy.
Volkswagen Beetle
The Volkswagen Beetle was an iconic model for the German brand. It has become of of the world's selling vehicles since its introduction in the early 1950s. It proved to be a great people's car thanks to its affordable pricing and ease of maintenance. That said, there are still some of its early examples available in the Philippines to this day. While it officially ceased production in 2019, a comeback of the nameplate will be greatly appreciated especially if comes back as an electric vehicle. Its iconic styling could entice those looking for a retro-styled vehicle that has all the modern technology under its hood. That being said, since the Beetle nameplate is known all around the world, a new incarnation of it could prove to be a hit.
Latest Features
Here are the ins and outs of the LTO's car modification law. We simplify and explain what can and can't be done.

Volkswagen Philippines took us on a quick media drive to Tagaytay to experience the T-Cross as both a lifestyle vehicle and a road trip vehicle.

The following vehicles will surely get you through floods without a sweat.
View More Articles