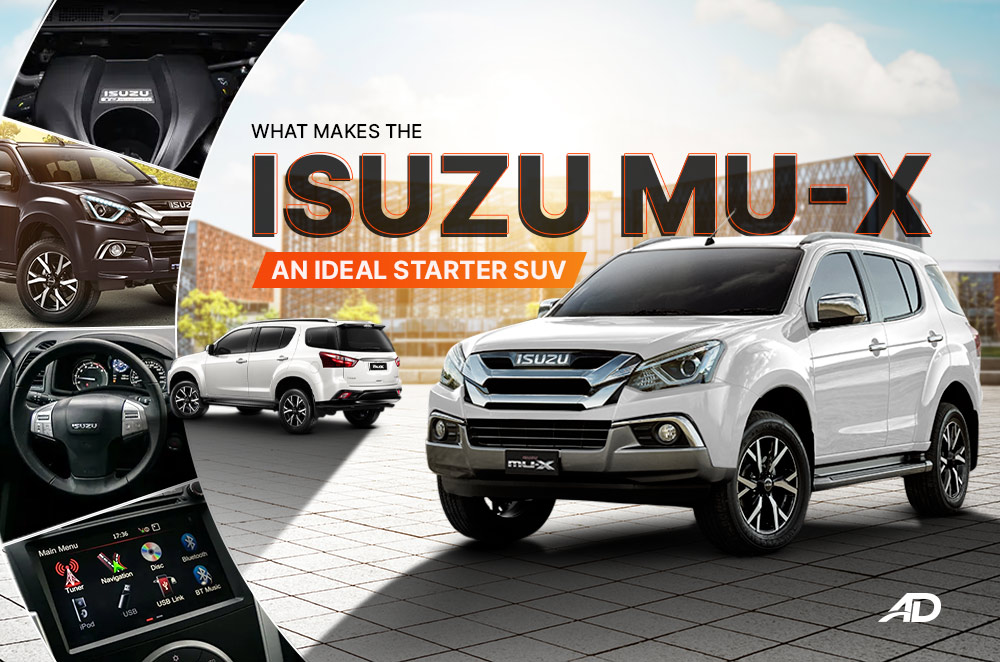 The Isuzu mu-X is a popular 7-seater SUV that has won the hearts of many Filipinos since its introduction to the market back in 2013. While not much has changed since it first landed as it still carries the same body, Isuzu has been giving minor upgrades over the years that have made it more attractive for those looking to get a starter SUV. The mu-X is also one of a few models that can be had as an automatic for its entry-level variant. With that said here are a couple of reasons why the Isuzu mu-X is an ideal starter SUV, especially for those looking to get a high riding family 7-seater.
One of the most affordable SUVs in the segment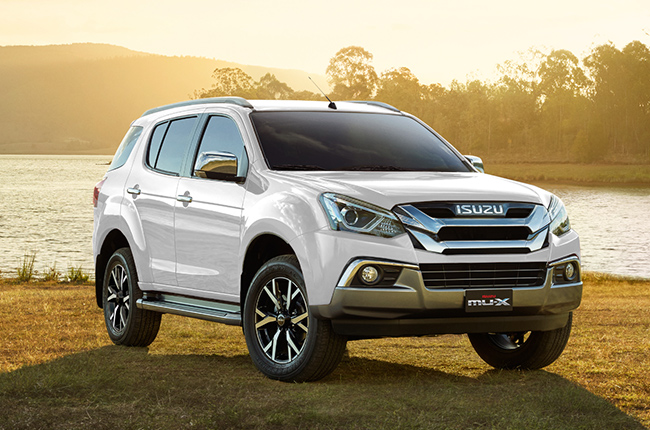 The Isuzu mu-X is one of the older vehicles available in its segment today. With its age also comes a strong rapport with its customer base as the vehicle has slowly established itself over the years. One of the key factors that make the 7-seater SUV so attractive until now to its buyers is its entry-level 1.9-liter RZ4E LS model. For the cost of P1,350,000, you already get a lot for the 1.9-liter model in terms of basic necessities. It also comes with the bonus of only coming with an automatic transmission which makes it all the more attractive. While it may not come with the sportier looks of its LS-A counterparts, it does come standard with Bi-LED headlights which is definitely something buyers will be interested in.
Not only is this variant automatic but is one of the most affordable SUV models you can get on the market today. This lowers the barrier to entry for those looking to get a 7-seater diesel-fed SUV and are working on a budget. It is also an ideal vehicle for those who want a workhorse car and a vehicle that just plain works.
Tough yet sporty exterior
Giving the mu-X a unique look amongst its competitors is its tough yet sporty exterior. Isuzu Philippines has given the SUV several updates since its first appearance in the local market. Over the years the vehicle has seen updates to its headlights, its grille, bumpers, as well as to its wheels. It is proof that if a design works then there isn't much need for a major overhaul. If you want an SUV with a design that just works and is still able to compete with newer vehicles in its segment then the Isuzu mu-X is for you.
Fuel efficient diesel power
While it is true that the Isuzu mu-X doesn't have the most powerful engines on the market, it does come with one of the better fuel efficiency figures out there. With a choice between the 1.9-liter and the 3.0-liter motor, interested buyers are spoiled for choice as each of these engines are frugal in their own right. Couple this with the brand's Blue Power technology and you have a recipe for a thrifty 7-seater SUV when it comes to diesel.
Despite the notion of having a bigger engine is better, the 1.9-liter still delivers well in terms of balanced performance and great fuel efficiency. During our testing, the 1.9-liter power plant was able to deliver better fuel economy than its bigger 3.0-liter brother. In the city, the engine was able to do 8.6 km/l on city crawls, while on the highway it was able to do 18.2 km/l.
On the other hand, the 3.0-liter motor still delivers great fuel efficiency, albeit not as high as its 1.9-liter counterpart. It still delivers a respectable 7.1 km/l in the city and 17.9 km/l on the highway. Overall still great numbers especially for an SUV of its size. Whichever model you choose you can't go wrong as both of its power plants will still deliver you great fuel economy figures.
Entertainment for the family
Aside from its 7-seater capacity, the Isuzu mu-X also comes with a 10-inch DVD player monitor located near the second row to provide entertainment for all. While not all models have this as standard, it's still a great feature to have especially if you want to entertain your kids at the back. This also gives the mu-X a unique proposition in the market as it is part of a handful of SUVs that have this feature available.
Apple CarPlay and Android Auto as standard
Isuzu Philippines has also given the mu-X a recent update to help keep it competitive with the market today. With that recent update, the SUV now comes with Apple CarPlay and Android Auto functionality as standard for all models that have the 8-inch infotainment available.
This makes it easier for the user to connect their smartphones to the vehicle and allows them to utilize their preferred navigation and music stream applications. A great improvement as Isuzu seeks to continuously update a tried and tested design and adapt to the more tech-savvy market of today.
With that said the Isuzu mu-X still presents itself as an ideal SUV for those looking to get an affordable model that just works. Not only is it fuel-efficient it also comes with a 10-inch DVD player screen that will surely keep you and your passengers entertained. Its updates have also put it on par with the rest of its competitors in some aspects and have kept it competitive to this day.
Get the best deal - Choose multiple dealerships to compare offers!
You can compare quotations simultaneously from multiple Isuzu dealerships. Select your preferred dealers from the list below.

Compare quotations from multiple dealerships in minutes.
Check vehicle and color availability.
Find info on special offers and promotions.
100% Hassle-free with no obligation to purchase.
Latest Features
There are ways to help your passengers have an extra layer of protection in the event of a crash, this all depends on your policy and what it can do to help them.

How will the new Changan fare against the veteran Ford Territory? Pretty well. Find out why in this head to head.

Get an extra bit of protection for your expensive BMW. Make sure your car's got comprehensive insurance.
View More Articles