Your vehicle's initial registration is good for 3 years. When it does expire, you can't just drive to the Land Transportation Office (LTO) and get it renewed. There's a proper and systematic way to determine when to renew its registration and it's all in your car's license plate.
Here's a little infographic we made based from the Motor Vehicle registration schedule found from the LTO website.
The last digit of your car's license plate number will tell you the month when you need to register your car. 1 stands for January, 2 for February, 3 for March, and so on and so forth. As for 0, October will be your month of registration.
Take note, though, that you can register your vehicle one month in advance.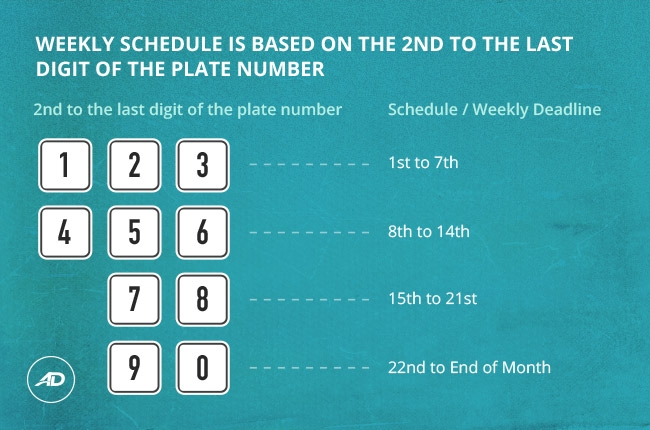 Now, for the exact week that you need to register your vehicle, you can follow this number scheme using the 2nd to the last digit of your plate number. Numbers 1, 2, and 3 should be registered within the working days from the 1st to 7th of the month; 4, 5, and 6 on the 8th to the 14th; 7 and 8 on the 15th to the 21st; then 9 and 0 on the 22nd to the last day of the month.
Let's take the license plate LTO 1234 as an example and use the schedule provided. The last digit is 4 so it means that it should be registered on the month of April.
Next, the 2nd to the last number is 3, which means that we should consider the working days from April 1 to 7. Looking at the calendar, if you need to register this car on 2017, it will be from April 3 to 7.
Everybody should abide by this schedule as failure to so could mean penalties that will cost you some of your hard earned cash. After reading this article, go to your car, use the number scheme, and mark the dates that you're allowed to register.
Latest Features
The Honda Brio and the Kia Picanto are both on today for a Head to Head versus match. Will the Brio take it, or will the Picanto?

Your first car is like your first love, it introduces you to all sorts of new and exciting things. Here are things to consider when choosing your first.

A small hatchback that is not only easy to drive but also comes feature-packed for its size.
View More Articles