Hyundai Philippines recently relaunched in the country under new management. With its relaunch comes new models that will spice up the South Korean automaker's lineup in the country. Locally the 10 passenger vehicles are available in the Philippines with more to be added soon. While some models have been replaced others have been updated to make their respective models more competitive than ever. Buyers can choose among a wide range of models from a sedan, sports hatch, and crossover, to a proper family van. So if you've been planning to purchase a brand Hyundai, allow us to help you choose the perfect car that matches your taste and lifestyle.
Hyundai Accent
The Hyundai Accent is the only one in the subcompact sedan segment that gets a turbo-diesel mill that's both peppy and efficient. Its 1.6-liter CRDi diesel motor churns out a healthy 126 hp and 260 Nm of torque which is quite an extensive amount of torque for a subcompact car.
While the diesel remains to be the more superior engine, you can still opt for a 1.4-liter gasoline engine. Both power mills could either be paired with a 6-speed manual or a 6-speed automatic gearbox. Pricing starts at under P800,000 and tops up at P1,038,000.
Hyundai Kona
In its range of crossovers, the Hyundai Kona serves as the medium option in its pack. Aside from its funky and youthful exterior, the Kona also has enough space for 5 passengers along with a cargo area that can carry your stuff and other valuables. Under the hood is a 2.0-liter Atkinson-cycle gasoline engine that can put out 147 hp and 179 Nm of torque. This powertrain comes with a 6-speed automatic transmission. It's definitely a suitable vehicle for younger buyers, they can even choose among a range of vibrant exterior colors.
Hyundai Palisade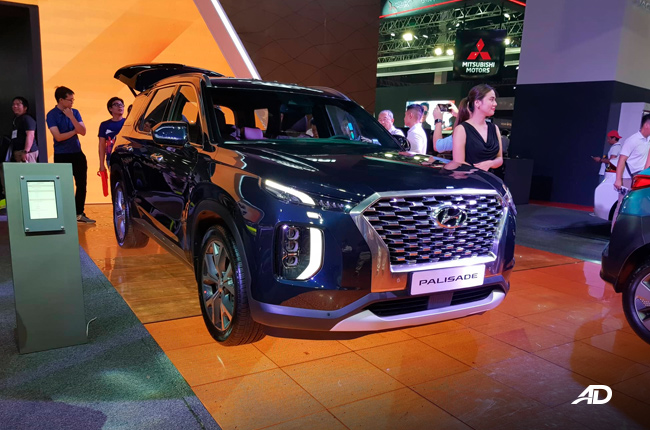 If you still want a crossover but with 7 seats, then the Hyundai Palisade could be the right vehicle for you. Aside from its striking exterior and feature-packed cabin, this midsize SUV also comes with second-row captain's chairs for that VIP experience. Its 2.2-liter turbo-diesel engine produces 197 hp and 441 Nm of torque, giving the Palisade enough power to cruise on city roads and out on the open highway. Yes, it's expensive, though that P3,240,000 price tag does give you quite a lot for what you're actually paying for.
Hyundai Reina
The Hyundai Reina sits below the subcompact Accent. Unlike its bigger brother, this small wonder is only available with a 1.4-liter naturally aspirated gasoline that's capable of churning out 94 hp and 132 Nm of torque. The said mill could either be paired with a 5-speed manual or 4-speed automatic gearbox. As expected, its exterior look is based on the company's Fluidic Sculpture 2.0 design language, keeping it in line with the larger models in the lineup. It's more affordable than the Accent, with prices topping up at just under P800,000.
Hyundai Santa Fe
Just like its smaller brother the Tucson, the Hyundai Santa Fe also comes with an all-new model. It comes with a wide grille and a set of dual-layer T-shaped headlights that give the crossover a more aggressive look. It also comes with a more aggressive stance along with its own unique set of bumpers for the front and back along with LED taillights at the rear. It rocks a set of 19-inch wheels which further its more muscular and aggressive stance.
For its other features, the Santa Fe gets a power tailgate, leather seats, an 8-inch infotainment system with Apple Carplay and Android Auto, ambient mood lighting, a console tray, a wireless charger with air cooling, and a shift-by-wire electronic gear selector just to name a few.
Under the hood, the Hyundai Santa Fe is powered by a 2.2-liter turbo diesel engine that makes 200hp and 441 Nm of torque. It sends power to the ground via an eight-speed DCT. Its sole variant is priced at P2,420,000.
Hyundai Tucson
Up next we have the all-new Hyundai Tucson. It comes with an all-new exterior design language that features sleek LED headlights, a new Parametric grille, and new striking body lines that embodies the brand's more angular design. Some of its highlights include a new two-tone premium interior, a 10.25-inch TFT LCD instrument cluster, ambient mood lighting, a wireless charger with air cooling, a shift-by-wire electronic gear selector, and a customized power tailgate.
Just like before it can be had with two engine options, the first is a 2.0-liter gasoline engine that makes 154hp and 192 Nm of torque that is mated to a six-speed automatic and the other is a 2.0-liter turbo diesel engine that makes 184hp and 416 Nm of torque mated to an eight-speed automatic transmission. As for its price, the Tucson can be had for as low as P1,570,000 for its entry-level model and P1,840,000 for the top-of-the-line unit.
Hyundai Veloster
If you want performance and fun in a rather small package, then you should consider the Hyundai Veloster. The in-your-face power delivery will indeed satisfy your thirst for speed. This is all thanks to the 1.6-liter turbocharged gasoline direct-injection engine that produces 201 hp and 265 Nm of torque mated to a 7-speed DCT. Its speedy performance is then coupled with a good amount of features along with a quirky exterior styling.
Hyundai Venue
Last on the list is Hyundai Venue, and it happens to be the latest member of the local Hyundai lineup. It may be the smallest among crossovers, but it doesn't fall short in terms of styling and features. Under the hood, this small wonder is motivated by a 1.6-liter gasoline engine that churns out 121 hp and 151 Nm of torque. The said mill is paired with a 6-speed automatic transmission. The miniature dimensions of the Venue are indeed perfect in city roads, allowing you to easily maneuver and pass through tight spaces with ease.
So have you finally chosen the right Hyundai vehicle for you? If yes, then, don't hesitate to click on the 'Get Quote' button—it's absolutely free. You could even request to test drive the cars so you would know what you'll like about them, first hand.
Hyundai Creta
Positioned just above the Venue, the Hyundai Creta is a subcompact crossover that comes with a wide array of features that many will enjoy. It is available in three variants and comes with a price range of between P998,000 to P1,332,000. Some of its notable features include its 1.5-liter naturally aspirated with an IVT or 6-speed manual transmission, It produces 114hp and 144 Nm of torque. Other features for the crossover include a 10.25-inch TFT LCD instrument cluster, wireless charger with an air cooling system, cupholder lamps, USB ports, and an 8-inch infotainment system.
Hyundai Staria
Another new model to enter the local lineup is the Hyundai Staria. Dubbed as the unofficial successor to the Starex, it takes the passenger vehicle role and dials it up to 11 with its looks and feature set. It comes with a modern yet sleek design that culminates in dimensions that are both longer and taller than the Starex. It also gets LED lighting for the headlights and taillights and comes with alloy wheels for the upper models. The lower variants get steel wheels instead. Speaking of variants, the Staria is available in four models, the Cargo, GL Commuter, the GLS+, and the Premium model which happens to be all-wheel-drive.
The minivan comes with three seat variations, seven for the Premium+ model, 11 for the GLS and Commuter variants, and finally a three-seater configuration for the Cargo model.
The Premium variant also gets access to suede headlining, a front center console, metal pedals, ambient mood lighting, chrome door handles, and relaxation seats for the second row. It also gets smart power sliding doors, a smart power tailgate, a 12-speaker Bose sound system, and a dual sunroof.
Other features of the model include a 10.25-inch TFT LCD instrument cluster, an 8-inch infotainment system, a shift-by-wire electronic gear selector, a wireless charger with air cooling, and USB charging ports for the front and rear.
Powering the minivan is a 2.2-liter turbo diesel engine which we suppose has the same power figures as the motor found in the Santa Fe as Hyundai has yet to reveal its official figures as of writing. It can be had with an eight-speed automatic or a six-speed manual depending on the variant chosen. Do take note that the eight-speed found in the Premium model is all-wheel-drive. As for its price, it can be had for as low as P1,560,000 and as high as P2,930,000.
Latest Features
The vehicles on this list are true SUVs in every sense of the word, and are at the top of their respective categories.

There are ways to help your passengers have an extra layer of protection in the event of a crash, this all depends on your policy and what it can do to help them.

How will the new Changan fare against the veteran Ford Territory? Pretty well. Find out why in this head to head.
View More Articles