Aerodynamics in production vehicles, unlike in race cars, is something to look at when trying to improve fuel efficiency by reducing drag, and preventing instability at high speeds due to unwanted lift forces. For many years, Mercedes-Benz have been perfecting its vehicles' aerodynamic efficiency and they have been doing so very well. In fact, the CLA Coupe held the world record for the lowest drag in any production vehicle.
This year, however, the CLA coupe has to step down and hand down the title to the upcoming 2019 A-Class sedan. With a coefficient of drag (Cd) of 0.22 and frontal area of 2.19 m², the German sedan now holds the world record for the lowest drag in a production vehicle at 0.49 m². In addition to that, the A-Class hatchback isn't far behind with the claim, as it claims a Cd value of 0.25. This is an improvement to its predecessor which had a Cd value of 0.26.
Per Mercedes, the great aerodynamic properties of these cars contributes to low fuel consumption under everyday conditions. In order to achieve this, the A-Class sedan had to be optimized down to the last detail by a multiplicity of computation loops, Computer-Aided Engineering (CAE) simulations, and measurements in the wind tunnel in Sindelfingen, Germany.
Other small details to improve aerodynamics include a sophisticated reduction of the frontal area, an extensive sealing concept (such as the sealing of the headlamp surroundings), and almost complete panelling of the underbody, which includes the engine bay, main floor pan, parts of the rear axle, and diffuser.
The wheels were also part of the process, as the front and rear spoilers had to be optimized specifically to direct the air around the wheels efficiently. Aerodynamic fine-tuning also included the rims and tires.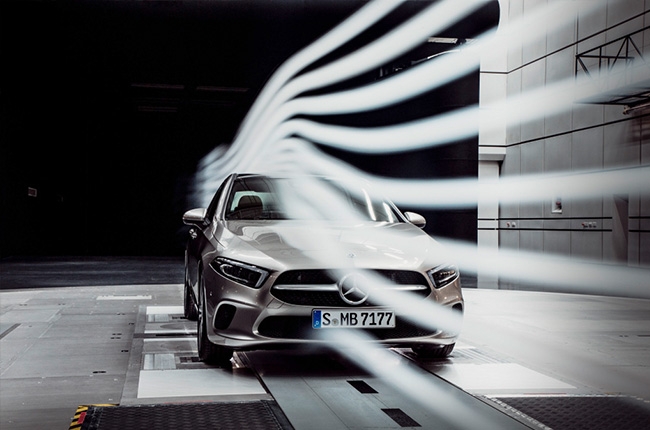 The A-Class sedan will be launched globally towards the end of 2018. It has a 2,729-mm wheelbase, which differentiates it from the long wheelbase version that was launched in China earlier this year. It will sit on the all-new Mercedes platform and will utilize the raved MBUX – Mercedes-Benz User Experience infotainment system for maximum in-cabin comfort for the driver and passengers.
Latest News
Mazda is working on launching a new CX-5 in 2025. The most popular crossover in the lineup is also going hybrid.

A new Toyota Gazoo Racing motorsport car is set to be unveiled during the 24 Hours of Le Mans on June 10, 2023.

Hyundai is serious about putting the N Vision 74 into production according to Chief creative officer Luc Donckerwolke.
View More Articles