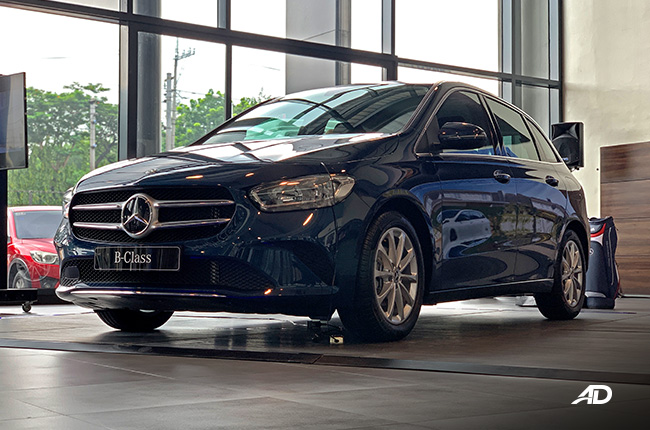 Mercedes-Benz recently launched the all-new B-Class. The B-class was first released 14 years ago as a compact tourer, this was meant to showcase cutting edge, hip, and exciting designs that cater to a younger market. Since then, Mercedes-Benz has launched several cars like the A-Class, CLA, and the GLA that appeal to a new generation of car owners who want stylish, sporty and technologically-advanced vehicles
The new Mercedes-Benz B-Class starts where the A-Class left off. Pricing wise, the B-Class starts at P2.690-million but justifies that price tag with a host of features. One of the main highlights of the all-new B-Class is the spacious cabin. This makes the B-Class a top choice for a family car, thanks to its emphasis on comfort and safety.
With that said, the 2020 B-class has increased interior dimensions compared to its predecessor. It now offers more headroom and elbow-room in both the front and the rear. The seat is also more elevated to a more level position making it more comfortable to sit in. This also gives it better all-around visibility, minimizing the risk of overlooking vehicles and pedestrians.
The B-Class is equipped with an Extended Active Brake Assist (ABA) as standard. This system can help effectively mitigate the consequences of rear-end collisions with slower-moving, stopping, or stationary vehicles ahead. This even works with crossing pedestrians and cyclists. The system works by giving a visual warning first, then an audio warning. The system then calculates the amount of brake pressure needed so that when the driver steps on the brakes stopping will be made easier.
Further adding to the list of safety features, the B-Class has Attention Assist with adjustable sensitivity, which can warn the driver when it detects inattentiveness and drowsiness.
Apart from the high-tech safety feature, the B-Class continues what the A-Class has started. It also comes with the Mercedes-Benz User Experience (MBUX) that features a widescreen display, serving as the instrument cluster and infotainment system powered by a virtual assistant.
The MBUX is a virtual assistant, as well, which is activated by pressing a button on the steering wheel or by simply saying "Hey, Mercedes." The MBUX system lets the driver interact with the car via voice commands.It lets the driver control navigation, phone calls, music, climate control, and ambient lighting. The MBUX is paired to a 7.4-inch touch screen display offering greater functionality for the driver.
Powering the B-Class is a 1.3L inline-4 engine mated to a 7-speed dual-clutch automatic transmission that produces 136 hp and 200 Nm of torque.This is the same engine that can be found in the A-Class
Latest News
Launch date has not been disclosed just yet.

Drivers should be mindful of the newly implemented speed limit.

Some of its suspension components were carried over from the Raptor.
View More Articles