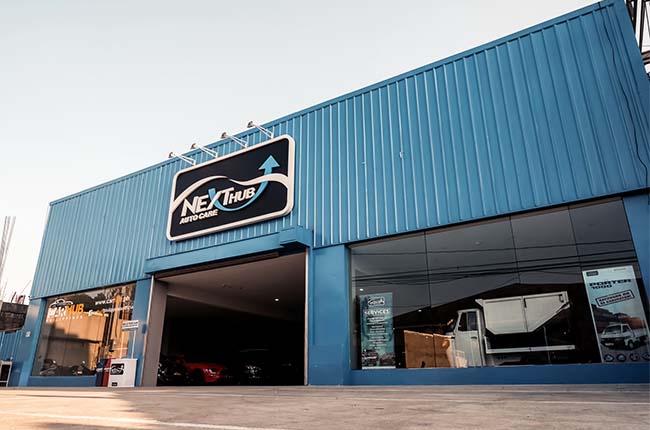 The Autohub Group launches NextHub Auto Care center to further strengthen its position as the country's premier multi-brand automotive distributor and service provider. NextHub aims to target vehicles that are out of warranty or customers who would rather have their vehicles serviced outside of a dealership.
The new facility, which is located at Cabrera Road, Barangay San Juan, Taytay, Rizal (behind Nissan Taytay), covers an area of 2,200 square meters and houses 17 bays and is able to handle 50 cars per day. The Auto Care center aims to provide top-notch and accessible services at affordable prices.
The NextHub Auto Care center covers basic services such as oil changes, tires, steering, suspension, battery, brakes, and many other light preventative maintenance services. The service center also caters to customers whose vehicles are in need of repairs, with available spare parts for all car brands in an in-hub convenience store. It also offers customers accessories for their vehicles such as vehicle insurance renewals, dash cameras, and many more. The center even features new and used cars for sale within the facility.
Making sure that your vehicle is serviced well, NextHub employs highly skilled technicians equipped with advanced tools that ensure your vehicle is serviced to the highest quality from start to finish.
The NextHub Auto Care center is part of Autohub's A.I.M ( Accelerate, Innovate, Move-Up,) campaign. The automotive group wants to take the 3-star shop's mentality of its car buyers and take it to the next level. Autohub states that the prices for the car care center will be competitive and will have a high-grade facility ready to meet the repair needs of its customers.
Latest News
Nissan Philippines has introduced the Kicks e-POWER Sport, which features a body kit and is limited to just 150 units.

Ford Philippines' DSFL aims to provide comprehensive training and experience for increased driver safety and awareness.

Changan Philippines, under Inchcape, is progressing its lineup with two new models, the X7 and the S7 full EV.
View More Articles