The Chamber of Automotive Manufacturers of the Philippines, Inc. (CAMPI) and Truck Manufacturers' Association (TMA) reported a 23% sales growth for the 1st quarter (Q1) of 2017. Both CAMPI and TMA managed to sell 94,026 units – nearly 20,000 units higher compared to Q1 2016's 76,473 count.
Sales breakdown by segment
With a league of 16 car manufacturers, both passenger cars (PC) and commercial vehicle (CV) segments under CAMPI drew positive outputs for the first term of 2017. The PC segment, which makes up 33.98% of the group's Q1 sales, rose by 7% with 31,951 units compared to last year's 29,796. Out of the first 3 months, March posted the highest record with 11,853 vehicles or 30% from February's 9,114.
The CV segment, on the other hand, kicked to 62,075 units, which is 33% higher compared to the 46,677 of 2016's Q1. It also showed positive results when based month-on-month evaluation as March 2017 sales (24,708) is 38% more than what February has generated (17,926).
Pickups, multipurpose vehicles (MPV), sports utility vehicle (SUV), and minivans are part of the CV segment. In detail, these vehicles fall under the light commercial vehicle (LCV) category. AutoDeal's report on Most Popular Vehicles of 2016 shows that the collective output of these types accounts to 62% of last year's sales. Even in March 2017 alone, SUVs and pickups topped our 3 most popular buys.
Top-performing brands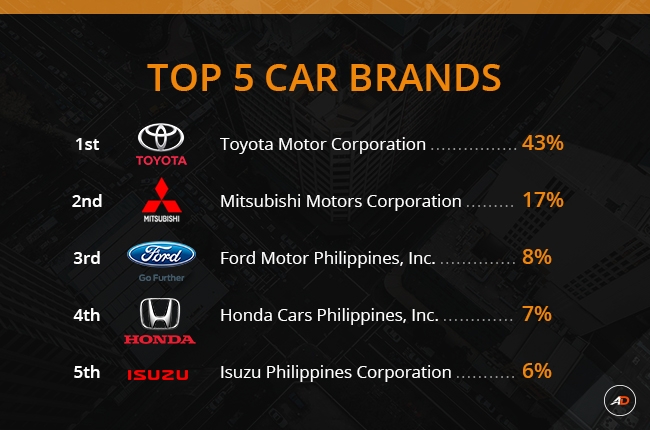 Toyota Motor Philippines Corporation is still leading with 43% market share. In AutoDeal's most popular buys for February 2017, the Vios, Wigo, and Fortuner all earned their spots. Mitsubishi Motors Philippines follows with 17% shares, as Ford Group Philippines, Inc. tails in with 8%. Honda Cars Philippines, Inc. catches up with 7%, while Isuzu Philippines Corporation secured the 5th spot with 6% shares.
Latest News
The leaked dimensions reveal that the SUV will still retain the same width and height measurements, however, its length has been increased by 300 mm.

MG is putting the future of its Cyberster roadster into your hands.

You get to choose between two variants of Volkswagen's crossover.
View More Articles