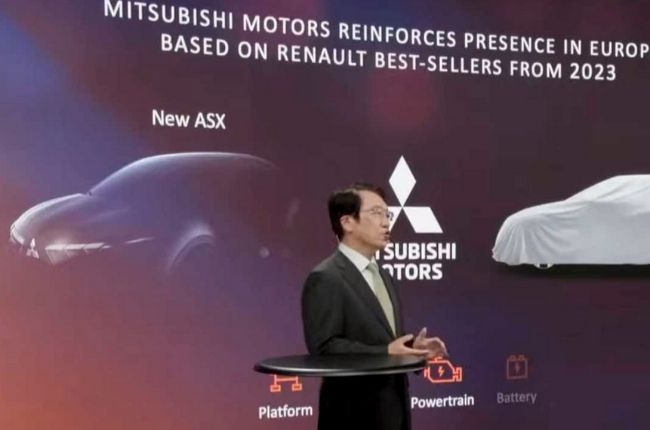 The Mitsubishi ASX has a curious, if not short-lived history in the Philippines. The refreshed subcompact crossover from 2016 made its way to the country only to be discontinued locally not long after.
To this date, Mitsubishi Philippines has yet to field a replacement for the ASX, which is mind-boggling because the subcompact crossover segment has been booming in recent years. The closest thing in the automaker's lineup today would be the Xpander, a seven-seater MPV that has become popular in its own right. Still, one wonders if Mitsubishi has any plans to take on the likes of the Geely Coolray and MG ZS.
Over in Europe, the writing is on the wall. A recent conference held by the Renault-Nissan-Mitsubishi alliance showed us new plans for the next-generation ASX. The all-new model will be based on the Renault Captur and manufactured at the same plant in Valladolid, Spain.
Now, the fact that manufacturing will take place in Spain could dampen the vehicle's chances of being released locally, but a lot could happen between now and the expected 2023 release date. Renault does have a new partnership with Geely involving new hybrid models for South Korea.
It wouldn't be the most unexpected move in the world for Renault-Samsung to lend Mitsubishi its manufacturing prowess in Busan, especially since the all-new ASX will reportedly get hybrid and plug-in hybrid powertrains. So, we think a South Korean-made ASX would make more sense than a Spain-made one. That's because we already get Korean-sourced models from brands like Kia, Hyundai, and Chevrolet.
Of course, this is all speculation, and we might be seeing things that aren't there. Nonetheless, we think Mitsubishi will have a lot to gain by bringing in a new version of the ASX into the Philippines. The subcompact crossover segment is blazing hot at the moment, and we don't see that ending anytime soon. The local market still has a place for a well-made small crossover from a reliable and well-known brand, so Mitsubishi could be well-positioned to take advantage of that.
Latest News
The LTO passed memorandum no. JMT-2023-2399. Engine and chassis stenciling for registration renewal are no longer needed.

SMC Asia Car Distributors Corp has unveiled the BMW 3 Series Touring in three different variants for the Philippines.

The OMODA 5 EV will be coming to the Philippines in the fourth quarter of 2023 along with the OMODA and JAECOO brands.
View More Articles