Last January 11, 2021, Isuzu Philippines turned over 25 units of the Isuzu Traviz to the progressive municipality of Tiaong in Quezon Province. These units were also outfitted in the emergency response-type utility van configuration or Ambulance configuration to better address the multiple needs of the various barangays in the area. The 25 units will then be distributed to the barangay captains of the municipality and will serve in their respective areas.
The light commercial truck presents itself as a versatile and easily adaptable platform for those looking to get a reliable and affordable vehicle. It comes powered by the tried and tested 4JA1 2.5-liter turbo diesel motor that also comes with a 5-speed manual transmission. Furthermore, the Traviz also comes with a broader and more spacious cabin compared to its competitors, giving the vehicle better legroom and more comfort on the inside. On top of this, it also comes with 1.6 tons worth of payload along with a short turning radius of 4.5 meters, making it ideal for multi-purpose trips in various barangays.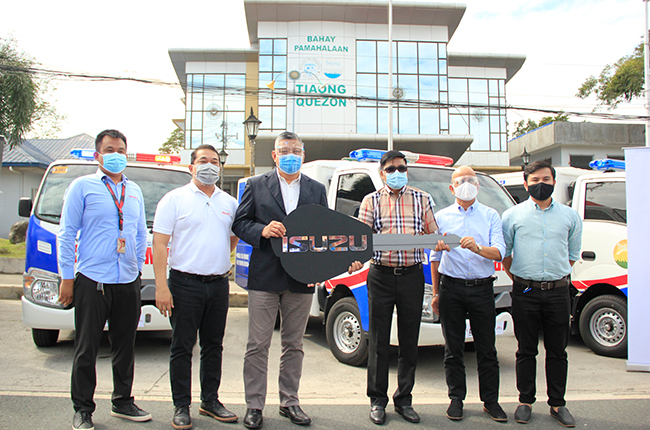 Aside from this, the Isuzu Traviz also showcased two features that made the Tiaong local government decide to purchase the vehicle. The first of which was Isuzu Philippines' commitment to comprehensive aftersales and nationwide parts availability. The second reason why the Japanese brand's light commercial truck was also chosen was because of the municipality's current long-standing relationship with Isuzu Pagbilao, which has been helping out with the area's various transportation needs.
We are confident that these Isuzu Traviz lightweight trucks will perform even beyond expectations for the different barangays here in Tiaong, and you can count on its durability and reliability that your municipality made a very wise investment in purchasing these Isuzu trucks—because an Isuzu truck really goes a long way.
Latest News
It's the ideal runabout vehicle for those looking for a versatile pickup truck for their next daily driver.

No number coding on Thursday, which means vehicles with plates ending in 7 and 8 are allowed out during coding hours.

GR Power but with hydrogen fuel is what the Corolla Cross H2 concept brings to the table, proving that hydrogen performance could work in the future.
View More Articles