Maxus Philippines, the Ayala-owned importer, and distributor of British-bred commercial vehicles in the country such as the Maxus V80 and Maxus T60 will be launching a new 8-seater MPV in the third quarter of 2020. The new MPV in question is the Maxus G50 which will serve as the brand's entry into the highly competitive segment.
Exterior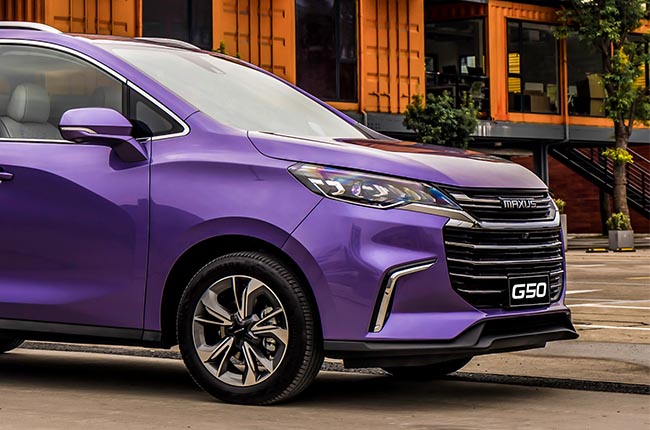 On the outside, the G50 comes in a boxy minivan-like design. It has a wide bottom grille and a thin top grille flanked on both sides by sharp LED headlights. Chrome accents can also be found on either side of the lower bumper further giving accenting its sculpted look. While the vehicle does come with a minivan-like design its passenger doors do not slide open unlike its bigger brother the G10.
In terms of dimensions, the G50 comes in a 4,825 mm in length 1,825 mm in width and 1,778 mm in height. This makes the vehicle about 90mm longer, 5mm wider, and 17mm shorter than the Toyota Innova.
Interior
While still unconfirmed the specifications for the G50 the British inspired brand's other markets do give us a hint as to what to expect. The new Maxus MPV comes with several seating configurations, a 2+2+2 setup, a 2+3+2 setup, and finally, a 2+3+3 configuration which will most likely be the layout of choice for the Philippines. Whatever configuration Maxus Philippines will bring in the interior will most likely come with either cloth or leather material and come with a black theme with silver accents.
Those looking for technology will be happy to know that the G50 at least in other markets comes loaded with technology. For starters, the Maxus MPV comes with a massive 12.3-inch infotainment system at the front that gives the vehicle smartphone mirroring capabilities. A digital screen is also present in the instrument cluster giving the driver better access to information about the vehicle they might need.
Engine options
The Maxus G50 currently has two power options and both of them are gasoline. The first is a 1.3-liter turbocharged engine that makes 163hp and 230 Nm of torque. The second engine option is a 1.5-liter turbocharged motor that makes 169hp and 250 Nm of torque. Transmission options for the G50 come in the form of either a 7-speed DCT or a 6-speed manual.
Possible Pricing
While Maxus Philippines hasn't officially released the pricing for its upcoming MPV we can give you a rough estimate based on the other markets the vehicle is currently being sold in. This puts the G50 within a possible price range of P650,000 to about P1,200,000 without taxes or import duties being applied. If the pricing holds true then the Maxus G50 could be the ideal vehicle for those who are looking into getting an affordable but featured pack MPV for their budding family.
Latest News
Lexus officially unveils the refreshed 2021 Lexus LS that now comes with better technology.

A new possible vehicle for Kia's local lineup has emerged in the form of the Stonic.

Jaguar and Land Rover are now offering cleaner mobility options for Filipino buyers
View More Articles