The exclusive distributor of Mazda in the country, Bermaz Auto Philippines, is calling owners of specific vehicles in its line-up to have its Takata airbag inflator replaced. This is part of the brand's on-going preventive safety campaign that started back in 2016.
Since the beginning of the campaign, Mazda Philippines has contacted the owners of affected vehicles through its 20 dealerships nationwide. As of date, the campaign has replaced the airbag inflators of 744 Mazda vehicles.
As it continues this preventive safety campaign, Mazda Philippines is asking its customers to check the Vehicle Identification Number (VIN) and manufacturing date of their cars.
We care deeply for our customers and their safety, regardless of the age of their Mazda, or where they bought their cars. Most important is to reach them and persuade them to bring the affected cars in to replace the inflators. We urge the owners of the said vehicles to get in touch with the Mazda dealership nearest to them so they will know whether their vehicles are covered by this very important safety campaign.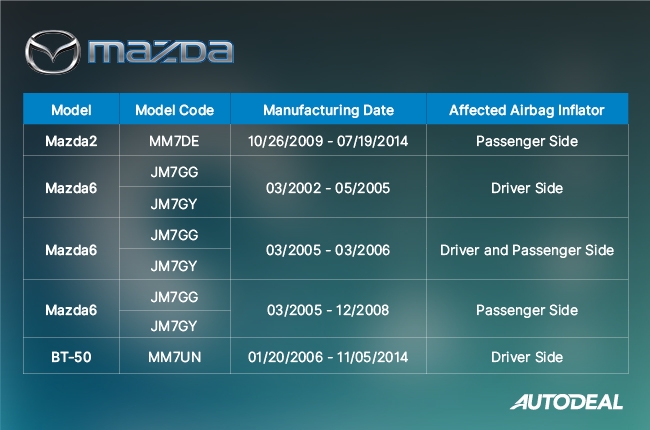 If it is included in the list, do get in touch with the nearest Mazda dealership to them and book an appointment to have its Takata airbag inflator replaced. The whole procedure will be one hour long and is free of charge.
Latest News
These huge vehicles will be locally manufactured and assembled.

The Japanese carmaker presents a stylish range of nameplates for model year 2019.

Three new water facilities as part of its Operation Better World program.