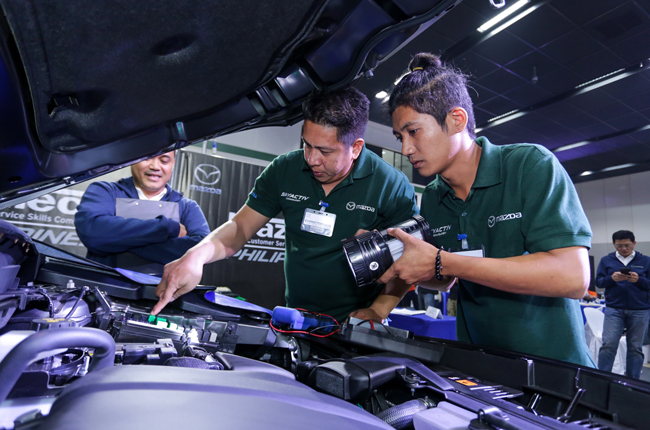 Bermaz Auto Philippines (BAP), the exclusive local distributor of Mazda, recently held the 4th Maztech Philippines Customer Service Skills Competition. The event aims to sharpen the skills of each dealership's employees and develop camaraderie among them, as well as improve customer service during the process.
Twelve dealerships from their nationwide network took the challenge and sent their representatives to participate in various competitions that tested their technical know-hows. The activities included a quiz bee, a written examination, and even role-playing exercises that showcased their skills in spotting technical and manmade faults.
In addition, the event put twelve Service Advisors and twelve Dealer Customer Relations Center representatives to the test. They took part in several role-playing activities to see how well their customer handling skills are.
Meanwhile, Parts Advisors showcased their talents in parts process, forecasting, and part numbering. Warranty Administrators, on the other hand, also proved their knowledge in the warranty process, scope, and limitation. They were scored under various theoretical and practical applications.
Here is the list of representatives that won in their respective categories:
Service Technician: Mazda Pasig
Service Advisor: Mazda Davao and Cagayan De Oro
Top Parts Advisor: Mazda Cebu
Warranty Administrator: Mazda Davao
Top DCRC Officier: Mazda Quezon Avenue
Best Sales Consultant: Mazda Greenhills
Aside from bragging rights, the top service technicians will represent the Philippines in the upcoming 2018 Regional Maztech Competition in Bangkok, Thailand.
Latest News
The front clip of the 2023 Lexus RX has been sent out, as well as a reveal date set for June 1, 2022.

More driving schools equals more opportunities for people to learn.

Color-changing cars like BMW iX Flow use display technology first seen in e-readers like the Amazon Kindle.
View More Articles