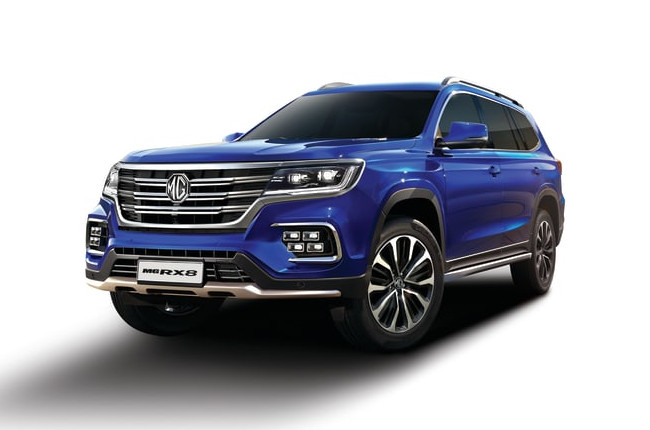 MG Philippines has been keeping its 7-seater on hold for some time. The brand was supposed to launch the MG RX8 in the Manila International Auto Show, but due to current circumstances an alternative was needed. There are now reports of the RX8 getting a launch date for the Philippines.
With a supposed launch date in the near future, the MG RX8 – which coincidentally shares the same name as a Japanese brand's rotary-powered car back in the day – is slated for an event no later than August 2020. This model will serve as the brand's entry into the 7-seater category. The RX8 will serve as the first 7-seat MG vehicle in the current lineup.
As for dimensions, it measures in at 4,923 mm in length, 1,930 mm in width, and has a 2,850 mm wheelbase. Making it longer and wider when compared to one of the most popular SUVs in the Philippines, the Toyota Fortuner. With its promising dimensions, one can expect a good amount of space for the entire cabin.
As for other technical specifications, it will come with a 2.0-liter turbocharged gasoline engine that produces 163 hp and 360 Nm of torque, however, other countries get up to 220 hp with the same engine, so the final figures aren't confirmed yet. There is a diesel option, but it flies under the Maxus banner in other countries. The gasoline motor is mated to a 6-speed automatic transmission and features a 4WD system. You get 20-inch wheels on this model as well as a ground clearance of 202 mm.
As for the interior, we can expect it to come leather-clad, though the light-colored option does look interesting to say the least, at least for the specifications found in other countries. It will likely have AppleCarPlay, and maybe even Android Auto in its infotainment system.
Prices haven't bee announced yet, but we can expect this model to definitely be more expensive than the MG RX5, so perhaps a price from one and a half million to perhaps the low 2s, just like most other midsize SUVs out in the market. Whatever it is, we'll just have to wait and see.
Latest News
According to a report, local Corolla Cross models are not affected by the electronic parking brake recall in Australia.

The production version of the Mitsubishi XFC Concept will be unveiled at the 30th GAIKINDO Indonesia International Auto Show in August.

Nissan, Mitsubishi Motors, and NMVK joint collaboration has produced 50,000 EV minivehicles for better mobility.
View More Articles