The first of many holidays are rolling over this December. The Metro Manila Development Authority (MMDA) has just announced that this coming December 8, 2021, coding along EDSA will be suspended allowing cars that are otherwise disallowed on the road on Wednesdays to roam freely.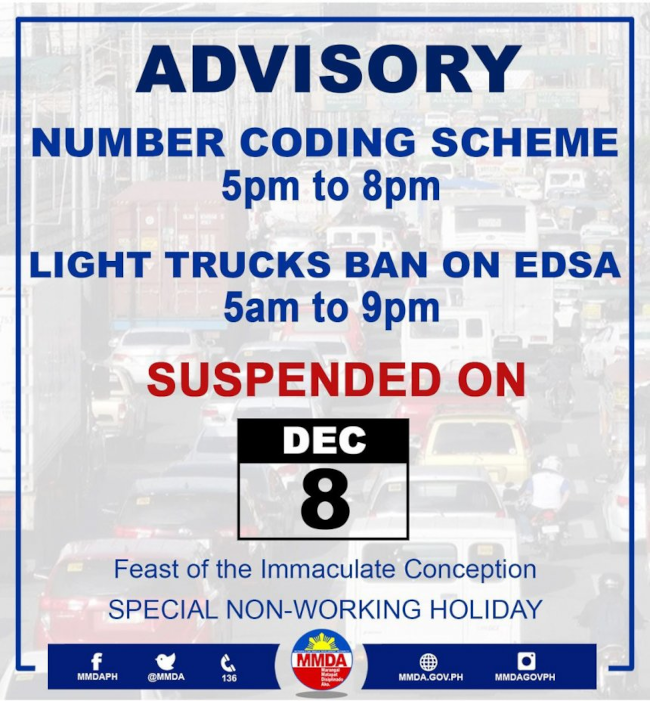 The holiday is the Feast of the Immaculate Conception, and after a recent announcement of the coding scheme making a return, the MMDA put out an advisory regarding the upcoming holiday. The MMDA released guidelines in the past regarding this development in the Unified Vehicular Volume Reduction Program (UVVRP) of Metro Manila.
December 1, 2021, marked the resumption of the UVVRP in Metro Manila, which disallows cars with the corresponding ending numbers on their license plates to use EDSA from 5:00 PM to 8:00 PM.
This Wednesday will be a special non-working holiday, and the MMDA announced that the new modified number coding scheme that takes place between 5:00 PM to 8:00 PM will be suspended. Light trucks are included in this coding scheme but will find themselves able to traverse EDSA from 5:00 AM to 9:00 PM with no issue. Vehicles with a weight of 4,500 and below can travel from Magallanes in Makati City, all the way to North EDSA in Quezon City.
Automobiles with license plates ending in 5 or 6 will not need to worry about the coding scheme, nor will light trucks on the Metro's busiest thoroughfare.
The holiday season is in full swing and many road users are expected to travel this Christmas. High volumes of traffic are expected and are being experienced this December, hence the resumption of the number coding scheme. It's not impossible to speculate that the MMDA could reimplement the number coding scheme in full in the future and not a modified version of it. As traffic steadily goes back to pre-pandemic levels, it's not impossible to consider.
Latest News
Kia Philippines clarifies on the capabilities of current battery electric vehicles (BEVs), namely the Kia EV6.

The electrified pickup truck comes with a powerful electric motor, decent range, a great set of features, plus an interesting vehicle and battery warranty.

It's a new application that will help you keep track of your vehicle at all times and help you make sure it is safe.
View More Articles