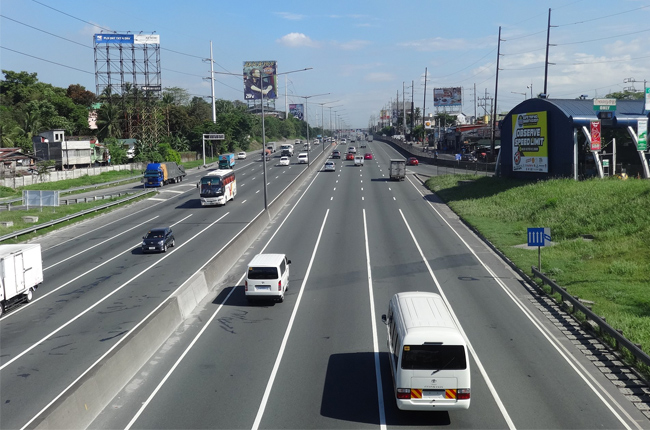 Traveling keeps your mind away from the stressful side of life. Well, if you're not the driver. Being a driver requires the presence of mind and knowledge on different roads you have to take as well as the current toll fees, fuel stations, and one-stop-shops where you can rest and go to in case of emergency. Good thing, taking expressways not only reduces your travel time but also comes with a number of necessities mentioned above for a less hassle journey ahead.
What is an expressway?
Expressways or arterial high standards highways are limited-access thoroughfares that come with interchanges and have no traffic lights as well as intersections for faster travel. Managed by the Department of Public Works and Highways (DPWH), these roads usually include facilities that collect toll fees for passage in an open or closed system.
In the Philippines, expressways have standard features such as guard rails, rumble strips, signs, pavement markings, solid wall fence, speed radars, toll plaza, CCTVs, and rest or service areas. These highways are a huge factor for the growth and mirror the development of a nation as it provides access to different needs like employment, social, health, education, and other services.
What is the speed limit on an expressway?
Expressways, as it is named, are developed for faster travel. However, to ensure everyone's safety, there are speed limits that every motorist should follow. In case you don't know, the minimum speed limit in all expressways is 60 kph while the maximum speed limit for cars is 100 kph. On the other hand, the maximum speed limit for trucks and buses is 80 kph. For those who will traverse NAIA Expressway (NAIAx), motorists should keep their speed at 60 kph. Failure to comply with the rules will result in being penalized under Republic Act 4136.
What are some driving tips for driving on the expressway?
Observe the proper speed limit, not too fast nor slow. Going below minimum and above maximum speed could endanger you from having a violation. It's best to stay in the middle of the speedometer in order to achieve better speed momentum.
Stay in your lane. Whether you are situated anywhere on the highway, it is very important to stay inside the boundaries of your lane. Avoid sudden lane departure as this could cause imminent danger.
Always check your mirrors and activate your turn signals when in an attempt to change lanes. With a fleet of fast-approaching vehicles on the highway, planning your change lane is a must. Therefore, it is best to check your surroundings first before you change your lane to avoid any potential danger.
Keep the passing lane open. This is a common error among local motorists of today. Apart from being known as the fast lane, the passing lane is meant for overtaking and not for average cruising. Perhaps, if that's not your intent, then better stay in the middle lanes and let those on the right pass you.
No to distracted driving. Distracted driving can actually be associated with several practices. One common habit of many drivers is the usage of a smartphone while on the road. Apart from endangering yourself, you're also violating the Anti-Distracted Driving Act.
Observe a safe following distance. Don't stay too close on the vehicle in front of you, as it is deemed to be dangerous at highway speeds. Distance your vehicle by about one car away in order to avoid any potential accident.
Prepare your toll fee. Enjoy a less hassle trip by preparing your toll fee in advance. Notably, you can now browse the following toll fee rates at the Toll Regulatory Board website, for all the expressways in the country. Attaching an RFID sticker to your vehicle can also help you achieve a more convenient trip than usual.
No line cutting at the toll. Be courteous. Have the right mindset not to cut in line, patience is the key.
Take a rest. Driving for about an hour and more could be a real pain in the leg. Taking a break from driving at fuel stops or one-stop-shops should be done to recharge yourself for the remaining kilometers to travel.
North Luzon Expressways (NLEX)
Opened in 1965, the North Luzon Expressway (NLEX) is a four- to eight-lane limited access toll that links Metro Manila to the northern provinces of Central Luzon such as Bulacan and Pampanga.
Owned by NLEX Corporation and operated by Tollways Management Corporation, the 101-km NLEX starts from Balintawak City and ends at Sta. Ines, Mabalacat City. It is the longest expressway in the Philippines.
NLEX is originally a project of the Department of Public Works and Highways (DPWH), but the completion of its major parts was done by Construction Development Corporation of the Philippines (CDCP) which is currently known as the Philippine National Construction Corporation (PNCC).
Future Plans
For improved transportation, there are future expansions in NLEX that aims to ease the congestion on different ends such as Segment 8.2, which will connect NLEX segment 8.1 to C-5 Road and Commonwealth Avenue. The plan includes two interchanges in Mindanao and Regalado Avenues, as well as a roundabout link at Congressional Avenue, and three local road crossings at Quirino, Sauyo, and Chestnut Avenues.
Another road on the queue is Segment 10.1 (NLEX-Harbor Link), which will be a 2.6-km elevated expressway that spans from the new Caloocan Interchange along Fifth Avenue or C-3 Road in Caloocan City to Radial Road 10 (R-10) in Navotas City.
Moreover, Segment 11 or the Connector Road project, will link NLEX and SLEX. This expressway will be connected in the north to Segment 10, passing through the cities of Caloocan and Valenzuela. As for the southern part, this elevated road will be tied to the Skyway Stage 3 near Polytechnic University of the Philippines in Sta. Mesa. Once accomplished, possibly by February 2020, Segment 11 will have four entry and exit points including C-3 road in Caloocan, Espana, Quirino Avenue and terminating through the Paco-Sta. Mesa in Manila.
There's also the NLEX Phase 3 which is set to have three segments with an estimated length of 58 km from San Simon, Pampanga to Dinalupihan, Bataan, connecting to Segment 7 in Subic Freeport.
South Luzon Expressway (SLEX)
South Luzon Expressway (SLEX) or previously known as the South Superhighway (Manila to Alabang), was first built in 1969. Currently, SLEX consists of two expressways that link Metro Manila to the CALABARZON region: Expressway Route 2 or E2 and Radial Road 3 or R-3 of Manila's arterial road network.
With a total length of 51 kms, SLEX starts from Paco District in Quirino Avenue, Manila and goes all the way to cities in Metro Manila such as Makati, Pasay, Paranaque, Taguig, and Muntinlupa. It also passes through the municipalities of San Pedro and Binan in Laguna, Carmona in Cavite, and then progresses again to Binan, Santa Rosa, Cabuyao and Calamba Laguna, and ends in Santo Tomas, Batangas.
Different parts of SLEX are maintained by numerous organizations. For the Osmena Highway or South Superhighway, it is maintained by DPWH and Metropolitan Manila Development Authority (MMDA). The Metro Manila Skyway, which is the first entirely grade-separated highway in the country, is operated by Skyway Operations and Maintenance Corporation (SomCo), while the South Luzon Tollway, Alabang-Calamba-Santo Tomas Expressway (ACTEx), and SLEX Main, are handled by Manila Toll Expressway Systems, Inc. (MATES).
Future Plans
South Luzon Tollway Corporation (SLTC), a subsidiary of San Miguel Corporation (SMC) will implement the four-lane SLEX Toll Road 4 (TR4) extension project. It is a 66.74-km expressway that connects Sto. Tomas, Batangas to Lucena City, Quezon. Once completed, it will have seven interchanges: Sto. Tomas in Batangas, Makban and San Pablo City in Laguna, and Tiaong, Candelaria, Tayabas City and Lucena City in Quezon.
Aside from that, there's also the extension project Toll Road 5, also named as Quezon-Bicol Expressway (QBEX or QUEBEX). Will soon be built by Manila Toll Expressway Systems, Inc. it is a proposed 180-km expressway that is set to connect the Maharlika Highway in Pagbilao, Quezon to the Maharlika Highway in San Fernando, Camarines Sur.
Manila Cavite Expressway (CAVITEX)
The Coastal Road or commonly known as the Manila–Cavite Expressway or CAVITEX, is an open road that ranges by about 14 km long. With its starting point situated at the traffic light intersection with NAIA Road and Roxas Boulevard, this highway stretches from Bacoor to Kawit exit. CAVITEX was built on two segments which respectively runs from Cavite to Laguna. This expressway was constructed by the Metro Pacific Investments Corporation as led by Manny V. Pangilinan.
Future Plans
In order to maximize the accessibility of motorists throughout several destinations in the south, further developments are set to commence in the near future. Metro Pacific Investments Corporation proposes to the Toll Regulatory Board the extension of CAVITEX from Kawit to Rosario, Cavite. The 9.5 km extension is said to cost P22.5 billion pesos.
Aside from that, the Department of Public Works and Highways received a proposed project regarding the construction of a viaduct which is set to extend the expressway to Sangley Point Airport in Cavite City. The cost of the 9.5 km road project is yet to be determined as it awaits approval from the government.
Lastly, is the planned connection of C-5 Road from Taguig to CAVITEX, a 7.7-km extension which will soon be known as CAVITEX–C5 South Link Expressway. This marks the construction of a flyover situated between the C-5 Road in Western Bicutan, Taguig, and the C-5 Road extension in Merville.
On the other hand, the C-5 Road extension from Merville to Las Piñas and the construction of an interchange with Coastal Road shall be completed during its second phase. The estimated cost of the project renders at around P9.5 Billion Pesos and is set to be finished by 2020.
Metro Manila Skyway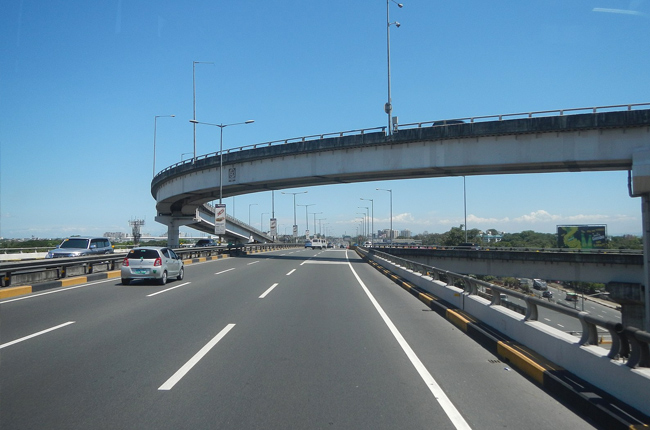 The Metro Manila Skyway happens to be the first fully grade-separated highway in the Philippines, which helps SLEX and other major thoroughfares relieve heavy traffic.
Skyway Stage 1 was partially opened in October 1999 with its construction started on April 7, 1995. From 2008 until the present, SOMCO or formally known as Skyway Operations and Maintenance Corporation took over as the operator. This highway is set to be one of the longest flyovers in the world.
The Skyway Stage Stage 3 is considered one of the major 'Build, Build, Build' projects of President Rodrigo Dueterte's administration. The extended flyover has been recently accomplished. It spans an estimated 18.68 kilometers and connects SLEX to NLEX and vice versa at key points. The new section of Skyway was opened to the public on December 29, 2020, however, not all of the entrances and exits were fully open. The San Miguel Corporation has announced that it will be opening all the entrances and exit points for the new road by January 14 of 2021. Also included in its plans is the further extension of the Skyway to now extend to Susana Heights with the hopes of reducing traffic along other major thoroughfares. SMC has also started work on the linking road that will connect the NLEX Connector expressway to the Skyway Stage 3 elevated roadway. Project completion is expected to be done within 2021.
Future Plans
San Miguel Corporation (SMC) is also looking into delivering the northbound section of the Skyway Extension, which is set to have additional lanes connecting the South Luzon Expressway to Skyway near Susana Heights and the Muntinlupa-Cavite Expressway.
Another one would be the P740 billion Manila International Airport project in Bulacan, which is said to be the largest single-item investment in Philippine history.
NAIA Expressway (NAIAX)
The NAIA Expressway or NAIAX is an elevated expressway that links the Metro Manila Skyway, the Entertainment City, and Ninoy Aquino International Airport (NAIA). The said expressway runs through Pasay and Paranaque.
Designated as Expressway 6 (E6) of the Philippine expressway network, its overall distance spans by about 12.65 kms. For that improved access to the airport, it is expected that the usual 60-minute travel time from South Luzon Expressway (SLEX) to NAIA airport will be reduced to 20 minutes.
Also operated by Skyway Operations and Maintenance Corporation, NAIAx was built in two phases. Phase 1 commenced its construction in 2003, while Phase 2 became fully operational in June 2017.
Future Plans
In the near future, NAIAX will soon be linked to Bonifacio Global City (BGC) as proposed by the DPWH. Given its ongoing construction, there's still no definite timing as to when the said project will be finished.
Apart from that, there's also a proposed plan for the Skyway extension project which aims to widen the road of SLEX and connect Skyway up to Susana Heights. The said project is set to be finished during the fourth quarter of 2020.
Southern Tagalog Arterial Road (STAR Tollway)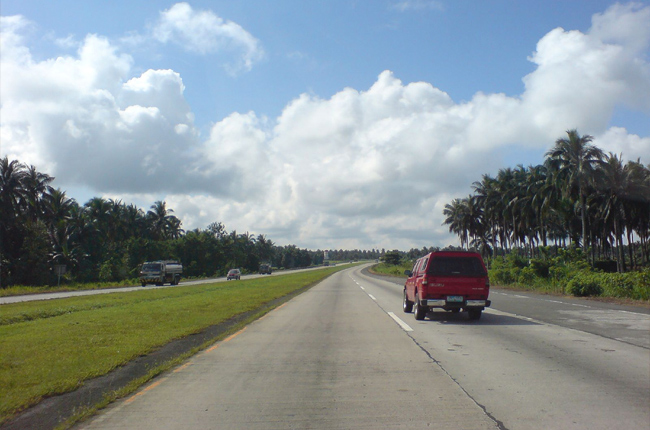 The Southern Tagalog Arterial Road, also known as the STAR Tollway or CALABARZON expressway, is a two-to-four-lane expressway that has a total span of 42 kms. Officially opened in 2001 under the management of STAR Infrastructure Development Corporation (SIDC), this expressway stretches from the intersection of Maharlika Highway and SLEX in Santo Tomas, which then runs south near Diversion Road to Batangas International Port. This road then traverses through Malvar, Lipa, and Ibaan.
Future Plans
With the target to further reduce congestion in Batangas roads, the city's Sangguniang Panlalawigan proposed the Pinamucan Extension. It is a 10-km extension of STAR Tollway that will run through the barangays in Batangas such as Tinga Itaas, Tinga Labac, San Pedro, Dumantay, Sampaga, Sirang Lupa, and San Isidro. The construction of Pinamucan Bypass Road project has already begun in 2018 and is expected to be done by 2021.
Another proposed wing is the Bauan extension or Batangas City–San Pascual–Bauan Road. This is suggested by DPWH as a substitute for the current national road between Batangas City and Bauan. This ongoing project will start at the existing tail of STAR Tollway at barangay Balagtas, will pass through the barangay of San Pascual, and will end at the national road to Mabini at barangay Manghinao in Bauan.
Subic-Tipo Expressway
Designated as NLEX Segment 7 and Expressway 4 (E4) of the Philippine expressway network, the Subic-Tipo Expressway or also known as STipEx and the Subic Freeport Expressway is a highway which passes through the provinces of Zambales and Bataan.
Built in 1996, STiPex begins its route at Rizal Highway going towards Argonaut Highway and continuously goes up as it enters the Bataan National Park. The 8.8 km highway is owned by NLEX Corporation and is currently operated by the Tollways Management Corporation.
Future Plans
The P1.6-billion-peso expansion project for the Subic Freeport Expressway (SFEX) is now 92% complete, with the remaining touches to be rendered by the first quarter of 2021. In fact, the road was partially opened for motorists, specifically from December 28, 2020, to January 15, 2021. Vehicles, however, are only allowed to pass by from 6:00 A.M. to 6:00 P.M.
It now gains the addition of two new lanes for each direction, specifically two bridges, and a new tunnel. Apart from that, this expansion project also includes the enhancement of the Maritan Highway-Rizal Highway-Tipo Road junction. The DPWH also said that the roads shall come with standard LED lights along with an improved drainage system for better flood management.
Subic-Clark-Tarlac Expressway (SCTEX)
Officially inaugurated in July 2008, the Subic-Tarlac Expressway or SCTEX is the longest expressway in the Philippines. It is a four-lane highway in the region of Central Luzon that has a total of 94 kms. It is built by Bases Conversion and Development Authority (BCDA) and maintained by the NLEX Corporation.
This expressway was constructed to develop the economic state of the region. In fact, it is the shortest and most direct link to numerous areas such as Subic Bay Special Economic Zone and Freeport Zone in Zambales, as well as the Clark Special Economic Zone in Pampanga, and the Luisita Industrial Park in Tarlac.
SCTEX's entry point is Subic Bay Freeport Zone in Zambales and then passes through Clark Freeport Zone which has two interchanges: Clark North and Clark South. It's also connected to NLEX through Mabalacat Interchange and it ends at Tarlac-Pangasinan-La Union Expressway in Brgy. Amucao, Tarlac City. As such, travel time from Clark to Subic was cut to 40 minutes, while the drive to Clark to Tarlac was reduced to 25 minutes.
This expressway also traverses through the four rivers in Central Luzon including the Dinalupihan River in Bataan, Gumain River in Floridablanca, Pasig–Potrero River in Porac, Pampanga, and Sacobia River in Concepcion, Tarlac.
In November 2019, the first phase of Philippine Arena Interchanges has been opened in line with the 2019 Southeast Asian (SEA) Games. This four-lane overpass bridge crosses NLEX, which links Bocaue Municipal Hall, NLEX, Ciudad de Victoria, and Bocaue-Sta. Maria Bypass Road.
Future Plans
By 2020, NLEX Corporation plans to complete the expansion of the Clark South, Clark North, Luisita, and Tarlac interchanges to lessen the queuing time in toll plazas.
There's also an ongoing second phase project that features a 1.40-km road from Ciudad de Victoria to Manila North Road, a 1-kilometer thoroughfare that links Ciudad de Victoria to Sta. Maria Bypass Road, and 1.62-km roadway that connects Ciudad de Victoria to Marilao Road. This project is expected to be done by 2020.
Tarlac-Pangasinan-La Union Expressway (TPLEX)
Tarlac-Pangasinan-La Union Expressway or TPLEX is a four-lane expressway that spans about 88.85 kms before its recent 4 km extension. Currently own his highway connects central to northern Luzon, with its southernmost terminal located in Tarlac and its proposed northernmost terminal shall be located at Rosario, La Union. It is also an extension of NLEX, SCTEX from Tarlac to Rosario, La Union.
With its first and second segments opened around November and December 2013, TPLEX was recently expanded by about 4 kms, as mentioned. The added stretch runs from Sison to Rosario, promising a 30-minute reduced travel time from Metro Manila to Baguio.
However, this extension was only opened temporarily and is set to be closed once again by January 2020 for some finishing touches. Also, trucks and other heavy vehicles are not yet allowed to pass the newly extended roads. Then again, the Sison to Rosario extension shall be fully opened by February 2020.
Future Plans
After its recent progress, future plans were laid out for the expressway by its current operator, San Miguel Corporation (SMC). This includes the ongoing construction of the Pozorribio-Sison section. A 7-km extension that is set to complete the TPLEX. The said project shall be finished by the first quarter next year.
SMC also plans to fully extend TPLEX up to La Union, specifically to the San Fernando area. Its new roadway will be divided into three section segments, which composes of Rosario to Tubao, Tubao to Naguilian, and Naguilian to San Juan. Moreover, a Laoag extension should be made possible anytime soon, unfortunately, there are no details regarding the said project yet.
Muntinlupa-Cavite Expressway (MCX)
The Muntinlupa-Cavite Expressway, or commonly called MCX, is currently the shortest expressway in the Philippines. It is a 4-kilometer, access-controlled toll expressway that connects the southern part of Cavite to Muntinlupa City. This thoroughfare is owned by the DPWH and managed by AC Infrastructure Holdings Corporation, a subsidiary of Ayala Corporation.
Officially opened to the public motorists in July 24, 2015, the MCX begins at the T-interchange with SLEX near Susana Heights. It then leads to a curved way paralleling Magdaong Creek; a boundary between Poblacion and Tunasan. After that, it progresses near New Bilibid Prisons and ends at a roundabout with Daang Hari and Daang Reyna, Cavite.
Epifanio de los Santos Avenue (EDSA)
Built in 1940 during President Manuel L. Quezon's term, Epifanio de los Santos Avenue or EDSA is categorized as a limited-access circumferential highway. It is the main thoroughfare in Metro Manila which passes from north to south, namely Caloocan, Quezon City, San Juan, Mandaluyong, Makati, and Pasay.
Spanning by about 23.8 kms, EDSA's northern entry point is at the Bonifacio Monument Roundabout in Gracepark, Caloocan with its tail end located at SM Mall of Asia Rotunda in Bay City, Pasay.
Cebu-Cordova Link Expressway (CCLEX)
Opened on April 27, 2022, the Cebu-Cordova Link Expressway is not only a new road that connects mainland Cebu with the island of Mactan, but it is also the longest bridge in the country. The expressway is managed by Metro Pacific Tollways Corporation (MPTC), which funded the project through its subsidiary, Cebu Cordova Link Expressway Corporation (CCLEC).
The expressway spans 8.9 kilometers and has a speed limit of 80 km/h.
Latest Features
The Volkswagen T-Cross ticks most of the boxes that you need for your daily drive.

We compare 2 SUV-like MPV seven-seaters, one from Mitsubishi and the other from Honda, The Xpander Cross, and the BR-V.

Here are the top 10 most inquired-for used car models on AutoDeal used car listings for the year 2022.
View More Articles