Fuel is an important consideration for any motorist; whether it's understanding what are the most fuel efficient vehicles or simply planning scheduled service station stops on a road trip, the necessity for fuel is unavoidable.
However, did you know that the Philippine fuel and oil market is a multi billion dollar industry and has traditionally been dominated by what we call the "Big 3" oil companies. The "Big 3" account for more than half of the Philippine oil industry with a combined market share of approximately 52.82% according to a report by the Department of Energy and comprise of Petron Corporation, Pilipinas Shell and Chevron Philippines.
In recent years the dominancy of the "Big 3" has been put under pressure due to increased activity outside of competitors like Phoenix Petroleum, SeaOil and UniOil who have been aggressively aiming to increase their market share.
What are the Top 10 Petroleum Companies in the Philippines?
According to the official financial report of the Department of Energy for FY2018, the top 10 Petroleum Companies in the Philippines according to market share are:-
Petron Corporation - 26.36%
Pilipinas Shell - 18.53%
Chevron Philippines - 7.93%
Phoenix Petroleum - 6.91%
SeaOil Philippines Inc. - 4.69%
Unioil Petroleum Philippines Inc. - 3.45%
Liquigaz Philippines Corp. - 2.78%
Insular Oil Corp. - 2.74%
Jetti Petroleum Inc. - 2.38%
SL Harbor - 2.21%
Increased Competition for the Big 3 Oil Companies
While the "Big 3" Oil companies still maintain the majority of the market; it is clear to see that the market share of both Petron Corporation and Pilipinas Shell has reduced significantly over the last five years. Petron in particular have seen their market share in Total Petroleum products shrink from 35.4% in 2014 to 26.36% in 2018. Likewise Shell have dropped from a 25.5% to 18.53% over the last five years.
Chevron Philippines has too seen some drops over the last year, with their total market share falling as low as 6.8% in 2016.
In contrast; other players are on the rise. Most notably, Phoenix Petroleum has grown its market share from 4.1% in 2014 to 6.91% in 2018. SeaOil has also followed suit growing from just 3.7% in 2014 to 4.69% in 2018.
However it's just not just the revamped efforts of Phoenix, SeaOil and UniOil that have helped shape a decline in marketshare for the "Big 3". Reports from the Department of Energy have shown how the combined efforts of all other players outside of the top 5 have grown significantly over recent years, growing from just 23.2% combined marketshare in 2014 to 35.58% in 2018.
Petron Corporation
Overview
Petron Corporation is the number one fuel and oil company in the Philippines with a market share of 27.08% as of 2018. In addition to being the most significant domestic fuel and oil company, Petron Corporation also recently established operations in Malaysia after acquiring ExxonMobil's downstream business in 2012.
In the Philippines, Petron supplies more Filipinos than any other fuel brand thanks to the operation of its 180,000 barrel-per-day oil refinery located in Bataan. In addition to this, Petron also has the largest network of service stations, with more than 2,400 of them nationwide.
Their products include Blaze 100 Euro 6, XCS, Xtra Advance, Turbo Diesel and Diesel Max.
Who owns Petron Corporation?
Petron Corporation is owned by San Miguel Corporation - one of the largest conglomerates in the Philippines.
Who is the President and CEO of Petron Corporation?
Ramon S. Ang
When was Petron Corporation founded?
Petron Corporation traces its heritage back to 1933 when Socony Vacuum Oil Company of New York and the Standard Oil Company of New Jersey merged to form a new company; the Standard Vacuum Oil Company (Stanvac).
In 1962, the Standard Oil and Socony Vacuum partnerships ended and gave way to the formation of Esso Philippines. By 1973, the Philippine National Oil Company (PNOC) acquired Esso Philippines during the height of the oil crisis and renamed it Petrophil Corporation. By 1988, Petrol Phil was rebranded as Petron Corporation.
How many service stations does Petron have?
Petron has over 2,400 service stations nationwide. It also has a number of Petron Car Care Centers (CCC), which provides 'casa-like' services, utilizing its world-class oils and lubricants. Petron CCC has more than forty branches nationwide.
Does Petron have a loyalty card?
Yes, Petron Corporation has a number of loyalty/reward cars which include:-
PMILES - Petron Value Card: This loyalty card enables patrons to earn Petron Peso Points every time they purchase fuels, lubricants and/or Gasul LPG. Other benefits include free towing and roadside assistance, year-round personal accident insurance and several privileges at major establishments.
Petron Fleet Card: A credit or charge card for predominantly corporate accounts that provides customers with an efficient and secured way of managing the fuel for their fleet of vehicles.
Petron Value Card Titanium: A loyalty card that enables patrons to earn points every time they purchase Petron fuel.
Petron E-Fuel Card: A prepaid card that provides customers with the means to load funds and settle merchant transactions to purchase Petron fuels and lubricants.
Petron BPI Mastercard: A BPI credit card that offers a 3% fuel rebate and a free PhP 200 free fuel voucher.
Pilipinas Shell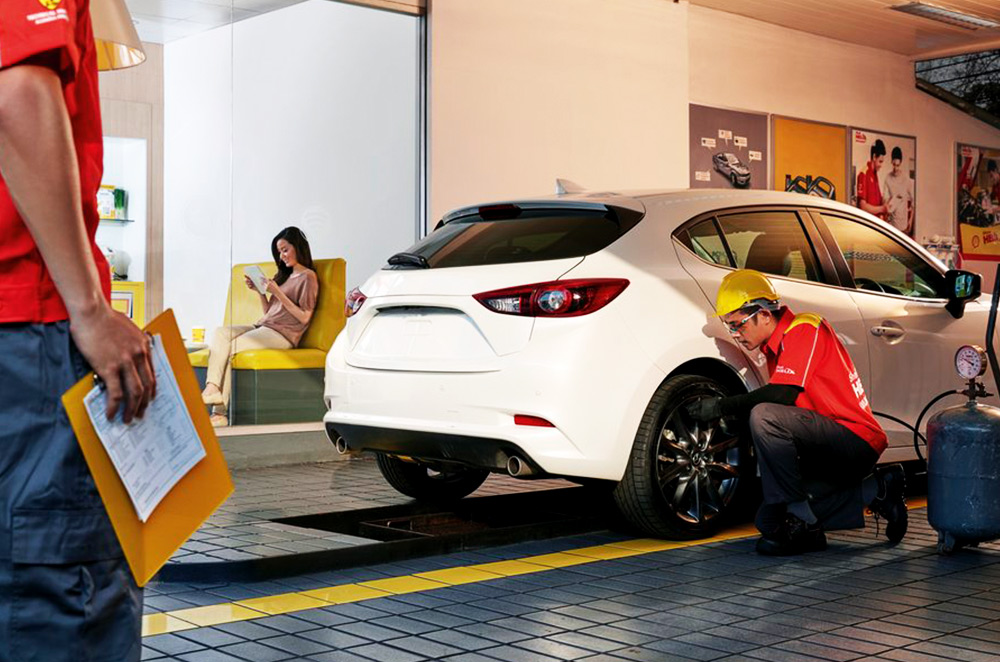 Overview
Pilipinas Shell Petroleum Corporation is the second biggest fuel and oil company in the Philippines, with a market share of 18.50% as of 2018. The company consists of more than one thousand service stations nationwide where it sells fuels such as Shell V-Power and Shell FuelSave.In addition to fuels, Shell also sells a wide variety of oils and lubricants including Shell Helix car engine oils, Shell advance motorcycle engine oils and Shell Rimula Truck and Heavy-duty engine oils.
Who is the President and CEO of Shell Petroleum Corporation?
Cesar G. Romero
When was Pilipinas Shell Petroleum Corporation founded?
The origin of Pilipinas Shell began in 1914 when Asiatic Petroleum Company opened for business. It was later renamed to The Shell Company of the Philippine Islands, Ltd. in the 1940s. By 1959, the company was incorporated under the name The Shell Refining Company (Philippines), Inc. as part of a restructuring effort to ensure 25% Filipino ownership in large industrial ventures; which was required at the time. By 1970, the company was renamed again to Shell Philippines, Inc. and was finally renamed to Pilipinas Shell Petroleum Corporation in 1973.
How many Shell service stations are there in the Philippines?
There are currently 1,073 Shell service stations in the Philippines. It also has a number of Shell Helix Service Centers that provide 'casa-like' oil changes and preventative maintenance services. There are over 200 Shell Helix Service Stations nationwide.
Does Shell have a loyalty card?
Yes, Shell has the following loyalty and reward cards:-
Shell Rewards - Pepeng Pasada Club: This loyalty card is for holders of professional licenses; such as jeepney, tricycle, van, bus or taxi drivers. Benefits include scholarship (under the Unlad sa Pasada Program), insurance and a wide variety of rewards.
Shell Citi Visa: A Visa Credit Card that provides a 5% rebate on Shell fuel purchases and a 0.5% rebate on the non-fuel purchase. It also offers a 5% to 10% discount on change oil services at Shell Helix Service Centers and free roadside assistance.
Chevron Philippines (Caltex)
Overview
Chevron Philippines is the third biggest oil company in the Philippines with a 2018 market share of 7.86%. Chevron markets Caltex fuels, lubricants and other petroleum products. The company has almost 700 service stations nationwide and 20 major supply facilities including their main supply hub which is located at their terminal in San Pascual, Batangas.
Chevron also provides fuel jet fuel for several airlines at Ninoy Acquino International Airport and Mactan Cebu International Airport.
Their fuel products include Caltex with Techron gasoline, Caltex Diesel with Techron D, kerosene, lubricants and fuel additives. They also have a full range of lubricants including Havoline engine lubricants and coolants for passenger cars and motorcycles. Techron Concentrate Plus fuel additives and Delo diesel engine oils.
When was Chevron Philippines founded?
Chevron Philippines first began operations in the Philippines in 1917 through Texas Co. (which later got renamed as Texaco). By 1921, Texaco Philippines was officially registered and opened an office in Manila.
In 1936, The Texas Co. and Standard Oil Co. of California created Caltex, which took over marketing operations in the Philippines shortly before the second world war. By 1947, Caltex converted its Pandacan warehouse depot in Manila into its first distribution hub. Seven years later they opened the Batangas Refinery at San Pascual and in 2003 converted into a major import terminal with a storage capacity of at least 2.5 million barrels.
Chevron established Chevron Holdings Inc. in 1998.
How many Caltex Service Stations are there in the Philippines?
Caltex has almost 700 service stations.
Does Caltex have a loyalty card?
Yes, Caltex has the following loyalty cards:-
Caltex Happyplus card: With this loyalty card patrons can accumulate points every time they gas up in participating Caltex stations. These points can then be redeemed at participating Jollibee, Chowking, Greenwich and Red Ribbon stores.
Caltex Robinsons Reward Card: All Robinsons Rewards card members can earn and redeem points whenever they gas up at participating Caltex Stations. Reward Card holders will earn 1 Robinsons Rewards Point for every 5 liters of Caltex gasoline or diesel purchase. In addition 1 Robinsons Rewards Points gets you Php 1.00 discount per liter of Caltex fuel, when you've earned at least 50 Robinsons Rewards Points.
Caltex MVP Rewards: Benefits of this Rewards card include a P1-cashback for every 5 liters of fuel purchased at any participating Caltex station.
Phoenix Petroleum
Overview
Phoenix Petroleum is one of the fastest-growing oil companies in the Philippines. In 2018 it acquired a marketshare of 6.91%, putting it within striking distance of the "Big 3" oil companies. The company was founded in 2002 by entrepreneur Dennis Uy with its headquarters located in Davao City. On July 11, 2007 Phoenix Petroleum listed on the Philippine Stock Exchange, becomes the first oil company to do so since the passage of the Oil Deregulation Law in 1998. The company grew from 1 to 300 service stations in its first ten years.
Phoneix Petroleum also acquired a 60-hectare industrial park in Batangas which later came to be known as Phoenix Petroterminals and Industrial Park. This location services as the company's largest terminal.
Their fuel products include Phoenix PULSE Technology and they have a wide selection of lubricants and oils, including Phoenix Accelerate Fully Synthetic oil, Phoenix Accelerate Monograde, and Phoneix Accelerate Multi-grade.
When was Phoenix Petroleum founded?
Phoenix Petroleum was founded in Davao City in 2002 by entrepreneur Dennis Uy. It began life as DOTSCO (Davao Oil Terminal Services Corporation).
In 2005, Phoenix Petroleum landed its first big win by partnering with Cebu Pacific Air; the partnership eventually evolved into Phoenix Petroleum becoming their exclusive logistics provider in Mindanao and major fuel supplier. In the same year, Phoneix ventured into the retail market and opened its first five stations in Davao and Mindanao. This gave birth to the "Phoenix Fuels Life" brand.
By 2006, the Company official renamed itself as Phoenix Petroleum Inc. and grew to 20 outlets in Mindanao. In the same year, the company also acquired its first shipping vessel to help meet the demands of a growing business.
In 2007, Phoenix Petroleum listed on the Philippine Stock Exchange. Their initial public offering (IPO) was fifteen times oversubscribed, helping to prepare the company for ambitious expansion plans over the coming years.
By 2008, the company had opened 75 outlets, including their first station in Luzon. A year later they acquired a 60-hectare industrial park in Batangas to serve as their central terminal.
Over the next coming years, Phoneix Petroleum continued to grow to more than 650 outlets across the Philippines.
How many Phoenix Petroleum Stations are there in the Philippines?
Phoenix Petroleum has more than 650 service stations nationwide.
Who is the CEO of Phoneix Petroleum?
Dennis Uy
Does Phoenix Petroleum have a loyalty card?
Yes, Phoenix Petroleum has the following loyalty cards:-
Phoenix RCBC Bankcard: Benefits include a 5% rebate on fuel purchases, reward points, towing and Roadside assistance, free accident insurance and international travel privileges.
Seaoil Philippines
Overview
Seaoil Philippines, Inc. is the fifth biggest fuel and oil company in the Philippines, with a market share of 4.69% as of 2018. This Filipino-owned company consists of more than 300 service stations nationwide where it offers fuels including Extreme 97, Extreme U, Extreme 95 gasoline, and Exceed Diesel. It also sells different oils and lubricants like Seaoil Geo Supreme, Deomax engine oils, SeaOil 4T motorcycle oil, as well as Seaoil Gear Oils, Ancillary Oils, and Industrial Oils.
In 2018, Seaoil inaugurated its first branded lubricant center in Daun station in Pampanga, dubbed as 'LubeServ'. This one-stop shop offers automotive services such as lubrication, aircon or electrical repairs, and computerized wheel alignment and balancing, radiator repair, auto detailing, undercoating, and complete wash. It also delivers maintenance services for the brake system, tires and batteries, under chassis, suspension, and clutch system.
Who is the President and CEO of Seaoil Philippines, Inc.?
Francis Glenn Yu
When was Seaoil Philippines founded?
Seaoil Philippines, Inc. was founded in 1978 by Francis Yu, which initially offers storage facilities for petroleum and petrochemical-based products. The company then expanded its operation by entering the petroleum market. By 1980, Seaoil inaugurated its first depot facility in Mandaluyong City.
Moving to 1997, Seaoil Philippines was established and then became the first independent company to open a gasoline station after the deregulation in the oil industry. Continuously building its network to other areas, the company opened its 50th gasoline station in 2001 while the 100th mark was reached in 2005. Currently, Seaoil Philippines has more than 350 branches nationwide.
How many Seaoil Service Stations are there in the Philippines?
There are over 350 Seaoil service stations in the Philippines.
Does Seaoil have a loyalty card?
Yes, Seaoil has the following loyalty cards:-
Fleet Care Postpaid: This postpaid card is applicable for fleet customers, which allows members to simplify and reduce cost, helps to control and manage information, enables to customize of card usage, and lets users enjoy credit terms.
Aside from that, this card uses the latest chip-based smartcard technology to protect the business from unwanted purchases. It also comes with a 24-hour towing and roadside assistance services in case of emergency.
Seaoil VIP Club: VIP stands for values, incentives, and privileges. Open to all motorists, including public and private vehicles as well as fleet owners, this loyalty card gives personal rewards and perks to its members. For every gas up, users will earn points which can be converted to cash or can be used in their next purchase of any SeaOil product on stations that accepts the V.I.P. program.
Unioil Petroleum
Overview
Unioil Petroleum Philippines Inc. is the 6th fuel and oil company in the Philippines with a market share of 3.45% as of 2018. The company is known for being the pioneer of European standard fuels in the Philippines. From producing high-quality lubricants since 1970, Unioil Petroleum Philippines Inc. pioneered the introduction of the cleanest, high-performance fuels Euro 5 fuels in the Philippines.
Unioil has a wide selection of lubricants that are usable for cars, buses, light trucks, motorcycles, and many more. Its lubricant products include GMX SG, GMX SF, DLX CI-4, DLX CH-4, DLX CF, DLX CD40, Motorsport 4T, Solo 4T, Motorsport 4T Scooter, Unioil ATF, and Unioil Coolant.
Who is the President and CEO of Unioil Petroleum Philippines Inc.?
Paul Co.
When was Unioil Petroleum Philippines Inc. founded?
Unioil Petroleum Philippines Inc. was founded on March 10, 1987, with its headquarters situated in Makati, Philippines. It started its journey in 1996 as a lubricants blending facility in Valenzuela. Unioil continuous to supply petroleum and power needs of various market segments and it is the licensed blender and distributor of Idemitsu lubricants since 1994. The company managed to enter the retail service station business by 2002, making Unioil the first independent petroleum company to build a retail station.
How many Unioil service stations are there in the Philippines?
Currently, there are 63 Unioil stations both in Luzon and Metro Manila.
Does Unioil have a loyalty card?
Yes, Unioil has different loyalty/reward cards that are categorized by user type. For all cards, every single point accumulated is equivalent to P1.00, valid payment for fuel and lubricant purchases.
Unioil Classic Loyalty Card:
This card is applicable to any type of driver. Every P200 pesos worth of Unioil Euro 5 fuels and lubricants grant the card user 1 point. Notably, the Birthday Bonus points enable members to receive double points throughout their entire birthday month. An additional 100 points can also be achieved through an accumulated P4,000 purchase in a month.
Grab-Unioil Loyalty Card:
The same perks apply with the Unioil Loyalty card, what differs is the exclusivity of this card to Grab accredited drivers only.
Xavier-Unioil Loyalty Card and ICA-Unioil Loyalty Card:
Despite each card being exclusive to two different communities, both share the same perks. Earn 2 points per liter when you gas up with the Unioil Euro 5 Gasoline and 1 point per liter for the Unioil Euro 5 Diesel. Members also get the opportunity to give back to their community. For every liter of gas purchased, P0.50 is donated to the respective beneficiaries of both communities.
Total Philippines
Overview
Total Philippines Corporation is one of the key players in the fuel industry here in the country. On a global scale, Total S.A. was hailed as the fourth largest oil and gas company in 2018 and is known as one of the seven supermajor oil companies. The company sells petrochemicals, market petroleum products, and operates in renewable energies.
In the Philippines, Total has been serving Filipino motorists for more than 20 years with its high-quality fuel products including Total Excellium Gasoline, Total Excellium Diesel, Premier Unleaded, and Regular Diesel. It also offers a variety of specially formulated oils for cars such as premium mineral, monograde mineral, semi-synthetic, fully synthetic, and fully synthetic Low SAPS for gasoline engines. For diesel engines, Total offers both fully synthetic and semi-synthetic. Truck and motorcycle engine oils are also available in its service stations. In 2018, the company opened around 50 stations and now has more or less 460 service stations nationwide.
Who is the President and Managing Director of Total Philippines Corporation?
Laurent Stouffe
When was Total Philippines Corporation founded?
Total Philippines Corporation was founded in 1998. Headquartered in Paris, France, the French-based company managed to quickly rise as the 4th largest oil and gas company in the world, and the number one in its respective country of origin. Currently, it is on hold of over 700 industrial sites and 15,000 Service Stations situated in 130 countries.
Total Philippines Corp. retains its status as one of the trusted petroleum players in the Philippines. Upholding its goal as to deliver premium fuels, lubricants, and special fluids to the present generation, and is also committed to providing better energy solutions throughout the coming years.
How many Total service stations are there in the Philippines?
Currently, Total Philippines has around 460 service stations in the country.
Does Total have a loyalty card?
Yes, Total Philippines Corporation has a Fleet Card which is intended for business with fuel requirements and a fleet of vehicles. It is known to be the first in the market to offer a dematerialized option to its customers, allowing you to experience that efficient and secure fuel payment system and fuel supply service.
Latest Features
Battery banks that can jump-start your car. Here are the top five best we've seen available online.

We list down the most fuel-efficient sedans for city drives in the Philippines, ranging from small to mid-size models.

When it comes to all-electric crossovers, BYD knows their stuff. They know what it takes to make electric great.
View More Articles