The Suzuki Vitara was initially introduced into the Philippine market in 2017. Since then, the Japanese subcompact crossover has become a popular choice for those looking for a feature-packed vehicle. In the latter portion of 2019, it even got a minor refresh with the addition of new exterior bits and a new infotainment system.
Entering 2020, however, things have changed for the smallest crossover in the local Suzuki lineup. Suzuki Philippines released a memo to its dealers with regards to its popular crossover offering. The memo – dated January 20, 2020 – states that by February of this year, the Japanese brand will stop the importation of the Vitara GLX and GL+ into the country as "tax and pricing are no longer competitive to continue the said variants and the influx of cutthroat competition of China brand in similar category." Currently, Suzuki Vitara units are imported from Hungary.
Here's the copy of the memo that has circulated the interwebs.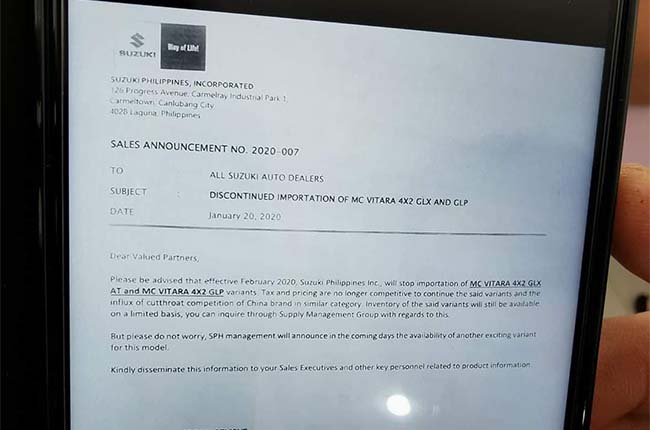 While it means that no new units will be coming into the country after February, interested buyers can still avail of the mentioned top-spec variants while stocks last. A Suzuki representative has confirmed the report and added that the company will still continue to sell the units for around two to three months after the halt of importation.
The cease of importation does not mean, however, that the Vitara will be gone from Suzuki's lineup. The memo also included that a new "exciting variant" will soon be available for the model.
Which new Vitara variant?
A lot is still unknown as the memo did not have any specific information about the new variant. But our best guess is that the new variant could hit the Philippine market within the first half of 2020. As to what the new variant has to offer is still unknown. We speculate that it could come in an AWD set up to help give the Vitara an edge above its competition. The Japanese crossover could also come with a new small-displacement turbocharged engine.
Turbos are becoming popular and the Japanese subcompact crossover does have a turbocharged variant available in other markets. Suzuki could also revamp the model with the addition of a turbo-diesel powerplant. Having a diesel fed mill could entice more buyers due to the torque and fuel efficiency that these engines deliver.
But take these speculations with a grain of salt, as Suzuki is yet to confirm any of these guesses. For now, one thing's for sure, the new variant will be more competitive against the newer names in the market, including the ridiculously priced Chinese brands.
Latest News
MINI Philippines announces the availability of its 2023 Mini Cooper 3-Door resolute edition, priced at P3,300,000.

This year's Mazda Spec Series draws to a close and crowns its winners.

The Indian division of Toyota will still sell the older Innova diesel units albeit with just the lower variant and fleet spec models available.
View More Articles