The Rizal Motors Tamaraw Roadpacer-1 is a car developed in the Philippines back in the '60s. The Manila Sports Car Club (MSCC) considers the Tamaraw as a sports car in its updated list. The peculiar name was of interest especially.
The only bell that the name, Tamaraw, rings is that of the Tamaraw FX AUV. There is no doubt that the AUV is not included in MSCC's list of eligible sports cars.
To recap the club's criteria briefly, a sports car is a two-seater, but 2+2s pass through deliberations first to be included in the list. Also the platform has to be built for the purpose of sport, and the parts around that chassis must also be developed for sporting. Grand-Tourers such as a Lexus LC500 are not a sports cars, mainly because it was developed to be a GT car. It has seating for four and so on and so forth.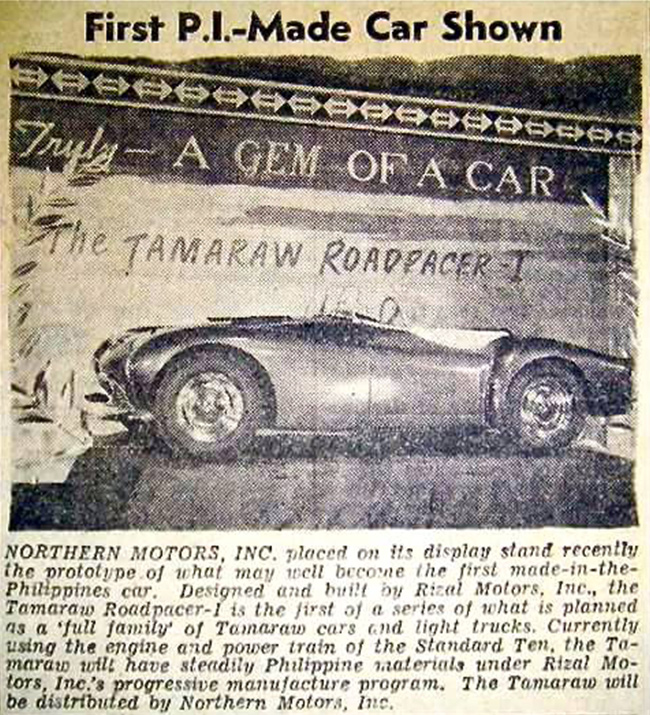 There are not too many details about this elusive sports car. There was an advertorial of the Roadpacer-1 in a newspaper clipping sent in by Ed De, who credits Gorio Belen with the find.
Quote: This car was hand-built by Pedring de la Paz I and Juan Gabuya at Rizal Motors. Pedro S. attended a few MSCC meetings in this car. Engine is a 4cyl 1000 cc Standard 10 with twin SUs. The engines were brought in from the UK equipped with the twin SUs specifically to develop the Tamaraw. Pedro Sy-Quia. Sr. founder of. Rizal Motors had the vision of producing the cars here. Ten such engines were brought in. Too bad the project did not push through. The lines of the Tamaraw were patterned after the TR2 which was being built at Rizal.
As for specs, not much is known about the Tamaraw. In the statement above detailing the engine specs, The term "twin SU" refers to, Twin Skinner Union Carburetors. To those who are unfamiliar, carburetors were used to mix air and fuel for an engine, and was the precursor to the modern fuel injected system. Twin carburetors mean that the engine won't be starved for fuel, meaning that the engine probably makes more power than with a single carburetor set up.
This was the '60s, however, a 1953 Triumph TR2 boasted around 90 horsepower from its 2.0L four-cylinder engine while the Tamaraw, a sports car with a 1.0L engine should hit around half that power figure more or less.
45 hp seems like nothing today. With city cars like the Toyota Vios hitting the same hp figure with as little as 1.3L, it is almost alien to see a 2.0L making such small numbers. What the Tamaraw might have going for it however is its weight. If the engine does not need to push that hard to get all that weight going, then you don't need loads of power. This means that the 1.0L of displacement that the Tamaraw has would be adequate to get it going quick enough to be fun.
Sadly, the Tamaraw is a one off. There was a plan to manufacture the sportscar here, but it wasn't able to push through. The reasons are not widely known.
With all that being said, the Tamaraw is still quite quirky. The design follows designs of classic British roadsters, with two seats, a light chassis, a small displacement engine with a long hood, and stubby rear – a design language that is emulated in all generations of the Mazda MX-5 Miata. We didn't know such a car like this was made by hand in the Philippines.
To learn more about the MSCC, its criteria, history, and events, head on over to their Facebook page.
Source: Manila Sports Car Club Photo
Latest News
Moneymax is a website that is dedicated to helping Filipinos make informed financial decisions when it comes to looking for a good car insurance provider.

Auto Asia has one dealership with two brands under one roof, and it is looking to extend to more locations in Luzon, Visayas, and Mindanao.

Have you been eyeing on the Ford Everest? Perhaps now is the best time to purchase one for yourself.