Athletes of the Philippine Paralympic Committee (PPC) may now travel with ease; Toyota Motor Philippines (TMP) gave the members of the committee a 29-seater Toyota Coaster to bring the athletes to trainings.
Part of its commitment to support Filipino Para athletes, the thrust to help uplift Parasports in the country is in line with Toyota's global corporate initiative, "Start Your Impossible". The initiative aims to promote inclusivity and sustainability by granting opportunities to Para athletes and helping them seek avenues that can help them realize their dreams.
We are proud to be a part of this advocacy because it allows us to help change people's lives by enabling them to overcome challenges and reach their aspirations,
One of the Start Your Impossible campaign's goals is to raise awareness and appreciation for the disabled's potential to achieve the impossible. Michael Barredo, PPC's president, champions the message alongside Toyota.
QUOTE
Ever since we started, having a bus or van to be used by our officials, coaches, and athletes to move around was one of the top priorities on our 'wish list'. Toyota's donation of a coaster, will help alleviate one of the most difficult challenges persons with disabilities face day-to-day which is mobility,
The 2000 Paralympic Games in Sydney was where the powerlifter, Adeline Dumapong-Ancheta, bagged the first bronze medal to be won by a Filipino; a first in the country. Prior to this competition was non-stop, day-in-day out practice. Adeline used to push her wheelchair to the gym just to attend her trainings. Whether it was raining cats and dogs or in the heat of the blazing sun, Adeline pushed forward to achieve her dreams.
By donating the Coaster to the PPC for the use of its athletes and officials, (TMP has extended) a big help. As Mr. Barredo said, it has been 20 years since PPC started and yet transportation has always been a challenge. For me, this is the first step,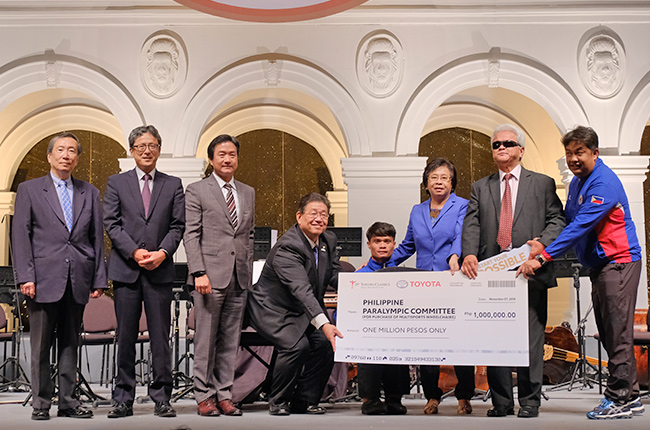 Last year, TMP chose the PPC and its Asian Para Games swimming gold medalist, Ernie Gawilan, to receive a grant for one million pesos worth of multisport wheelchairs from Toyota in addition to a Toyota Coaster.
Toyota, as a mobility partner of the International Olympic Committee (IOC) and the International Paralympic Committee (IPC), hopes to inspire and encourage members of the community to challenge limits, celebrate the human spirit, and start their own impossible.
Latest News
According to a report, the updated Toyota GR Yaris will feature 300 hp and an eight-speed automatic transmission.

Nissan unveils the 20-23 concept along with a declaration that it is counting down to an all-electric lineup in Europe.

Nissan Australia in collaboration with Premcar, has recently unveiled the seriously hardcore 2023 Nissan Patrol Warrior.
View More Articles