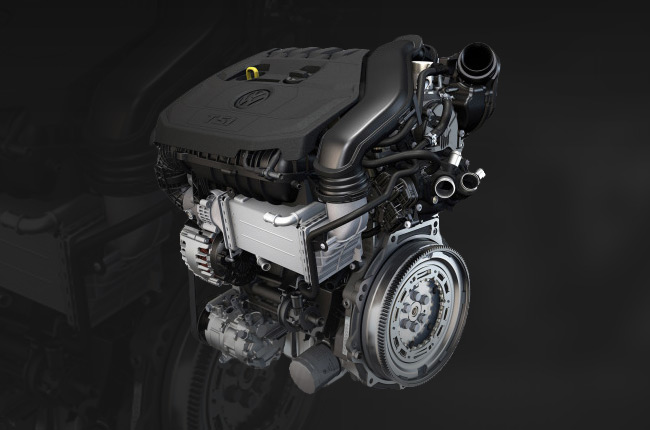 German carmaker Volkswagen joined the 37th International Vienna Motor Symposium in Austria to reveal their new generation gasoline engines called the EA211 TSI Evo.
The brand eyes the latter part of 2016 to formally launch the first model of this engine series. It's a 1.5L TSI engine with 2 variants that can put out 128 hp and 147 hp. Although Volkswagen has not given any details regarding the exact torque output, they stated that it can generate low-end torque from as early as 1,300 rpm. The EA211 TSI Evo 1.5 is also boosted by a turbocharger with variable turbine geometry (VTG) system, making it the first mass-produced gasoline engine with turbo VTG.
Its more powerful variant's aluminum cylinder walls are coated using a process called atmospheric plasma spray (APS). This consists of fine-grain spray powders with optimized grinding process and creates tiny lubricant pockets within the cylinders that help reduce friction and stress.
The EA211 TSI Evo engine series also burns fuel using the Miller combustion cycle with a high compression ratio of 12.5:1. This is further enhanced by a common-rail direct injection fuel system with an increased injection pressure of up to 350 bars. With the higher injection pressure, fuel droplets are now finer and smaller, which improves air-fuel mixture for a cleaner burn.
As a result, Volkswagen claims the engine delivers higher fuel efficiency, higher thermal resistance, reduced stress and knocking, and less CO2 emission.
The creation of the Volkswagen EA211 TSI Evo gasoline engines is the brand's way of providing their customers with better driving experience while contributing to the conservation of the environment. As its first model rolls out later this year, all things are in positive hopes that it will reach our local shores someday through Volkswagen Philippines.
For more of Volkswagen and their locally-available models, visit the AutoDeal Car Guide.
Latest News
Mitsubishi Philippines wants to bring a little more spice to its model lineup by bringing back the Ralliart brand as an accessory pack.

The Strada GLS line gets a selection of blacked-out elements and 18-inch black alloy wheels.

We got nominated, and won! Caco drove home with two awards from HFA this year.
View More Articles