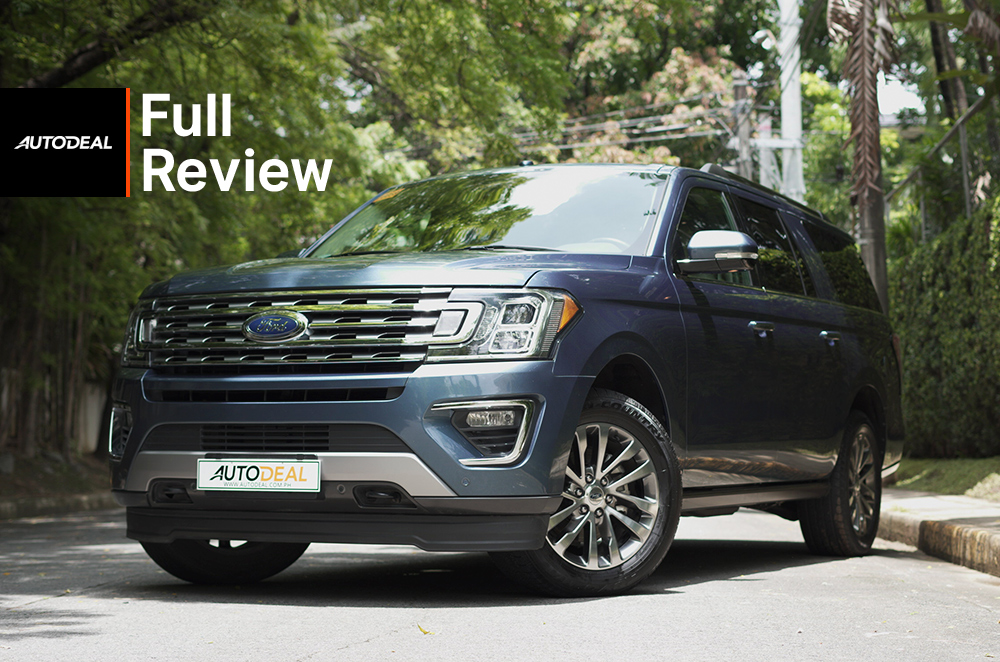 Big can't even begin to describe this mammoth of an SUV from Ford. It's enormous, and quite long to boot. Not to mention that it can comfortably seat eight people instead of the SUV-standard seven. It's as long as a full-sized van but will grant you more on-road presence than many other cars.
We have much ground to cover, and to preface this review, I got winded walking from the driver's seat all the way to the tailgate of this car. Maybe it's my sedentary lifestyle, but it's just a long walk around this behemoth. So without further adieu, here's how we rate the 2019 Ford Expedition in its 3.5L MAX 4WD variant.
2019 Ford Expedition Review
Performance
Engine Output (HP), Acceleration, Transmission, Handling 4.5/5
Design
Exterior & Interior Design, Quality, Fit and Finish, Ergonomics 3.5/5
Ride Comfort
Cabin Comfort, Suspension, NVH Insulation 4.0/5
Safety and Technology
Convenience Technologies, Active and Passive Safety Features 4.5/5
Value for Money
Amount of the vehicle you get for the price, Fuel Efficiency 3.5/5
What You Will Like
Immense passenger space
Good acceleration for its size
Storage space is nearly endless
What You Won't Like
No 360-degree camera
Body rattles over bumps
Interior materials leave something to be desired
How We Do Our Reviews
Exterior
I have driven big crossovers, SUVs, and full-size vans in the past, but no other vehicle had me shouting "IT'S SO BIG" over and over. There is a presence about it that no other big car I've driven has. It has a huge mass in the front and rear, making it more than muscular. It's not chiseled like most modern cars. It's not an aesthetic body-builder – it's a power-lifter. It features simple lines and creases that complement the size of this giant. In short, I can't find much to dislike because Ford has stayed true to the Expedition's design. Big and bold will never get old, but modern touches are great.
One gripe that I have with the Philippine-spec unit we have here is the halogen projector headlights. For the price, I was hoping for a better lighting array. Perhaps LEDs could have been a much better choice, but for what it's worth, it gets the job done, so functionality-wise I cannot fault it that much.
The side profile of the SUV is a sight to behold. The only variant on offer from Ford Philippines is the extended length variant. I definitely am a fan of the side profile. It's just so imposing. The bulk makes the large 20-inch wheels look small.
Moving over to the rear, we have LED taillights that are a nice touch. I'd feel sorry for anyone in the rear of this car. I can only imagine how hard it is to see a stoplight when you're behind the Expedition. Its boxy rear could be a love it or hate it affair, however. Personally, I like it the design suits the vehicle as a whole.
Overall, I like it. It's the antithesis to the run-of-the-mill cars that you can find on Philippine roads. It's a prime example of excess; another island to add to the over 7,000 islands in the Philippines.
Interior
Before you step into the interior, you are greeted by a set of motorized step boards. Once the door closes, they tuck neatly into the body of the car, allowing for a more streamlined appearance and aerodynamic profile. Once inside, you're greeted with lots of space. You do not have to worry about legroom or headroom. You can store almost anything into the center console as well. The driver's seat is also a 10-way motorized unit, which allows you to find the perfect driving position. On top of that, you have a panoramic sunroof that lets plenty of light enter the cabin.
The selection of interior materials isn't the best. I am not a fan of the rubber-like texture that the leather has. It's not as supple as other cars that are geared more towards straight-up luxury, but it gets the job done, which is fair.
As for the design, you do get modern touches like the semi-digital gauge cluster, ambient lighting, and wireless charging, contrasting the utilitarian dashboard. There isn't a lot of flare in the interior. It's underwhelming, but not bad by any means.
You'd want to be in the middle row of this vehicle. It goes on for days and you can fit three individuals comfortably, with no wriggling about for more room. You can also control the volume and change the track from the back. There are also controls for the air conditioning. It's all good in the middle, and clearly it is the place to be in.
The rear seats of a typical midsize SUV aren't the best place to be in. That's not the case for the third row of the Expedition. It has just as much space in the back row. To top it all off, you can control the air conditioning from this end, and also charge your phone. You wouldn't be complaining too much about it. The headroom is a small issue, though.
Cargo space is immense. You get up to 3,440 L if you fold all of the seats. That's the entire cabin of some smaller cars. Fold the third row and you get 2,254 L of space. What's most impressive is that you still get four digits worth of space when the third row is up. Coming in at 1,019 L, the volume is almost as large as a midsize SUV's cargo area with the third row down. That's immense, and you don't need to fumble with some straps and levers all that much because it comes with electronic seat tumblers, so you'd only have to stay in one spot and fold by pressing a button.
Technology
Just like the exterior, the interior is utilitarian with modern touches. In line with Ford's current lineup, the Expedition gets a whole suite of buttons and features that make it a worthwhile buy. I still have to note some omissions, though.
The gauge cluster is big, legible, and wide. It has enough surface area to cram a screen in between two dials. Speaking of screens, you get an eight-inch touch screen display with Ford's Sync 3. It comes out of the box with Android Auto and Apple CarPlay. Your audio is routed to a 12-speaker Bang and Olufsen sound system that fills the cabin nicely. You also get a wireless charging pad, which is also hidden behind a spring-loaded door, which allows your sticky fingers to stay glued onto the steering wheel, away from distractions.
What I would have liked to see is the inclusion of a 360-degree camera. Other Expeditions in other countries have this feature, but our local model doesn't have it. It's a missed opportunity to have it as a standard feature. On the bright side, you do get a set of parking sensors in the front and rear, as well as a backup camera.
You get USB ports all around. From the first row all the way to the back you have a plethora of power outlets and ports that will allow occupants to charge devices. It even has a socket that lets you plug in any appliance as well. You can also charge a laptop from the second row, which is uber convenient for those working on the go.
A neat little party trick that this big SUV has is an active park assist which can find a spot and allow the computer to park for you, provided it's long and wide enough to accommodate this huge SUV.
Safety
You get full coverage with airbags in the Expedition dubbed the Road Safety Canopy System by Ford. It's so safe that it has a five-star NHTSA rating – the measure of safety standards in the U.S. You get driver and passenger airbags and a full array of curtain and side airbags for the rest of the passengers.
An anti-lock brake system (ABS) with electronic brakeforce distribution (EBD) comes standard on this model. You also get stability control paired with Ford's Advanced Traction Control System. These two systems work in tandem with each other in order to help the driver control the vehicle in case things go awry.
Like I noted in the technology segment, I believe that a 360-degree camera is a missed opportunity. Ford could have included this package in order to make driving this 18-foot long behemoth more manageable, but you do get blind-spot monitoring, which makes lane changes less anxiety-inducing.
Driving
Many would agree that a V8 in an American car just feels right, like a Mustang GT, but no longer is that the case with the advent of turbocharging. Instead of eight-cylinders, the Expedition gets six plus a pair of turbos, which is arguably better than a naturally aspirated V8. I hope I don't get stoned for this statement, but when a two-ton SUV like the Expedition can go from 0-100 km/h in around six seconds, then that's saying something. Like its dimensions, other big numbers lie in the specs. You get 375 hp and 638 Nm of torque mated to a 10-speed automatic. It's no diesel, but the torque figures go above anything that we have in most diesel offerings in the Philippines, though those mills are attached to midsize SUVs or crossovers. With that being said, the engine is paired nicely with this chassis.
This car was a handful to drive on the road. I found myself checking my mirrors a lot whenever I would make a turn or overtake on the highway. I'd also have to give myself more room when turning, so I don't curb a wheel. To give some context, it's like piloting a large shopping cart without rear wheels that pivot. That being said, once it got up to speed, I wouldn't dare let this SUV take a sharp corner at a high velocity.
It was long and hard to park, not because I am an inept parker, but because I have to find a slot that the land yacht would actually fit in. It's a dilemma and a challenge to even find a spot, let alone park in it. You'd be wise to check your mirrors profusely to minimize the chance of you snagging on a pillar or even another car.
With all of that being said, I love driving this thing. The road presence alone is enough for me to start it every morning. The size is something to get used to, granted, but I don't wish for it to be any smaller. Minor inconveniences are trumped when you're behind the wheel of this thing. The inner rationalist in me says that I should be driving a smaller vehicle, and for all intents and purposes, an Expedition is too big to take on the streets of Metro Manila. Rational is boring, however. It evokes a sense of power that not a lot of cars can in the Philippines.
One knock I'd make is with regard to the sound that this thing makes over bumps and potholes. An intrusive rattle permeates the cabin whenever I go over bumps. It's borderline tolerable to me, and I just expected more because the rattles were worrisome.
Fuel Economy
Alright is the word I would use to describe the fuel economy of the Expedition. If you put things into perspective, the 3.5L Ecoboost engine has to do a lot of heavy lifting. Not only does it have to drive a body that is over two tons in weight, but it also has to do that while sending power to all four wheels. Luckily, it has torque on its side, which means that it's capable of getting this SUV going.
With that being said, I was able to average about 5 km/L in the city, while figures are much more forgiving on the highway coming in at about 10 km/L or more depending on how light you are on the throttle and how slow traffic is on the highway.
Verdict
It's impractical practicality. It's so practical that it's pretty much a personification of the law of diminishing returns; especially in this country. For your average buyer, it's excessive for sure, but some people look for that excess as a key selling point. It's a lot to handle, and some like that feeling.
It's a great car to take whether you're driving or being driven in one. The only gripes I have with this giant are the interior and ride comfort. If you are willing to overlook those things, then this car will make your statements for you, give you immense space and is your own private island in a sea of traffic. It's a car I'd drive again because the experience is so novel in my book.
With a price tag of P4,479,000, the Expedition is quite expensive. You'd have to lust after the space that the SUV offers in order to justify your purchase. Although, it does need a 360-degree camera as standard if it's going to command that high of a price.
2019 Ford Expedition Exterior Photo Gallery
2019 Ford Expedition Interior Photo Gallery
---
Specifications
Performance
375 hp @ 5,000 rpm
---
Summary

| | |
| --- | --- |
| Name | Ford Expedition 3.5 Limited MAX 4WD |
| Body Type | SUV |
| Price | ₱ 4,479,000 |
| Transmission Type | Automatic |

Engine

| | |
| --- | --- |
| Engine Size | 3.5 L |
| Displacement | 3,499 cc |
| Number of Cylinders | 6 |
| Number of Valves | 24 |
| Transmission Category | 10-speed SelectShift Automatic |

Performance

| | |
| --- | --- |
| Drivetrain | All-Wheel Drive |
| Max Output (HP) | 375 hp @ 5,000 rpm |
| Max Torque (nm) | 638 Nm @ 3,500 rpm |
| Acceleration Rate | n/a |
| Top Speed | n/a |

Economy & Environment

| | |
| --- | --- |
| Fuel Type | Gasoline |
| CO2 Emission | n/a |
| Fuel Capacity | n/a |
| Fuel Consumption | n/a |
| Range | n/a |

Dimensions

| | |
| --- | --- |
| Length | 5,639 mm |
| Width | 2,388 mm |
| Height | 1,956 mm |
| Wheelbase | 3,353 mm |
| Turning Circle | 13.4 m |
| Ground Clearance | 249 mm |
| Wading Depth | n/a |
| Trunk Capacity | 1,020 L |
| Max Cargo | 2,096 L |
| Number of Doors | 5 |
| Number of Seats | 8 |

Safety & Security

Driver's Airbag
Front Passenger's Airbag
Side Airbag
Curtain Airbag
Knee Airbag
Electronic Brake Distribution
ABS

With Brake Assist, AdvanceTrac with Roll Stability Control

Immobilizer
Security Alarm
Stability Control
Electronic Door Locks
Speed Sensing Door Locks
ISOFIX
Lane Departure Warning System
Blind-Spot Detection System

Features

| | |
| --- | --- |
| Cruise Control | |
| Front Parking Sensors | |
| Rear Parking Sensors | |
| Leather Upholstery | |
| Push Start Button | |
| Wheel Size | 20 in |
| Wheels Metal Type | Polished Aluminum |
| Airconditioning System | Dual-zone Electronic Automatic Temperature Control |
| Entertainment System | 8-inch touchscreen LCD for SYNC 3 |
| Connectivity | Aux, Bluetooth, and USB |
| Navigation Ready | |
| Warranty | 3 Years (100,000 km) |
| Keyless Entry | |
| Roof Rack | |
| Sunroof | |
| Electric Adjustable Seats | |
| Power Steering | |
| Power Windows | |
| Power Outlet | |
| Steering Wheel Audio Control | |

Technology

| | |
| --- | --- |
| Active Park Assist | |
| Hill Start Assist | |
| AWD Modes | Normal, Sport, Tow/Haul, EcoSelect, Grass/Gravel/Snow, Sand, and Mud/Rut |
| Tire Pressure Monitoring | |
| Heads-up Display | |
| Power Liftgate | |
| Start-stop System | |
---
Just One More Step To Get Your Quote
Find out more info, request a brochure, or request a quote by sending an inquiry below
Latest Review
Toyota Philippines brings in the Corolla Altis Hybrid and we spent a few minutes with it to see what's new.

The new Mazda3 aims for the top as the brand goes more premium.

A turbocharged compact sedan makes a strong case for a compelling comeback.

3.9

/

5