When you think of 7-seaters in the Philippines, either you get a pretty basic package, or you get a well-equipped, but rather, an expensive vehicle that would cost you an arm and a leg, or as Caco likes to put it, courtside seats to the Lakers.
Midsize crossovers are often expensive, to begin with, and cost even more to spec out with the best and latest tech, but with the reintroduction of Chery back in the Philippines and with the inclusion of the Tiggo 8 in the lineup, this 7-seater has a bunch of tricks up its sleeve that could surprise you. Here's a review of the Chery Tiggo 8 Luxury EX.
2020 Chery Tiggo 8 Review
Performance
Engine Output (HP), Acceleration, Transmission, Handling 3.5/5
Design
Exterior & Interior Design, Quality, Fit and Finish, Ergonomics 4.0/5
Ride Comfort
Cabin Comfort, Suspension, NVH Insulation 3.5/5
Safety and Technology
Convenience Technologies, Active and Passive Safety Features 4.0/5
Value for Money
Amount of the vehicle you get for the price, Fuel Efficiency 4.0/5
What You Will Like
A 7-seater crossover for well under P1,500,000
Good amount of tech features
Good safety features for the price
That nifty smartwatch
What You Won't Like
Muddy throttle response
NVH insulation is not the best
Piano black plastics in the cabin
How We Do Our Reviews
Exterior
We'd have to admit, Chery vehicles never looked better. Tiger crouching front end, LED headlamps and DRLs found in the bottom part of the bumper. The lighting arrays flank a very glossy and stylish mesh grille. It's pretty handsome if you ask us. The lights are quite bright and give it a very stern look on its face.
Apart from that, you do get nice wheels that are 18-inches in diameter and are finished in a gunmetal black color scheme, which is a nice touch on the part of Chery. It does have a similar front and side profile to its smaller brother the Tiggo 5X, but it's longer and wider by a big margin in order to fit the two extra seats in the rear. Even with all of that heft, you get 200 mm of ground clearance which is absolutely great.
Also, we'd like to note that the rear is a bit reminiscent of other European crossovers, This instance, we feel that it's done just fine, though the rear is a bit on the plain side. We wished that it would get the same angular treatment as the front clip, but that's just us nitpicking, All-in-all the car looks very presentable.
Interior
Now here's the bit that pleasantly surprised us. When you sit in it, and you feel the various surfaces, it feels pleasant. Not the lap of luxury, but a very decent space for you to sequester yourself in together with your family or friends. The dashboard is nicely designed with reasonable sturdiness. It doesn't feel flimsy which is a great thing. Adding to the niceties are the mood lights that can be found all throughout the cabin. You may not notice these things in the day, but at night, they're pretty awesome. If you want more light in the daytime, however, don't worry because there is a nice panoramic sunroof that stretches all the way to the second row so you can share. We'll have to say that we're not the biggest fans of the all-digital climate controls, which requires you to look at the touch-sensitive buttons to operate. We're also not the biggest fans of the gloss black interior plastics. The leather is of fair quality, though it lays on the stiffer side of the spectrum, and the seats are par for the course in terms of ergonomics.
Speaking of that middle row, it's pretty spacious. Pretty much on par with most PPVs out in the market. This bench can also slide forward thanks to the rails. Another thing that the rear passengers will be thankful for. On to the rear though, there isn't much to talk about. Well if you're sitting with a benevolent second-row occupant, then the space is pretty adequate for small to average-sized individuals. With the rear seats slid all the way back, it's a tight squeeze, though given a few inches of extra room. Individuals that are 5 feet and 8 inches tall can fit, but closer to 6 feet is a bit of a squeeze.
Cargo space in the Tiggo 8, is very reasonable. With the third row folded, expect to carry enough with the 890 liters of space. Over 1900 liters of space is available for you when you fold the second row after leaving your family at home, and you don't even have to open up the rear door yourself. You get a power tailgate on this model, and you can even configure it to open halfway or the whole way via the infotainment system.
Comfort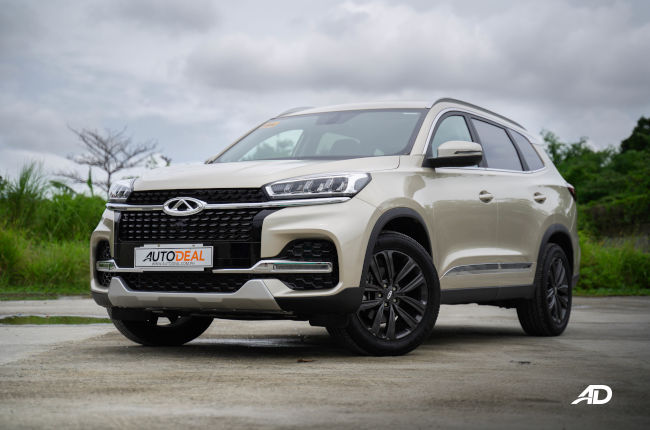 The ride of the Tiggo 8 is pretty fair we should say. It's not as smooth as butter, but it is just reasonable over some of the harshest roads in the Metro which are to be expected from a unibody crossover. It's just average in this area. It's not too harsh like a utility vehicle, but it gets within striking distance of many sedans in the market while surpassing some plus it has 200 mm of ground clearance. The front suspension has MacPherson struts, while the rear features a multi-link setup, which means that this features fully independent shocks and springs on all four corners.
There is some hollowness that we experienced over bumps, but it wasn't the most jarring thing in the world, but we can safely say this though, NVH insulation is quite alright, save for the eco tires that this thing comes with. On the highway, you may notice the sound from the road to get noticeable. There are no creaks in the interior either, and it doesn't seem shoddily put together at all. Wind noise is not a problem and the engine remains very smooth and quiet.
Technology
Like we mentioned before, there hasn't been a fully-loaded crossover with a price that won't burn a hole through your pocked until the Tiggo 8 came along. It has an impressive amount of kit for its price. You get a nice 10.25-inch touch screen that is home to the 360-degree cameras. We wish that the cameras were clearer, but for most tasks and most lighting conditions, it's adequate enough. There is no Apple CarPlay or Android Auto here either, which is a shame, but there is another app that allows you to pair your phone, albeit is not our first choice when it comes to smartphone pairing options. Bluetooth works well on this model, however, so no complaints there.
As for other amenities, the driver gets an electronically adjusting seat. Heaters can also be found for the passenger and the driver, good for colder weather. You also get dual-zone automatic climate control that can be operated via a touch-sensitive panel with knobs for temperature and fan control, not our favorite type of interface, but it works well enough. You also get buttons on the steering wheel for cruise control and to cycle through the displays of the digital gauge cluster, which features a rather large screen. Like its little brother, the Tiggo 8, some of the terms Chery uses isn't as standard as we had hoped, but it's understandable.
Now onto this car's party trick, the smartwatch key. It's really one of the coolest things about this car. As long as it's charged, you don't need to bring a keyfob in your pocket, you can just wear it, and it's even more capable than the standard fob. With the smartwatch key, you can unlock and lock your car. You can also roll down your car's windows, open the rear door, or even start the engine. It's pretty neat. Granted, you have to get used to the interface of the watch, but as a keyfob that grants you passive entry, it's a very useful accessory. Just don't lose it.
Safety
We'd venture to say that for its price, the safety equipment on the Tiggo 8 Luxury EX, isn't that bad. You got 6 airbags, ABS with electronic brakeforce distribution, stability control, traction control, hill-start assist and hill-descent control, a tire pressure monitoring system and Electronic Anti-theft paired with an engine immobilizer. Finally, you get ISOFIX tethers for child seats. Really, kind of an all-around package for us, and we're content and good with what Chery bundles in at this price point – nope, scratch that, especially at this price point.
Driving and Handling
Where the Tiggo suffers a bit is the driving. It's not bad by any means, but it's not as sharp as we wanted it to be. Granted, we're nitpicking, but when we're used to the engine and transmission responding with urgency, if the Tiggo 8's not put into sport mode, it could feel a bit muddy. That being said, there is really not much to complain about the powertrain of the Tiggo 8. Yes, we know that it's not the fastest thing on the planet, but it will pull its weight well thanks to the ample power and torque figures which stand at 145 hp and 210 Nm of torque from a 1.5-liter turbocharged engine mated to a 6-speed DCT. The transmission is really not the greatest for us, but the engine is quite good, and it's backed by a long 10-year warranty which is great. The main complaint that we had while reviewing the car was the transmission is not the sharpest in the world. It's a DCT, which is more advanced than a traditional automatic, but the response time could use some work, but on a high note, however, and like we mentioned earlier, putting it into sport mode in stop and go traffic can help you alleviate some of that unresponsiveness, and we also recommend to use eco mode when you don't need that immediate response to go forward.
If you know what you're driving, which is a rather heavy 7-seat crossover, then handling is just fair. Steering is light, and the 360-degree camera helps you out of tight spots and parking spaces. It's actually quite nice to drive once you get used to that accelerator. Turning at speed is average. It's not gonna carve canyons faster than a well-tuned vehicle, but for most daily tasks and even on longer trips, the Tiggo was pleasant to handle while behind the wheel. It's pretty standard and par compared to many of its rivals, which means it's pretty ordinary.
Fuel economy
So when it comes to fuel economy, you sort of get-what-you-get when pairing a turbo 1.5-liter engine with a rather big body. That being said, the economy figures are fair at 7.5 km/L in the city with a bit of traffic. When things cleared up we got 10 km/L which isn't bad. On the highway, we pushed it to 15 km/L with 2 passengers traveling at 90 km/h, which is fair enough. We're not super impressed, but these are respectable figures that we can't complain about.
Verdict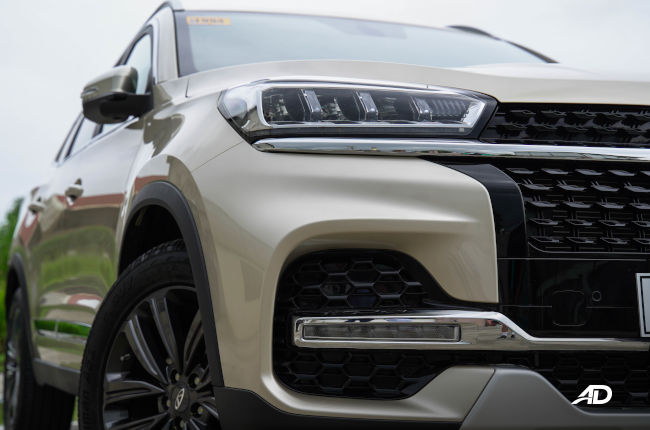 Let's lay down the price first. This car can be had for just P1,340,000, which is an astounding price for something that is a 7-seater midsize crossover that comes fully-loaded from the factory. Granted some people may have a stigma towards the brand, but if you take it on its own, and the fact the company behind the Tiggo makes cars under other European brand names, then the Tiggo 8 makes a rather good case for itself in the Philippine market especially with the 3-year service plan, 5-year or 150,000 km warranty, and 10-year 1,000,000 km engine warranty, which is absolutely consumer-focused, at least in our eyes.
We'd have to mention that the model is not perfect. It has some flaws, but none of them were major dealbreakers that soiled our experience with the car. Sure it doesn't have the best throttle response or a 360-degree camera system, but for your average Joe who doesn't mind getting used to the accelerator, it's something to consider if you're really feature-hungry and want something that can haul a party of seven. We'll say this though, Chery made a splash when it first announced its return, but with this model, we see that it made a bit of a statement.
Exterior Photo Gallery
Interior Photo Gallery
Latest Review
Volkswagen Philippines launched the Tharu into a new price bracket leading to more expectations with this model.

The GAC GS8 in both 2WD and 4WD variants is a spacious and luxurious SUV that commands everybody's attention.

Competence can only do so much so does the Creta have an X-factor that can help it compete?

3.9

/

5
View More Articles