The market for the compact sedan segment is a tough one to break into especially with the likes of the Honda Civic and the Toyota Corolla Altis dominating it. Each one offers something unique to the table with the Corolla Altis giving you hybrid technology and the Civic giving you turbocharged power. One brand wants to take a chunk out of that segment with the 2020 Volkswagen Lavida 1.4 TSI DSG Club Edition+. It brings with it a banging sound system, turbocharged power, and much more that will entice the prospective car buyer looking to get a comfortable and affordable sedan.
2020 Volkswagen Lavida 1.4 TSI DSG Club Edition
Performance
Engine Output (HP), Acceleration, Transmission, Handling 4.0/5
Design
Exterior & Interior Design, Quality, Fit and Finish, Ergonomics 3.5/5
Ride Comfort
Cabin Comfort, Suspension, NVH Insulation 4.0/5
Safety and Technology
Convenience Technologies, Active and Passive Safety Features 3.5/5
Value for Money
Amount of the vehicle you get for the price, Fuel Efficiency 4.5/5
What You Will Like
Smooth shifting DSG
Great sound system
Aftermarket wheels and other accessories
What You Won't Like
No power seats
No reverse camera
No Apple CarPlay and Android Auto
How We Do Our Reviews
Exterior
Starting with the exterior of the Lavida, it gives off a much tamer corporate design compared to its rivals. It doesn't come with the latest lighting technology as it only comes with multi-reflector headlights but they work fine to light your way on the road. As this is the Club Edition it does come with a few factory modifications that help it stand out. For example, it comes with aftermarket 18-inch Rota wheels which gives the sedan a better stance and sportier look. It also comes with comes a front chin, and side skirts. It also sports a small ducktail spoiler at the rear. All these modifications help give the Lavida a sort of sportier look similar to what the Honda Civic has now.
Interior
Moving inside the Lavida and you are greeted with a clean dashboard and leather seats. Piano black plastics are rare inside the vehicle which gives it an overall clean and simple look. It has analog gauges, easy-to-use climate controls, and a large infotainment system. One thing we do have to note is that the Lavida does not come with power seats which is understandable, but we wish we it had it as adjusting the seats can be a bit of a hassle, especially for the recline function as it uses a gear instead of a lever for adjustability. Those who aren't flexible enough will have to open the door to reach the gear to adjust their seats.
Despite that, space inside the Lavida is plentiful and spacious enough for four passengers. Why just four passengers? This is because the transmission tunnel is a bit high in the second row thus restricting legroom for the person sitting in the middle seat of the second row. Aside from that, everything is great as the seats are comfortable. Oh, and lest we forget, you also get a sunroof which is great for fans of natural lighting.
Comfort
Speaking of comfort, the leather seats inside the Volkswagen Lavida are great. They are supportive, durable, and have great bolstering as well. Despite the slight issue with reclining controls, everything else is great.
One thing to note, however, is that you will have to drive a bit slower over bumpier roads to avoid damaging the aftermarket wheels. Since the car rides on 18-inch wheels it also comes with lower profile tires to support the sportier look. It's not a bad thing as the suspension does well to keep the bumps at but if you want to avoid damaging the wheels it's best to stay on the safe side and take things slow. Regardless of these quirks, the car is comfortable with NVH being great up until 80 km/h when the tire and road noise starts to creep in.
Tech
At the center of the Volkswagen Lavida resides a Blaupunkt infotainment system that comes with an Android-based operating system. This means that from the get-go it already comes with a built-in Waze navigation app. However, it needs to connect to the internet for it to work, so you will need to turn on your mobile phone's wifi hot spot for it to work properly. Another thing to note is that the Lavida does not come with a reverse camera, however, it does come with reverse sensors that work well.
The Blaupunkt sound system is one of the highlights of the Lavida. It works well and is definitely above what other manufacturers offer in their vehicles. However, it isn't a Bose sound system that will give you a better sound stage and better sound quality. Even with a good tune, the sound system still felt a bit lacking and wasn't well-rounded when it came to the tones and notes that come out of it. Regardless it's still a great sound system that the average person will enjoy especially when the built-in spare tire sub kicks with bass-heavy songs.
Safety
For safety features, the Volkswagen Lavida comes with 4 airbags, ABS with EBD, traction control, hill hold control, electronic stability control, auto start/stop, cruise control, a tire pressure monitoring system, and ISOFIX tethers. All standard kit for its segment which is great, however, we wished it came with some of the tech available with its rivals to help it stand out more.
Driving and handling
Another top selling point of the Lavida is its DGS transmission and boy is it great. It emulates a manual gearbox very well without the hassle of having to deal with a third pedal. The shifts are clean and crisp and the throttle, as well as the engine response, is something we greatly appreciate with the vehicle. It has the get-up and go when you need it and is well-behaved when you just want to drive normally or economically.
For its handling, the Lavida enters corners with a bit of understeer, this might be because of its slightly stretched-out tires and because of the tire quality but it's not a deal breaker for us. The car takes on corners well but it noticeably doesn't like quick weight shift changes as the suspension takes its time to handle the weight of the car. It's not a bad thing but it doesn't quite have the agile feel of its competitors. Regardless of this, the sedan is pliant at speed and is confidence-inspiring, we just wish that Volkswagen put on better tires to help put down the power that the 1.4-liter turbocharged motor has.
Fuel Economy
Speaking of its 1.4-liter turbocharged gasoline engine, it produces 128hp and 225 Nm of torque and is mated to the superb DSG automatic gearbox. While its power figures may seem a bit low compared to its rivals in practice it works well to rocket the car to highway speeds fairly quickly. As for its fuel economy, the Lavida was able to get 10km/L in the city and 21.4km/L on the highway with our testing. All in all, not bad and on par with its competitors which are above its price point.
Verdict Price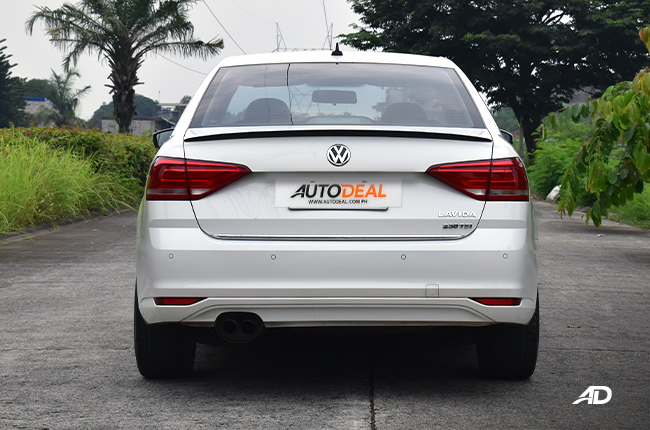 Moving on to its price point, the Volkswagen Lavida 1.4 TSI DSG Club Edition+ P1,350,000 puts it right in the middle of the mid-level Corolla Altis and Honda Civic. If you want the normal version of this sedan without the sporty and aftermarket bits you are looking at a P1,251,000 which again isn't bad and is quite reasonable for what it offers.
The Volkswagen Lavida presents itself as a great middle option for those who want a fuel-efficient car with the power of a turbocharged engine, especially with this Club Edition model. It may not come with the latest technology or a design that will make it stand out, but it checks all the right boxes for those looking for a good reliable, and comfortable sedan. It also helps that it has a good sound system to truly keep the party going and to live up to its designation as the Club Edition. It's an underrated car that many will enjoy despite its relative age in the segment.
Exterior Photo Gallery
Interior Photo Gallery
---
---
Get the best deal - Choose multiple dealerships to compare offers!
You can compare quotations simultaneously from multiple Volkswagen dealerships. Select your preferred dealers from the list below.
Compare quotations from multiple dealerships in minutes.
Check vehicle and color availability.
Find info on special offers and promotions.
100% Hassle-free with no obligation to purchase.
Latest Review
Day in and day out with the Territory. Numerous adventures showed its true nature, here's a long-term review.

The middle child of the Everest lineup has a lot to offer for those looking to get a feature-packed SUV but are working on a budget.

4.2

/

5

Here are our initial drive impressions of the new 2022 Nissan Livina in its VL trim in the Philippines.
View More Articles