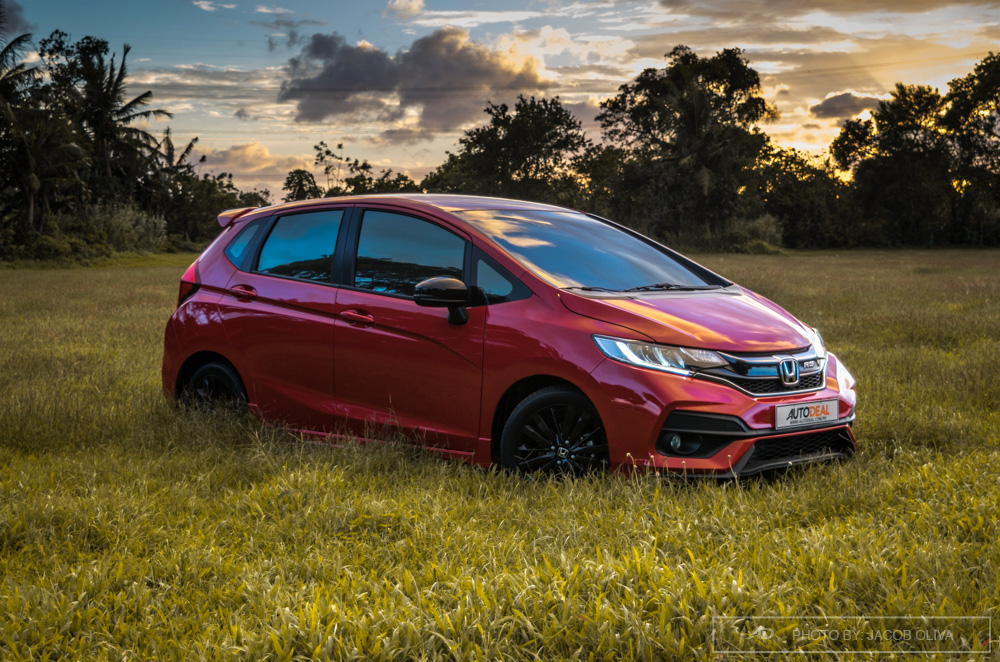 The Honda Jazz is arguably the best-looking subcompact hatchback sold locally. More so, if it's the Road Sailing (RS) variant that you are looking at. The real one, mind you — not those with knock-off RS badges that you can buy at unauthorized parts stores.
With that, imagine our elation when Honda Cars Philippines Inc. (HCPI) introduced the Jazz RS Navi CVT to the Philippine market last year. Finally, a real RS-badged Jazz. Although, it comes with a price; a sizable P73,000 price gap from the "normal" ones, which can be a bummer for some since the changes are purely aesthetic.
This gets us to thinking — is the five-digit price difference substantiated by Honda's RS treatment? Here's a closer look.
Review: 2018 Honda Jazz 1.5 RS Navi CVT
Performance
Engine Output (HP), Acceleration, Transmission, Handling 4.0/5
Design
Exterior & Interior Design, Quality, Fit and Finish, Ergonomics 4.5/5
Ride Comfort
Cabin Comfort, Suspension, NVH Insulation 3.5/5
Safety and Technology
Convenience Technologies, Active and Passive Safety Features 4.5/5
Value for Money
Amount of the vehicle you get for the price, Fuel Efficiency 4.0/5
What You Will Like
Fuel-efficient and powerful engine.
Flexible seating and interior space.
Stand-out looks.
What You Won't Like
Soft-touch control for the head unit and A/C.
Firm suspension.
Steering's a bit heavy for its size.
How We Do Our Reviews
The Jazz's face isn't too far from its subcompact sedan brother, the City. However, the RS variant has the upper hand with its more defined bumper that comes with matte black and carbon-fiber print accents. The car is also equipped with great-looking LED headlamps and daytime running lights (DRL).
On its side, the Jazz RS has a wedge shape that warrants an aerodynamic appeal. We're no Physics expert, but one glance at it will tell you that air flows nicely with this car's shape. To heighten its looks further, there are side skirts which surprisingly don't lessen the car's 150mm ground clearance.
I'm not really a fan of its glossy black 16-inch alloy rims. Well, it's not that bad since the color matches the black side mirrors, but I just think that the RS would look nicer if it wears two-tone black and silver wheels (which is actually on the VX mid-variant). At the back, the RS variant gets a tailgate spoiler with LED stop lamps and a bolder bumper with carbon-fiber fin diffusers.
With the modifications at the front and rear, the Jazz RS is 46mm longer than the normal variants. However, it's the smallest in dimension when compared to its competitors like the Toyota Yaris and Hyundai Accent. The letdown in size doesn't affect the interior space of the car. We'll get to that later.
The RS treatment is somehow limited to the Jazz's exterior — with the exception of extra grab rail, dark silver door handle, and orange stitches on the steering wheel and fabric seats found inside the dark-themed cabin. Although there are some hard plastics, it's generally made of high-quality materials, while the panels are intact and seamless.
The layout is also similar to the City, which means the soft-touch controls at the central dashboard is carried over. Like I mentioned in the City's review, these pseudo-buttons are hard to use while driving. Good thing, audio controls are present on the steering wheel.
Speaking of audio, the Jazz RS' 7-inch head unit looks really good, and is easy to pair with smartphones. It doubles as the display for the reverse cameras, and there's an HDMI port for your passengers who would like to watch high-quality videos on it. Downside is, there's only one port for USB and one for 12V, which can be inadequate if you're riding with friends or family.
Space is abundant inside the Jazz, especially if the occupants have heights below 5'8". Even with its wedge shape, the headroom is plenty. The air conditioning also works well even on high noon while noise levels are well-insulated.
It could have been all aces for the Jazz's ride comfort if not for its suspension. It leans towards the firm side, which means less body roll, but a bit rough on road imperfections. You can also feel the ground as you drive over pavements.
As for the trunk, it isn't that deep, but what's good with the Jazz is that it allows many ways to maximize cargo space. To do that, you can fold the backrests to flat or remove the trunk cover. You can also fold up the seat cushions to allow storage of tall objects at the second row. Lastly, the front passenger backrest can lean flat so tall objects, like a surf board, can fit the cabin.
Inside the Jazz's bonnet is the carry-over 120-hp 1.5L gasoline i-VTEC engine from its predecessor. It is coupled with Honda's Earth Dreams CVT transmission that has paddle shifters and output ratings that make this Jazz quite competitive against its mentioned rivals. When it came to the actual drive, the Jazz didn't disappoint.
The subcompact hatch's CVT precisely matched the gears with every accelerator input, even when going off from standstill. Although it's typical of CVTs, there was a bit of a build up needed before you can reach the car's peak torque. But for non-emergency drives, its engine's power is more than adequate.
Driving inclined roads were also a breeze, and you can thank the Jazz's hill start assist for that. Even when overtaking, I didn't feel the need to downshift or use its Sport mode. Overall, for daily driving, I would say that I'm more-than-satisfied with this car's performance.
It was also easy to drive this Jazz because of its wide driving visibility, thanks to the triangular glass window by the A-pillar. The steering feel was more on the sporty side, but that's okay as it allowed precise cornering and stable cruise on the highway.
The Jazz RS was also economical, registering a 22.5 km/l fuel efficiency figures with the cruise control set at 90 km/h. Stressful drives on EDSA at 8:00 a.m. read 7.3 km/l, while faster pace at an average speed of 60 km/h consumed an impressive 17.1 km/l.
If that's not prudent enough for you, it had a green ECON button that lessened the grunts from the subcompact hatch's mill. Its gauge cluster was also equipped with ambient color-coded meter that turned blue when you're consuming a lot of fuel, and green if you're being friendly with your gas money.
So, is the Jazz RS Navi CVT worthy of its P1,058,000 price tag? My verdict is an 80% yes. Why? Hear me out.
Aside from its favorable features and driving characteristics, the RS comes with passive safety and security features such as six airbags, ISOFIX child seat anchors, immobilizer, keyless entry, and speed-sensing door locks. In other words, it's fully-loaded compared to the other cars in its class. Although, one might argue that these features are available in the VX Navi variant, thus, I'm giving the 20% for the skeptics.
Now, for those who are inclined to buy the Jazz and can't decide if they will go for the RS variant or not, let me ask you this: How much are you willing to pay for the better best-looking subcompact hatchback?
Latest Review
The all-new Suzuki Celerio is the most fuel-efficient car in the country. Can that and its other improvements sway buyers?

With Peugeot now under new leadership in the Philippines does its new lineup of models have what it takes to take on the established nameplates?

4.0

/

5

It presents itself as a great compact crossover choice for those who don't want to be overwhelmed by a great amount of tech.

3.9

/

5
View More Articles